No one should ever have to give up their love for gardening, especially to because of age.
Gardening is such a fun and healthy experience for an elderly person, however, it can become more difficult as they age.
To make the experience easier the best gardening stools for seniors can be ideal to reduce the need for bending and kneeling that can be quite painful and uncomfortable for seniors.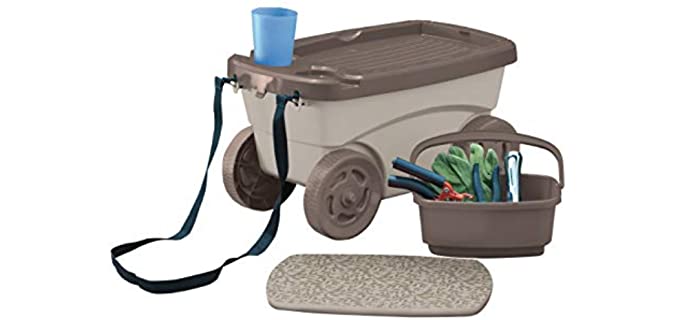 ---
Why Seniors Need a Good Gardening Stool
A gardener's seat or stool offers better mobility and a comfortable seat for seniors when gardening.
Most gardening stools are multi-friction meaning they can be wheeled around and also come with storage space for carrying gardening tools.
A gardening stool provides a comfortable seat for tending to lower garden beds and reduces the need for a senior to bend down, crouch or kneel, which ate their age may be quite uncomfortable and painful.
---
Types of Gardening Stools for Seniors
Then there are also different types of gardening stools that you can have a look at;
Wheels or No Wheels – You get an option in garden stools that have wheels or that do not have wheels. The wheeled garden stools are ideal if you need to move around quite a bit. For a smaller garden where you need something simpler, you can opt for a more basic garden stool without wheels.
Steel and Plastic – Plastic is very sturdy but unfortunately not as durable or long-lasting as metal. On the other hand, metal may tend to rust if it gets wet often. Metal will also be slightly heavier and a bit more expensive than plastic in general.
Folding and Stationary -You get garden seats or stools that can fold up for easy storage and carrying, and some that do not fold up. It all depends on what your needs are. If you are in to be carrying the gardening stool around a large yard I would opt for a foldable option rather.
Stool and Kneeler – I have seen some lovely garden kneel and stools in one which you can use for both options as you prefer. The keeler and stool will protect your clothing from dirt and wetness as well as provide more comfortable seating or kneeling.
Rocker – Then there is also the Rocker seat, or stool. This design is a small garden stool that rocks back and forth for when you need to lean over or reach back.
---
Features of a Good Gardening Stool for Seniors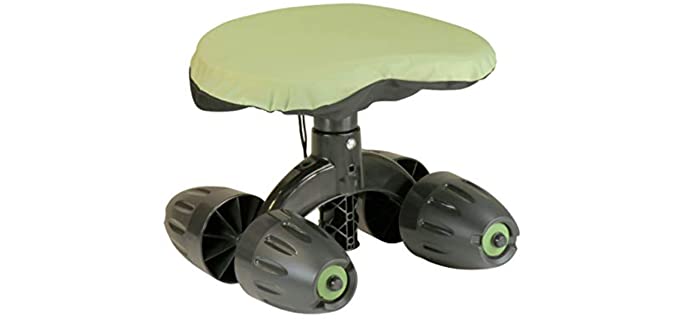 Design – With so many gardening stool models on the market, as well as wheeled, Rocker, Foldable, and stationary options you will need to make sure what will work best for you.
Materials – As we have mentioned garden stools can be metal or plastic. Look for something that consists of sturdy and durable materials that will hold your weight and that will not rust or degrade easily. Some stools may also come with a fabric or foam cushioned seat.
Size – The size of the gardening stool is quite important as it needs to fit in the area of gardening, as well as support your weight and size. Many gardening stools also have adjustable height in the seat which is ideal if you need this option.
Easy to Maintain – Op for a gardening stool that is easy to clean and maintain. Something that you can just spray down or wipe down with a cloth.
Convenient to Use – Make sure that the design and model that you choose are easy for you to use. It needs to be lightweight enough to carry or pull depending on the option you choose. The design must also be sturdy enough to hold your weight comfortably. Look for convenient handles, wheels, and other additional features that make the gardening stool easier to use and more functional. Some designs even come with storage baskets or pockets which are quite convenient in turn.
---
Reviews: The Best Gardening Stools for Seniors
In our list below we have some of the best designs in gardening stools ideal for seniors;
---
1
The Deluxe Garden Rocking and Rolling Steel come in three different options for seniors.
This is a garden stool that rocks back and forth making it easy to reach over or bend back as needed.
It also has wheels which means you can easily move around while seated on the garden stool.
The seat is padded for comfort and the height is adjustable.
---
2
The Garden Kneeler and Seat is a garden stool and kneeler all in one for elderly persons.
This device can be used for kneeling on creating a soft cushioned kneeling seat that also protects your clothes from dirt.
It can also be sued as a seat that is comfortable and ideal for sitting and tending to a garden.
Additionally, there is a storage pouch on the side for storing gardening tools and small items.
The seat is fully foldable for easy storage.
---
3
The Vertex garden Stool is a stationary rocker stool for gardening.
Ideally suited for smaller gardens where you do not need to move around a lot, and perfect for seniors.
The Vertex garden rocker allows you to easily rock back and forth so you can reach without having to bend or stretch too much.
The Vertex stool is fully cushioned and comfortable to sit on.
To likewise is quite versatile and can be used for many other applications.
---
4
This is a plastic garden stool and carrier for seniors.
The garden stool has wheels and can be moved all over.
It also doubles up as a storage cart with much space on the inside.
It is a durable plastic that has a foam cushioned seat that can be removed and used as a kneeling pad.
There are likewise a few options available for your choice.
---
5
From Sunnydaze I have chosen a full cart scooter as an option which is perfect for seniors with larger gardens.
The cart can be used to sit on when gardening and can be steered and driven all around the garden.
It also offers ample storage with a storage basket for tools and items.
The cart is a heavy-duty and extremely durable alloy steel design.
---
6
The Original garden Rocker is a comfortable design that moves with your body when seated.
There are a few options available in the garden rocker chair form which you can choose.
The Garden Rocker stool is a multi-purpose utility seat that easily rocks back and forth naturally as your body moves.
It is a durable plastic with a comfortable cushioned seat.
---
Index Table: Top Rated Gardening Stools for Seniors
---
---