Organizing your home is especially important if you are an elderly individual and organized home and space can make your home safer. It can make it easier for you to navigate through your home, and it can make it easier for you to manage and maintain your home.
There are many ways and tips to organize your home to make it easier for you to maintain your home, to find things, and to make your home generally safer. So we will help you with a few tips on organizing your home, as well as reviews on some of the best organizers for the elderly.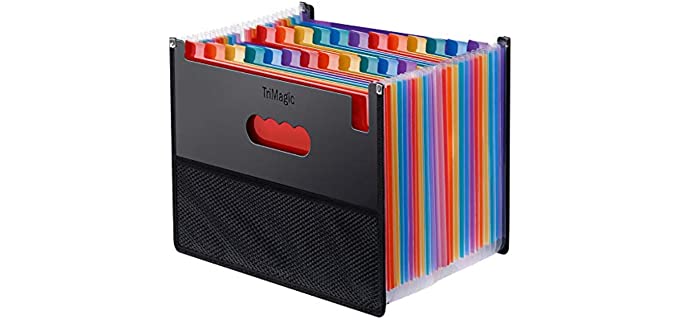 ---
Common Home Organization Issues for Seniors
But firstly, I want to bring to your attention how an unorganized home can be problematic, especially for a senior person;
Things Laying Around – When things are lying around your home, whichever room or area of your home, it can make it much more difficult to find them when you need them, and they can also cause a tripping hazard.
Hazardous and Impractical Items – It is very important to clear your home of all Clutter, especially practical. Impractical items that you no longer need or use, and can be hazardous. Things that are broken need to be repaired immediately or need to be replaced. Anything that can cause a tripping hazard and furniture in the way should be moved.
Low Lighting – With the natural process of aging comes challenges in hearing and envisioning. Also, a decrease in the amount of light that enters your eyes as you age will reduce your peripheral vision and make you more sensitive to glare. So it becomes difficult for you to focus on an object and take you longer to adjust from going to a light to a dark place and vice versa. These changes can cause issues for seniors in their homes to see obstacles in their way.
Stairs – As you age ascending and descending stairs can become difficult and challenging just on its own. Having stairs that have items of shoes, clothing, and other small items that are in the way and that are causing obstacles can cause a much bigger risk for you to fall or suffer an injury.
---
Organizing Your Home
So here are a few ways in which you can organize your home to make it safer for you to live in and to make it easier for you to locate items;
Choosing Storage Spaces – When organizing a home senior, you must put things where it will make sense for the senior to find those things in the right circumstances. Set things up in a way in which they will be used. For example, keep their medication in the kitchen and a cupboard or an organizer. Keep their documents in an office area. Keep things in places where they will be used daily so that an elderly person will remember easily where they are stored.
Accessibility – This should be a storage place for essential items such as keys, wallets, medication, cell phones, mobility ads, glosses, and remote controls. These organizers or storage places should be very easy to reach and very visible.
Easy Reach – Vertical storage is not advisable in the home of an elderly individual as. It is not the safest way to store items for elderly people, as it can be difficult for them to reach them. I would instead raise lower stored items to a waist height that is easy access for an elderly person where they do not need to bend over or get onto a step stool to reach these items.
See Through Containers – Seniors are not always able to easily read labels. So when they store items in a container, I would suggest rather using a see-through or translucent container that will easily allow them to see what is inside the container that they're storing the items in.
Organize Your Documents – While most documents are becoming more digital, it is always good to have hard copies on hand. Many seniors find hard copies easier to navigate, and with that in mind, they need to store them appropriately and in order. Especially medical information should be kept together and close at hand. I would say that is extremely important for a senior to have a method of storing and organizing important documents.
Declutter – Lastly and very importantly as you age, it becomes so much more vital for you to declutter your home. Get rid of anything that you are not using and that you are storing. Sometimes we store things for particular reasons, for sentimental reasons, and sometimes this can cause much Clutter in our homes. Clear out duplicate items, especially in your kitchen. You do not need 2, 3, or 4 of everything. Only collect items that you use daily and that you need. Also get rid of old and outdated technology that you no longer use, or that you can replace with a single item. Any clothing that doesn't fit, and that's worn out should also be replaced, and thrown out.
---
Features of a Good Organizer for the Elderly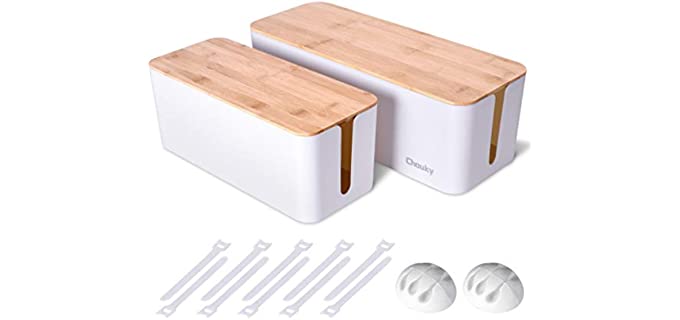 Medication – You can get medication organizers that allow for monthly or weekly storage to help you keep track of when to take your medication.
Bathroom – A bathroom caddy or storage basket with separate slots helps you keep your bathroom items at close reach and organized.
Keys – A storage box or wall-hanging key organizer is ideal to have for seniors.
Bedroom – Organize your bedroom with waist-length storage racks for needed items, and clear crates or holders.
Filing – Keep all documents well organized in a file or filing system.
---
Reviews: The Best Organizers for the Elderly
Here are a few examples of some excellent organizers for senior's homes;
---
1
From Peter Pauper Press I have chosen the Logbook organizer.
It has alphabetical markings and a colorful design.
The logbook helps you keep track of passwords, and important information that you need to remember.
It is the ideal organizer for seniors.
---
2
The Jucoan 2 Pack Plastic Portable Storage organizers are ideal for use in your bathroom.
They have different compartments to place all bathroom items.
You can also use them to store cleaning items for the kitchen or any other purpose.
They are neat and easy to clean.
---
3
From Bug Hull, I have chosen a convenient pill organizer.
The organizer is a monthly design with significant pill cases for 28 days.
It has large and marked containers for your pill.
You can easily keep track of your daily medication schedule.
---
4
The TriMagic accordian Filing organizer for seniors is ideal.
You can easily store and organize all your important documentation.
It is neat and easy to use with different colored pockets.
The design is portable and easy to move.
---
5
The Tom Care Cube Storage is ideal to use anywhere in your home.
You can place storage containers or larger items inside them.
The cubes can be used and mounted how you want them.
They are plastic and durable.
---
6
Then of course we need a cable management box.
Cables can be a tripping hazard for seniors, and cause much confusion.
The cable box keeps your cabling neatly in place and out of the way.
The set includes two ventilated and safe cable boxes.
---
Index Table: Top Rated Organizers for the Elderly
---
---