A smart or newer technology television may not be a must, but it can make many seniors' lives much easier and more exciting.
Today, most smart TVs have improved visual, sound, easy menu, and organizational features, making them exceptionally ideal for older persons.

---
Why Seniors Need a Specail Television
Watching television and reading are two activities that never gets old; the same can, unfortunately, not be said for the viewer.
Seniors' main issues are poor eyesight and hearing deterioration, making these activities less pleasant and quite difficult and frustrating.
Yes, new technologies come with their challenges. Still, with the helping hand of a younger individual, seniors can easily be taught how to operate a more advanced television easily, as most smart televisions are quite simple to operate as well as very user-friendly.
Larger screens, advanced visual and audio technology will improve the television experience for a senior greatly, and easy operation and organization of menus and functions can be quite simple and easy for them to use.
---
Main Requirements for a Senior TV
Main Menu – The television menu needs to be simple and easy to navigate, and the icons must be large and visible. The function should also be easily accessible and easy to understand and remember.
Sound – Many elderly persons have hearing issues, and two solutions for this are either upgraded sound quality or subtitles, which many new televisions offer today. The sound on a standard television is just too weak, and here is where an external sound system comes in handy. Today, many of the new television models come in a package with a sound system.
Definition – Definition refers to the resolutions and pixels in the video quality, which affects the sharpness and video quality of the images. In this area, the top technology is OLED TV, which is the most advanced and the most expensive and not the most readily available. Other technologies in Definition that are also excellent include Full HD technology, LED – backlit technology, and 4K definition resolution technology.
Visuals – This has much to do with the size of the screen, along with the definition, of which the 4K and Full HD are your easiest and best to look for. The screen size recommended for elderly persons should be between around 43 inches up to 65 inches, whereas the 50 inch is the most sought after and best size available. You can also look at the general straight screen or a curved screen type.
---
Features of a Good television for Seniors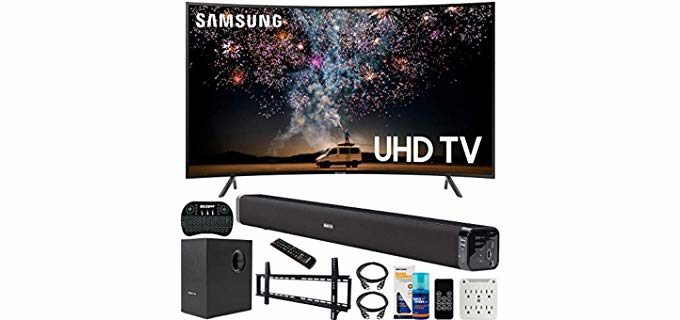 Better Visual experience with 4K and UHD Technology.
Bundle Sets with surround sound, cables, and cleaning equipment.
Streaming capabilities.
Better sound quality.
Lightweight television sets.
Curved or normal shape.
Different screen inch size options.
Easy to control remote or Alexa App operated.
---
Reviews: The Best TV Sets for Seniors
Here are the best available Televisions and Sets for Seniors persons;
---
1
A large ultra-slim 50-inch size LED Television design for seniors.
Large 50-inch screen with LED 4K UHD television display.
Super 4K picture color display variation.
UHD upscaling for better display.
Mobile High definition link, which allows easy streaming from most devices.
Motion estimation and Motion Compensation for the easy and smooth frame to frame movement.
Very thin and lightweight design.
---
2
Toshiba is a trusted brand that offers you this High definition of television in different size options.
Live over the air television experience with your favorite streaming content.
Dolby Vision HDR enhanced 4K pictures and an expanded contrast and brightness range.
Tru to life picttrre quality with ultr ahigh definition.
A voice remote control that uses Alexa to operate.
---
3
Samsung is one of the most popular electronic brands available today, and its 55 inches smart TV is a superb choice for elderly persons.
It comes with all needed accessories such as the 2X 6ft HDMI Cable, a Universal Screen Cleaner spray in the large bottle, and SurgePro 6-Outlet Surge Adapter with a Night Light.
Choose between the 55 inch, 65 inches, 75 inches, or extra-large 82-inch size option.
Features a 4K UHD processor for visual quality and enhancement with LED smart technology.
Excellent quality and easy to operate the remote control.
---
4
This new Samsung 55 Inch curved design LED Television enhances your visual quality, ideal for seniors.
This bundle comes fully equipped with Deco Gear Soundbars, Subwoofers. A wall Mount Kit, Wireless Keyboard, Cleaning Kit, and a 6 Outlet Surge Adapter.
A large 55 Inch Curved Display LED television.
Features the game-changing 4K technology clarity visuals.
Ideal for streaming and easy to operate remote control.
---
5
Sony is another top brand in electronics with its superb Bravia 43 inch television series.
A smaller 43-inch television when you are limited on space.
It comes with a Channel Sounedbatr and an integrated Tweeter.
Motion Flow XR technology to smooth and sharp details in fast-moving sequences.
Cinematic S-Force surrounds front sound and clear phase frequencies.
---
6
The LG Ultra HD Smar television offers you the best television experience with a cinematic feel.
Enhanced visual accuracy and colors with the 4K technology.
Connect with a google voice assistant such as Alexa for operation with your voice.
Dolby vision and sound.
Enhanced images and motion transfer.
---
7
This is a high-resolution TV that can be wall-mounted and is ideal for seniors.
The TCL is a large smart TV.
It has a 40-inch screen, which is very large and easy to view.
It has Smart technology and 1080p full resolution and picture quality,
It comes with an easy to use remote and headphones.
Includes all accessories you need for functioning.
---
8
A smaller sized television for seniors with smart technology.
The Insignia is an HD smart television for seniors with 720p picture quality.
It has Fire Tv technology with built-in channels and an Alexa operating system.
You can easily control your Tv with the Voice Remote control that uses ALEXA.
It is Wi-Fi and Ethernet capable.
---
9
From LG, a top brand, we have the LED Ultra HD smart television with Alexa technology onboard.
This Lg model comes in different screen size options from 40inches and larger and with or without a soundbar.
It offers a real 4K display and resolution.
A WebOS remote control makes it fast and easy to stream movies.
The Active HDR will also automatically elevate the beauty of your favorite scenes.
---
10
The Vizio Smart TV is a larger size for better viewing with 4K Ultra HD technology.
The Vizio offers Dolby Vision HDR Dolby Vision for dramatic images and brighter display.
It has a 4K Ultra HD technology with over 8 million pixels.
There is also a Vizio IQ 4K HDR Processor inside.
A remote control, stand, and Power cable is included in the package.
---
Index Table: Top Rated Televisions for Seniors
---
---