When you are a senior, you must remain as independent as possible. One of these independencies is the ability to mow your lawn.
Mowing the lawn can likewise be a good exercise for seniors and allow them to spend some time outside.
A Lightweight Lawn Mower for seniors will have a comfortable and easy-to-use design, with a lightweight that is easy to operate by older individuals.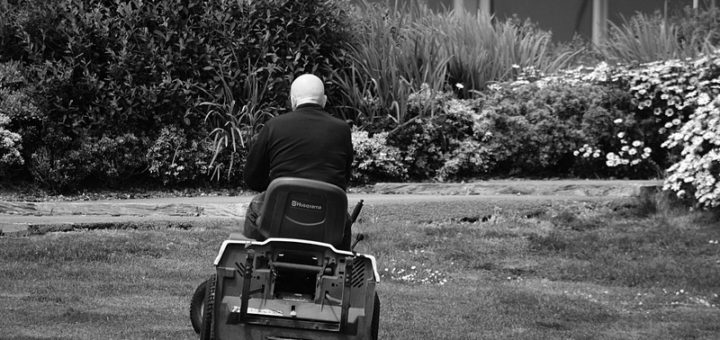 ---
Why Seniors Should Still Mow Their Lawns
Many seniors still enjoy mowing their lawns;

Independence – Mowing your lawn and keeping up the garden creates a sense of independence in seniors, which can quickly become more dependent because of a lack of strength and mobility.
Exercise – Mowing the lawn is a good form of strength and cardio exercise for seniors that is safe and low impact.
Outdoors – Being Outdoors and in the sun for a while can help to cure depression and anxiety and also give you some fresh air for the day.
Sense of Pride – Having a well-groomed garden is something to be proud of for many seniors who enjoy it.
---
Cordless or Corded Lawn Mower for Seniors?
We will be looking at quite a few Lawn Mower options for seniors, from Push Mowers to ride-ons.
One question asked is whether to opt for a corded electric lawn mower or a cordless lawn mower.
Your Corded Electric lawn mower will need an electric outlet to power it, and there will be a cord in the way, which may cause a tripping hazard. However, with the Corded option, you do not have the risk of running out of battery time or having to struggle with petrol.
Cordless Lawn Mower, on the other hand, is much safer with less tripping risk, and no cord needs to be considered when moving around. You can mow anywhere without having to look for electrical outlets.
A cordless Lawnmower may be battery operated, need to be charged, need fuel such as petrol, or be fully manual, meaning you need to push them to operate only.
I would suggest a cordless Lawn Mower for seniors, as there are fewer tripping hazards, and it is less of a fuss for them to use.
---
Features of a Good Lightweight Lawnmower for the Elderly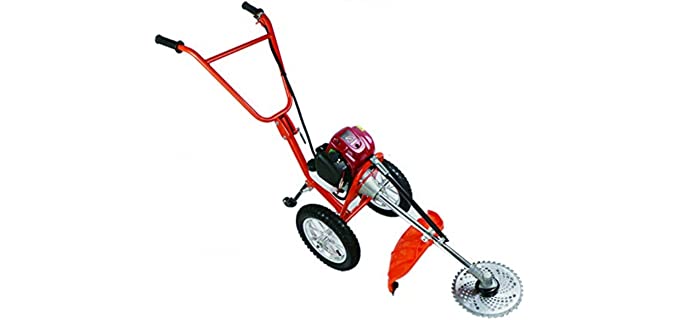 Types – You get a few different general types of lawn mowers. The Hover lawn mower will hover above the ground and is easy to push on uneven surfaces. It is an excellent choice for unusually shaped lawns. The Rotary lawnmower has a single blade that will rotate horizontally underneath the lawnmower, almost similar to the propellers of a plane. The Rotary Lawnmower is very versatile and can cope with almost any type of grass, and it comes in various power options. The Cylinder Lawn Mower has cylindrical blades that rotate vertically and are placed at the front of the lawn mower. They will cut grass with a fixed blade at the bottom and usually have multiple blades in the cylinder. The Cylinder Lawn Mower is suited for flat and even lawns you want to keep short and well-manicured.
Operation – You get different Lawn mower options in terms of the power source that they use to operate. Some very lightweight and smaller lawn mowers are push mowers that you need to manually push manually to operate. Then you get petrol lawn mowers that are cordless and have a petrol tank requiring fuel to operate automatically. They are usually larger sized. Then we have the electric lawn mowers that have an electric cord and require an outlet to operate, or the cordless battery operated, or rechargeable lawn mowers that come in lightweight, small and medium sizes.
Size – Lightweight Lawnmowers will usually be slightly smaller, or medium in size. The size of the lawn mower you choose will depend much on the size of your lawn. Small lawn mowers are a deal for lawns up to 100 square meters in size. Medium lawn Mowers can be used on lawns between 100 and 250 square meters. However, you may need a large lawn mower for lawns larger than 250 square meters.
---
Reviews: The Best Lightweight Lawnmowers for the Elderly
The Lawn Mowers that we have reviewed come in a few options and are all lightweight in design for use by the elderly;
---
1
From Vicien, we have a cordless three-in-one lawn Mower, Trimmer, and weed eater.
It is very powerful year lightweight for seniors to use with ease.
The three-in-one design allows you to easily push the lawn mower to mow the lawn or use the trimmer and edger. It converts from a weed eater to a wheeled lawn mower with ease.
The Plastic Blades can mow more delicate grass, and metal blades are included for thicker grass and weeds.
Overall, the design is of great value and is perfectly safe and comfortable to be used by the elderly.
It comes in a few options available, from which you can choose.
---
2
The Black and Decker is a Cordless Lawn Mower, string trimmer, and edger all-in-one device that is lightweight and easy to use by the Elderly.
As you will see, there are many options for additional spools, batteries, and other accessories for the lawn mower from the options you can choose.
The three-in-one design will easily convert from a trimmer to an edger and a lawn mower.
It has an AFS automatic feed system, which ensures continuous work without any bumps or needs for stops.
There is a Power Drive transmission that prevents it from bogging down.
The lawn mower can cut heights of 1.6 to 2.4 inches.
It has a fully adjustable height deck and trimmer pivoting handle, making it much easier for seniors.
It charges within 2.5 hours, and the batteries last very long.
---
3
From the American Lawn Mower Company, we have a four-blade Push reel Lawn Mower that is comfortable and lightweight to be used by the elderly.
The lawn mower has a four-blade reel with a cutting width of 14 inches and a durable 8.5-inch polymer wheelset that is easy to push and maneuver by seniors.
It is a mechanical lawn mower with an adjustable blade height so you can cut shorter lawns of 0.5 inches up to 1.75 inches in height.
The Manual grass cutter blades consist of durable heat-treated alloy steel that will stay sharp for many years, so they are reliable.
The lawn mower has a low-noise setting, ideal for nursing homes and smaller duplex homes.
---
4
The Greenworks Lawn Mower is a powerful but lightweight 40V, 17-inch Push Lawnmower for seniors.
It comes with a 4.0Ah battery and charger that is long-lasting and allows you the convenience of a cordless lawn mower.
The lawn mower is versatile, with a single lever 5 position height adjustment setting and a two-in-one design that allows you to mow the lawn and mulch with the rear bag of grass clippings.
It is a maintenance-free design that is lightweight and easy to use by the elderly.
There are options available, such as the mower only, the mower and blower Vac, the Mower and sweeper, or the mower and trimmer.
---
5
From WSN, we have an electric lawnmower with a rotary design that uses petrol.
It is an easy and lightweight push lawn mower for the elderly that is fully cordless, less hassle, and tripping hazard.
The Lawnmower has an auxiliary pulling rid and a fully adjustable design suitable for various lawn types.
It has upgraded high-quality tires that are thicker and much more durable.
A throttle line switch and armrest are very easy for seniors.
The lawn mower is efficient and fast, which is ideal for the elderly.
---
6
The Ryobi is a 38 Inch lawn mower with a 100 Ah battery and rear electric engine that is a riding lawn mower option for seniors.
I have chosen this lightweight ride-on Lawnmower option for seniors with very large lawns who may not have the strength or mobility to push around a regular lawn mower.
The lawn mower has a comfortable seat and is very easy to operate by seniors.
It has three brushless motors for better power and performance, and up to 2.5 hours of run time, before needing to be charged.
It easily charges with a standard 120 Volt outlet.
---
Index Table: Top Rated Lightweight Lawnmowers for the Elderly
---
---