One of the most repetitive and never-ending tasks we all do is shop for groceries.
While most of us can easily carry a load of groceries or push a heavy trolley, the same may not apply to elderly persons.
For elderly persons who still need to do their own grocery shopping, a foldable shopping cart may be the best invention that could help them quite a bit.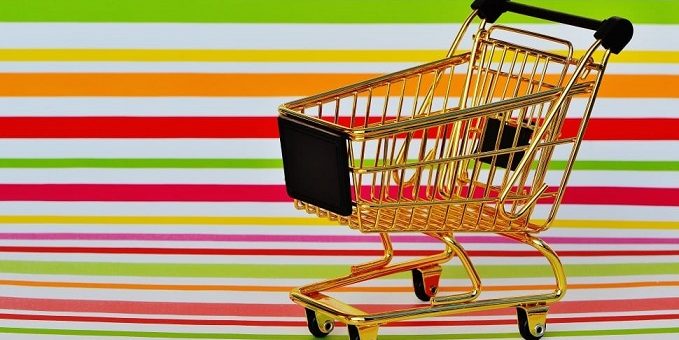 ---
Why Get a Foldable Shopping Cart for Seniors
Well, all in all, as mentioned, a senior person may not be able to carry their grocery shopping to their motor vehicle or home, or they may not be comfortable pushing those wobbly and unbalanced grocery store trolleys around.
A Foldable shopping cart can serve as a shopping basket inside the store and a handy carry method for your grocery shopping and from your motor vehicle or home.
For seniors who need to walk quite a distance to shop for their groceries, it may not be easy or possible to carry their groceries all the way home from the store.
The foldable shopping cart comes with wheels, so it can easily be pushed or pulled, depending on the design, and it usually allows you to store quite a few groceries. This eliminates the need for groceries and can also serve as a much easier trolley option inside the store.
On the other hand, because it is foldable, you can easily store it inside your motor vehicle or your home so that it does to take up excess space.
---
Types of Foldable Shopping Carts for Seniors
When it comes to foldable shopping carts in general, there are quite a few different designs that I want to explain to you at first;

Traditional Foldable Shopping Cart – The Traditional design foldable shopping cart is a pushcart with two or four wheels with a wire grid cage. It is collapsible and can easily be stored. The design is more of a practical option and comes from the 1960s.
The Granny Cart – A much newer and popular design is the granny cart, a maneuverable cotton Canvas shopping art that collapses similar to an umbrella. This is a trusted wheeled cart that comes in a variety of sizes. Your groceries are likewise covered in this cart, and there is o risk of smaller items falling out, such as with the wire grid carts.
Three-Wheeled Foldable Shopping Cart – Among some of the smaller foldable shopping art models is the three-wheeled shopping art. It is available in canvas and grid models with three wheels only. This is usually a very small-sized shopping cart, almost similar to wheeled luggage.
Rolling Hanger – The rolling hanger is a minimalist design that is just a hanger on wheels to hang your shopping bags. It is also foldable and does to come with a bag or basket to carry groceries in.
---
Features of a Good Folding Shopping Cart for Seniors
So before you go on to purchase your favorite foldable shopping cart, here are a few features that you can look out for;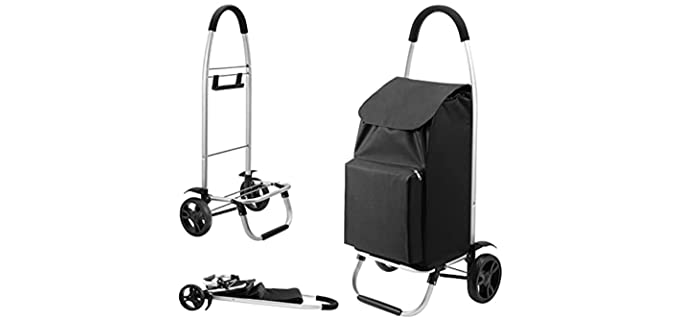 Foldable – Make sure that the shopping cart folds easily and is compact enough to fit in the storage space that you have available in your home or your car.
Wheel Types – A good quality shopping cart needs reliable wheels; rubber wheels are usually your best option. Some wheel options also come with brakes which can come in handy if you are in an incline position.
Durable Construction – You do not want to invest in a product that will fall apart in a couple of months. This is a functional item that needs to be heavy-duty and hard-wearing. Look for good quality, durable products with long-lasting materials.
Storage Space – This is an important feature that you will need to consider. The storage space is the amount of space in the art itself or the bag to hold your groceries. You will need to ensure that the cart is large enough to hold all the groceries you regularly need, which will also depend on how regularly you shop.
Ergonomically Design – make sure that the shopping cart has an ergonomic design. Things like a softer grip on the hands, adjustable handle height, and a comfortable wheeled design are ideal.
---
Reviews: The Best Folding Shopping Carts for Seniors
In the list below, you will see some of our favorite choices in foldable and wheeled shopping carts that are ideal for seniors;
We hope you love the products we recommend!
So that you know, We may collect a share of sales or other compensation from the links on this page.
---
1
The Playmarket We Go Folding Shopping Cart for seniors is the absolute best,
It has front double swiveling wheels and two or four-wheel operation.
There is a removable, replaceable storage bay with side and rear mesh pockets.
The foldable shopping cart also comes with a waterproof rain cover.
More colors are available to you.
---
2
The Pipishell shopping cart for seniors is ideal.
It has dual swiveling wheels for easy movement.
The shopping cart has a very compact foldable design and adjustable handle height.
Easy to maneuver and 70 L maximum storage.
---
3
The Joovy Boot shopping cart for seniors I fully foldable and easy to store.
It has swivel wheels and a reusable shopping bag that you can remove.
The shopping cart has a one-step linked parking brake and can move 70lbs using one hand.
Ideal and comfortable design for elderly persons.
---
4
The Mac Sports shopping cart for seniors is also easily foldable.
It has a large capacity and comes fully assembled.
The shopping cart folds away quite compact for convenient storage.
The handle is adjustable, and there are two mesh cup holders additionally.
Easy to transport with easy wheels that run smoothly.
---
5
Here we have a large-capacity portable shopping cart for seniors.
The shopping cart is fully foldable and has a utility design.
It has swivel wheels for easier and smoother movement and eight wheels.
The handle height is fully adjustable and highly portable as it folds quite compactly.
---
6
The EMILXXS utility foldable shopping cart is perfect for seniors.
The foldable shopping cart has a large holding capacity and an insulated bag to maintain food temperatures,
The Oxford fabric bags are PVC coated and fully waterproof to keep your groceries dry when transporting.
It is foldable and wheeled for convenience.
---
Index Table: Top Rated Folding Shopping Carts for Seniors
---
---