Seniors enjoy their independence and getting around on their own. However, this may get more difficult as they age.
Shopping is a fun experience for most of us, whether it is for Groceries, clothing, or other items.
However, when you get older, it may start to get much more difficult to push around the heavy store trolleys, and you may also find it hard to get to your car or home with heavy bags.
Grocery Carts for Seniors are their carts for Grocery and other shopping that they can use inside and outside the store as they wish.
They are a more comfortable and user-friendly design that is much easier for the elderly to use.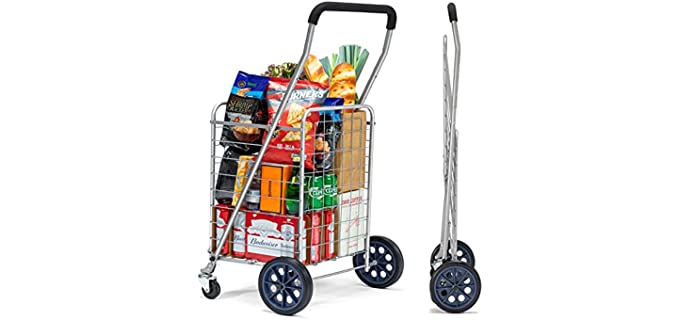 ---
Why Choose Grocery Cart for Seniors?
Remember that a grocery cart for seniors is much more than just an actual grocery cart.
The Cart can be used at home to move items from one area to another, to do laundry, for cleaning the yard, and for many other household purposes.
The grocery cart could also be ideal for spending a day at the mall and doing a variety of shopping in town.
They are ideal for travel and vacations to keep your towels, sunscreen, and drinks inside when you go to the beach.
A senior may also carry a beloved pet in a safe and comfortable grocery cart wherever they go.
---
Benefits of Grocery Carts for Seniors
Portability – Most grocery carts for seniors are foldable and compact for easy storage at home or in your vehicle. They are portable and convenient to use on a variety of surfaces.
Versatile – As we have mentioned, grocery carts are versatile for seniors and have many more uses than grocery shopping.
Easy to Manoeuvre – A smaller personal grocery cart is much easier to handle and maneuver than those chunky standard store carts. They have a smaller footprint, so you are less likely to run into other carts, and they usually have rubber wheels that will not slip on wet or cold floors.
Safe and Healthy – Being relieved of heavy bags and difficult store trolleys can be a relief and a sense of freedom for most seniors. No more back and neck pain from carrying heavy items, and your trolley is much cleaner and safer than those being touched by many hands at the store.
---
Features of a Good Grocery Cart for Seniors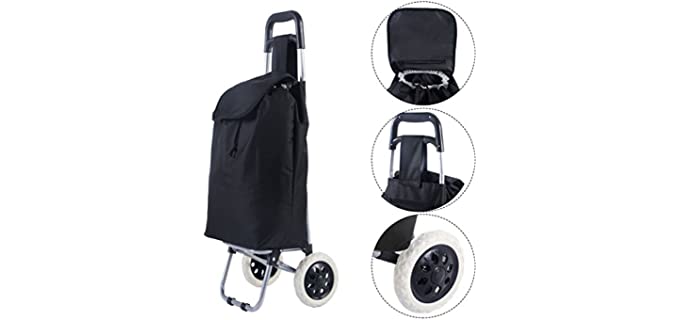 Capacity – Make sure that the Grocery cart has the capacity to carry the number of groceries that you normally purchase.
Size – Do you need a large cart, or a smaller more compact cart. Larger carts can carry heavier and more items, but they are large and bulky. While a smaller cart is lightweight and easy for daily groceries.
Swivel Wheels – Swivel wheels allow you to easily maneuver the Cart as needed.
Weight – You will need to check the weight capacity of the Cart and what the maximum weight is that it can carry.
Handles – The cart handles should offer an easy, non-slip grip with an ergonomic design and adjustable height.
Heavy Duty – Will the Cart be able to move large and heavy items? Some of your steel cart models are more suitable for heavier items.
Storage Space – When the Cart is not in use, it should fold compact for easy storage or be a more compact size so as not to take up much space in your home or vehicle.
Personal Items – Look for spots on the Cart where you can keep personal items separate from your groceries, such as a water bottle holder and an area for your wallet or carry Bag.
Construction – The Cart may consist of a durable steel, aluminium or plastic frame for structure.
Bag – Many carts do come with a removable bag that is reusable. Make sure that the Bag is sturdy and easy to clean.
---
Reviews: The Best Grocery Carts for Seniors
---
1
The Joovy Boot is a lightwei, smaller grocery Cart that can hold 770 Lbs of groceries.
It has easy swivel Wheels and comes with a compact reusable shopping bag.
The frame folds easily for compact storage.
The Cart also has a one-stop linked brake system for safety.
---
2
From Supenice, we have a Jumbo-sized large cart for seniors that need to cart much larger and heavier items.
The grocery cart has two swivel front wheels and Oversized rear wheels for better control and smoother turning.
It has an upgraded mesh bottom to prevent your groceries from being lost.
It has a very large space capacity and can carry a weight of 160 lbs.
---
3
The Dbest grocery cart for seniors is also a large design with wheels that can easily climb stairs.
It comes with eight storage compartments and a beverage holder for your convenience.
The Cart has multi-functional uses for shopping, utilities, and a compact folding design for easy storage.
It has a strong Polyester denier bag and a durable collapsible metal frame.
---
4
The Pipishell shopping cart for seniors has dual swivel wheels for easy and smooth rolling.
The handle height of the Cart is adjustable for your comfort, and it is very lightweight and easy to move by seniors.
The Cart is compactly foldable to save you on space and so easily portable.
It can hold 66 lbs of groceries and has a very durable design.
---
5
The VersaCart Transit is a patented Folding shopping cart with a comfortable design for seniors.
It has a rugged steel frame for durability and durable double front swivel wheels for easy maneuverability, as well as double rear wheels for stability,
There is a large waterproof polyblend canvas bag that is detachable with a fitted cover,
The Cart fold compacta and stores quite easily.
There is no complicated assembly or tools required.
---
6
Here we have the affordable, small, compact Giantex shopping cart for your daily grocery needs.
It is foldable and lightweight with a light metal frame.
You can use it as a backpack or place the Bag on the metal frame for the trolley function.
It has large and flexible wheels that are durable and smooth when moving.
The Bag has a 32.8-liter storage capacity for the backpack.
The handle has an anti-slip and comfortable design for seniors.
---
Index Table: Top Rated Grocery Carts for Seniors
---
---