Senior individuals are in good need of a reliable clock, but vision may become poor as you age, and other issues such as Dementia may develop.
This said, a more specialized clock is required to accommodate these issues, which are predominant in elderly persons.
---
Why Do Seniors Need a Special Clock?
A Good Clock is an essential part of every home, even more so for seniors.
Most younger individuals rely on phones and media devices to give them time, dates, and alarms; however, older persons may struggle with the new technologies and not see them on these small screens.
Here are a few reasons why seniors need a good Clock;
Alarms – Alarms are a vital part of a senior's life, especially if they suffer from andy conditions affecting their memory. Not only for waking up but as reminders for appointments and to take medications, the alarm on any good clock can be a senior's best friend.
Visibility – The right clock will display time and dates in bold, backlit, and large letters and numbers, making it much easier for seniors to see.
Audio – An audio voice can be set in many clock brands, which automatically or upon request tells the time and date, which is much easier for seniors with poor vision.
---
Choosing the Best Clocks for Seniors
When purchasing a Clock for a senior person, here are a few things to keep in mind;
Numbers – Whether it is an analog or digital clock, It should display the numbers and dates and is very large. Also, look at the background color of the clock in contrast with the numbers; this sometimes helps to improve the display.
Easy to Read – Also, keep in mind Glare and nighttime visibility of the clock; this is where a digital backlit clock comes in handy. The Clock needs to be easy to read and understood at all times of the day.
Adjustability – First, look for adjustability on the clock and alarm settings, tone, sound volume, and backlight brightness settings. Then the adjustment knobs and buttons must be easy to operate and large enough for shaky elderly hands to reach and operate.
Type of Clock and Decor – You have the option of a wall or desk clock for elderly persons, though I would recommend a portable desk clock that is within easy reach and easier to see than one was hanging on the wall.
Alarms – An alarm system on the clock though not critical, can come in handy for older persons.
---
Features of a Good Clock for Seniors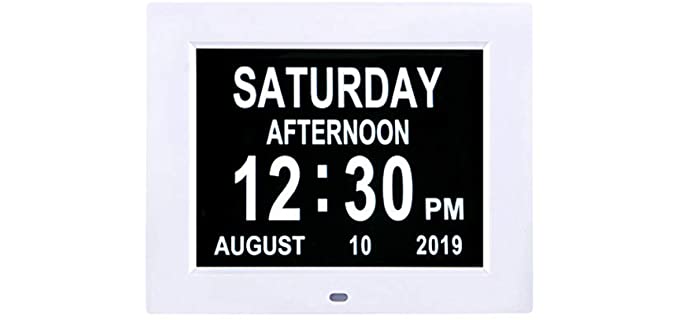 Display – Large LED or Analog date and Time Display. Backlit or Lighted Display that can be Dimmed.
Voice Function – Voice time spelling.
Alarm – Radio or additional Alarm clock with Snooze Option.
Power Source – Battery Back-Up and Electrical Operation.
---
Reviews: The Best Clocks for Seniors
Below are some excellent selections in Clocks that have the perfect features for Seniors and elderly persons;
We hope you love the products we recommend!
So that you know, We may collect a share of sales or other compensation from the links on this page.
---
1
Place this clock on your desk or nightstand and swivel it to display the time on your wall or ceiling in large digits.
It has a built-in Am/FM radio device that can be preset to be used as an alarm.
Large Led Display with a projection function, so you can swivel the clock up to 180 degrees to display the time on your wall or ceiling.
Sleek design and display and a dimmer function for less brightness on display.
Dual alarm, radio, and buzzer function for morning wake-up calls.
There is also an auto-sleep off-timer and battery backup for power outages.
---
2
This is an all-in-one clock for seniors that can talk, has a touch screen, large display, and alarm functions.
A unique talking calendar and time clock design tell you the date and time.
A large touch screen and eight alarm settings to choose from.
Battery backs up functions and different time-setting options.
Large LED lighted display and availability in two color selections.
---
3
This extra-large display clock with alarm settings and a backup battery is ideal for seniors.
It fits neatly on your desk or nightstand and has a sleek and elegant design.
Extra-large Led display of the date and time with three alarm settings available.
A snooze button at the top is easy to reach, and manual brightness control of the display.
Very easy to operate and comes with a backup battery function in case of a power outage.
---
4
The PPLEE Analog desk Clock is simple and offers a large display perfect for older, visually impaired individuals.
A small and neat design desk clock that fits on any desk or nightstand.
It offers a large analog display of the time.
Battery-powered and cordless, which also makes this clog portable and ideal for travel.
Very easy to set and use and uses easily attainable batteries.
---
5
A powerful and highly versatile, and functional clock for seniors from Sonic.
A small, round-the-clock, in many bold and neutral color options, is ideal for children and seniors.
The Sonic bomb has a shaker that works with the alarm system to wake you up.
You can set the alarm using sound and vibrations with a snooze option.
Extra loud sound and a large digital time display function.
Ideal for individuals who are deaf or hard of hearing.
---
6
A large clock and nightlight in one from RCA Home with a Led digital time display.
Available in a black or white color option.
A large LED digital time display in bright red is clear and easy to see, particularly in persons with poor vision.
Very simple and easy to operate.
It has a built-in night light and a brightness dimmer function for the light and LED display.
The alarm is loud and offers a snooze option, which is quite convenient for elderly persons who are hard of hearing.
Electrically powered with a battery backup system, so you have a backup whenever the power may go out.
---
7
The DreamSky Clock for seniors is a large digital design clock.
It has a jumbo LED display and is backlit.
There is an alarm with an adjustable sound.
It uses a USB charging port and has long battery life.
It can also take AAA batteries.
---
8
Sharp is also a well-known brand with a great clock for seniors.
The clock is straightforward and has an alarm sound with a snooze button.
The display is clear and large for poor vision in seniors.
It is electric-powered with a battery backup.
---
9
For seniors who prefer a wall clock, this one is ideal.
It is digital with a clear and large display.
It also monitors and tells you the indoor temperatures.
There are three alarm settings with independent alarms.
It is battery operated and charges with a USB>
---
10
The Five Senses clock is another favorite for the elderly.
It has an extra-large display and two colored image icons.
There are three various alarm settings with AM/PM functions.
There is also a four-talking system for the visually impaired.
It has a five-setting automatic dimming function.
---
Index Table: Top Rated Clocks for Seniors
---
---