One of my favorite inventions today is the mattress topper, which can confirm a hard and uncomfortable bed into a magical sleeping space.
The best mattress Topper for the Elderly is something not to be missed and an absolute must-have. So you can read further if you'd like to learn more.
---
Who Needs a Mattress Topper
A good mattress topper can be especially beneficial for a senior person, particularly in these cases;
Mattress That is Too Firm – A too-firm mattress can be extremely uncomfortable and even cause pain for seniors and elderly individuals. Adding a soft goose-down or memory foam mattress topper to a hard mattress provides a soft surface that is comfortable to sleep on while you still have the support of a firm mattress.
Mattress That is Too Soft – On the contrary, a too-soft mattress lacks support and can lead to back pain and other senior issues. Adding a firmer or memory foam mattress topper provides better and firmer support to a soft mattress.
Hot Sleepers – Many mattress toppers are designed to regulate your body temperature during the night. They have specific materials and designs to circulate air and cool materials such as memory foam that tends to overheat.
---
Finding the Right Mattress Topper
Finding the right mattress topper largely depends on exactly what you need.
As mentioned above, what is your main issue? Do you need firmer support, softness, pressure relief, or something that regulates temperatures?
Different materials and designs offer different functionalities, and some offer more than one.
Depending on what you are looking for in a mattress topper, you can opt for something that will provide you with exactly what you need.
Memory foam and foam mattress toppers provide better support, while Gel-infused or Vented mattress toppers help regulate temperatures. An egg crate soft foam mattress topper is ideal for pressure relief, while a soft down-filled mattress topper will add softness to a hard mattress.
---
Features of a Good Mattress Topper for the Elderly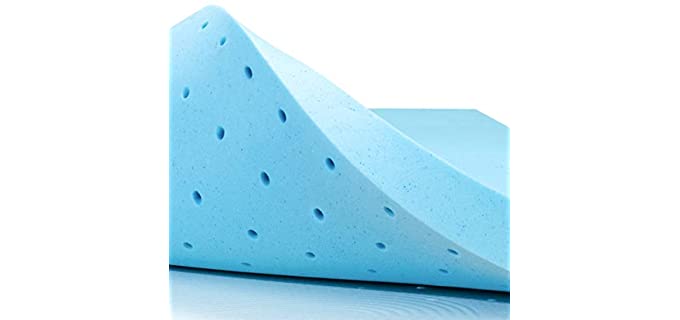 Thickness – Firstly, mattress toppers come in different inches of thickness, from a thin two-inch thickness up to four-inch thickness and more. Generally, most are around 2.5 to 3 inches thick and work well.
Softness – For a Hard Mattress, adding a soft memory foam or down-filled mattress topper can provide adequate softness and comfort without reducing the support of your actual mattress.
Support – A foam, Egg Crate Foam, or memory foam mattress topper is among the best choices for support and pain relief, especially around your back and joints.
Regulating Temperatures – The right mattress topper can provide warmth, regulate temperatures, or provide cool relief. Memory foam generally holds body heat, yet gel can help to keep you cool. Ventilated designs also provide better airflow and thus control temperatures.
Maintenance – Look for an easily washed mattress topper design. Most are usually machine washable and easy to care for, especially seniors.
---
Reviews: The Best Mattress Toppers for the Elderly
In our list below, we have a variety of the best mattress toppers for elderly persons that cater to every need and health condition;
We hope you love the mattress toppers we recommend!
We may collect a share of sales or other compensation from the links on this page.
---
1
---
2
The Linenspa three-inch mattress topper is a pressure-relief memory foam mattress with an airflow design for ventilation.
I chose This convoluted mattress topper, especially for pressure relief.
Seniors with bedsores and ulcers and injuries or post-operation will benefit most from this type of mattress topper.
It consists of a memory foam mold with convoluted egg crate designs and maximum airflow dispersion for cooling comfort.
This design is likewise excellent for various uses and temperature regulation.
There are many size options available to you in this design.
---
3
The Easeland mattress topper is an inflatable air mattress for seniors with ulcers and bedsores.
This is an alternating pressure relief mattress topper.
It has plush cotton and a down fill for pressure relief.
The Mattress Topper has a durable and breathable cotton cover.
It comes in more size options from which you can choose.
---
4
The goose-down mattress topper from Bare Home is soft and comfortable for seniors.
The mattress topper consists of ultra-soft plush microfiber polyester,
It is a soft luxury mattress topper available in many sizes.
The pillow top mattress topper has a fuzzy side to keep your warm and comfortable and a smoother breathable side to keep you cool in summer.
This mattress topper is ideal for hard mattresses and provides plush comfort and softness.
---
5
This is the 2-inch mattress topper from Lucid for lightweight comfort and pressure relief, filled with memory foam and infused with Lavender for calm rest.
We have a memory foam mattress topper at two inches of light for support and comfort.
The memory foam is infused with lavender for a relaxing scent.
There are textured zones to reduce pressure at different contact points in your body.
The Memory foam has the technology to be softer and airier, regulate temperatures,
---
6
The Egg Crate design memory foam mattress topper design from Sinus is ideal for pressure relief.
Another Egg Crate Design Mattress Topper with soft spine protection.
It offers excellent circulation and ventilation of air and pressure relief.
The 1.5-inch mattress topper is lightweight and portable in design.
You can get the mattress topper in all standard bed sizes.
---
7
The Subrtex is a 3-inch memory foam mattress topper that is Certi-PUR certified quality and ventilated, with infused gel to keep you cool.
Here we have a supportive Gel-infused memory foam mattress topper.
It is quite thick at 3.5 inches and will provide comfortable support.
The infused gel has cooling capabilities and prevents you from overheating at night.
It has a removable and washable cover with zip closure.
---
8
This is a plush and cooling mattress topper for seniors.
It has a down-alternative fill for softness and a deep-pocketed fit.
The size is a queen size; however, other sizes are available.
The mattress topper is thick and plush.
---
9
The mattress topper is extra thick for better support and comfort.
It is Quilted with a 400TC organic cotton shell.
The mattress topper is comfortable and hypoallergenic.
It is machine washable and very easy to maintain.
---
10
A memory foam support mattress topper for seniors.
It is a Zoned design With cooling gel-infused memory foam to keep you cool and comfortable.
The memory foam used is premium grade.
The cover is durable and washable.
---
11
This is a pressure-relieving egg crate design mattress topper.
It has a memory foam fill, and you can choose from a variety of infusions such as aloe or lavender.
There are also quite a few size options available to you.\the mattress topper contains Certi-Pur certified memory foam.
---
Index Table: Top Rated Mattress Toppers for Seniors
---
---