As we age, our feet eventually start needing some extra love and care. When an older person has healthy feet, it will help them to stay mobile and balanced, as well as independent for as long as possible. It can reduce the risk of foot problems. That could affect their overall health or make it difficult for them to walk or stand. So, to keep your elderly loved ones' feet comfortable and healthy, it is based to get elderly food care products.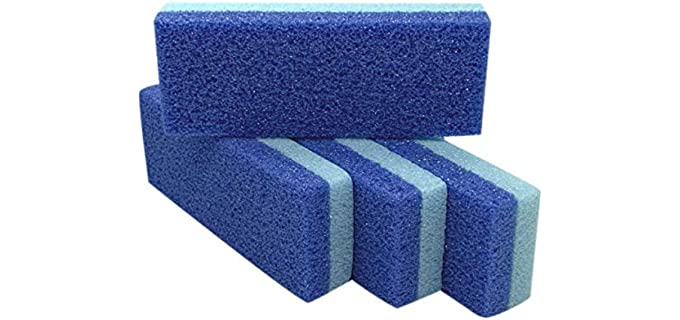 ---
Older Feet Need Extra Care
Getting older does take a toll on your feet. The longer it takes, the more eventually, the tasks such as taking care of our feet can easily be forgotten.
When we age, are feeding to flatten, and they become slightly wider. There is less petty padding, and this naturally weighs down on our feet. The joints of our feet and the bones are more exposed, and they are more prone to wear and tear. As simple as a can impair your mobility and balance, and overall function in most elderly individuals.
The skin on an elderly person's feet also tends to be much more fragile. Their skin can easily break. They can have ingrown toenails, and there is a larger risk of fractures and sprains in elderly persons. These can also lead to more serious health effects.
The oldest skin also tends to have poor circulation and tends to be much drier. Elderly persons tend to form skin conditions such as corns and calluses on their feet, which can lead to infection and pain in the end.
Looking at all these issues, you understand, as an elderly person, why it is so important that you take proper care of your feet. To take proper care of your feet, you also need the best foot care products for an elderly person.
---
Taking Care of Your Feet
Here are a few tips that every elderly person should follow to keep their feet healthy, clean, and without any issues;
Clean and Exfoliate Your Feet – Make sure to regularly wash your feet first of all. You can wash it with warm water and soak it, but it is also important to exfoliate your feet now and again. You can use a manual scrub, a Pumice Stone, or a foot file to exfoliate dry skin or fuel feet, and then you can clean your feet. Cleaning and exfoliating your feet makes the skin ready to properly absorb moisturizers that are needed for dry skin and your feet.
Moisturize Your Feet – It is very important to keep your feet moisturized when you are a senior, dry skin is very proud to crack and flaking and breaking, which can be very uncomfortable and can cause open foot sauce. You need to apply your foot lotion if your feet have been thoroughly washed and dried. Get a moisturizer that will lock in moisture and keep the skin on your feet soft and supple.
Trim Nails – Having toenails that are too long can interfere with the way you walk and your balance, and there is also the small risk of scraping your other leg or foot with the opposite toenails. Some outed individuals may not be able to cut their toenails by themselves anymore, or they may have a fear or paranoia that prevents them from cutting their toenails. In this case, you can go to a podiatrist or get a loved one to help you to trim your toenails. It is important to keep your toenail shorts and to keep them clean, to prevent foot fungus and other conditions, such as ingrown toenails.
Proper Footwear – One of the pods of your footcare is to wear proper footwear. As you get older, it becomes more and more important to look for footwear that is more supportive and comfortable that a lower heel and that offers a more accommodating fit.
Manage Pain – When you have a condition such as arthritis, diabetic neuropathy, or even plantar fasciitis, your feet are usually the first part of your body to show symptoms related to these conditions. If you feel pain, numbness tingling, or even stiffness in your feet, or if you notice inflammation in your feet or ankles, it is very important to get to a doctor or a podiatrist for a more thorough exam.
Promote Circulation – Seniors may suffer from diabetes, neuropathy, or artery diseases that can affect mobility, which in turn can develop poor circulation in their legs and feet. Poor circulation can eventually contribute to developing blood clots, which can be very dangerous. You can easily improve the circulation in your feet with foot massages or elevating your legs when you are sitting down or resting. Compression hosiery and socks are also ideal to help with circulation in your feet and legs.
---
Features of a Good Elderly Foot Care Product
Here are a few products that you should try to invest in to take care of your feet;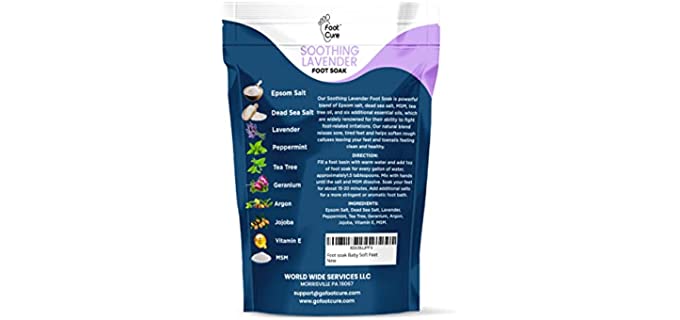 Exfoliation and Cleaning – Use an exfoliating footfall or a pumice stone, or you can use a manual scrub to exfoliate and clean your feet properly. When Exfoliating you should also wash your feet, and use something that contains tea tree oil and mint to refresh your feet and to help with infections.
Moisturization – A proper moisturizer is very important for your feet, just as it is for your body. Get a moisturizer that will lock in moisture and hydrate your feet properly.
Foot Soaks – For feet that are painful and aching, all that effort hardened skin, and is better to just soak them in nice warm water soak with some salt, such as Epsom salts, to soften dry skin.
---
Reviews: The Best Elderly Foot Care Products
Here I have included a few products that should help you care for your feet as an elderly person;
---
1
Flexitol is a Heel balm and foot moisturizer for seniors.
It helps to prevent and treat deep cracks in your heels, and rough skin.
The heel balm contains clinically proven and nourishing ingredients.
It is a concentrated and thick formula.
---
2
I have added this lotion application device for your feet from Aquasentials.
For seniors who struggle to reach their feet to apply lotion, this is the perfect device.
It is a PVA sponge application that is easy to use and clean.
It is high quality with a long handle.
---
3
From Purely Northwest we have the Tea Tree Oil and Peppermint body wash that is ideal for seniors to use on their feet daily.
The tea Tree oil will help to treat all infections and foot fungus.
The mint gives your feet a cool and refreshing feeling.
It is a great daily soap for your feet.
---
4
If you have any foot issues such as a fungal or bacterial infection, the anti-fungal foot cream is ideal.
I have added Family Care's Clotrimazole anti-Fungal cream that you can use for any foot issues.
The cream is effective and the ideal treatment for your feet.
You get a pack of 3 creams with this purchase.
---
5
The Maryton Foot Pumice stone is perfect to clean and exfoliate your feet.
A Pumice stone helps to remove old dead skin and smooths your feet.
It is perfect for daily or less regular foot exfoliation.
The premium Pumice stone is durable and you get a set of 4.
---
6
Here we have a soothing Lavender foot soak from Foot Cure.
The soak contains Epsom Salts which are ideal for your feet and skin.
The soak can be used in a spa or as part of a full pedicure.
The soak has soothing lavender that will give you soft and gorgeous feet.
---
Index Table: Top Rated Elderly Foot Care Products
---
---