As an elderly individual who needs to use a wheelchair or a scooter to get around, it may sometimes be difficult to enter certain areas or move up and down a curb.
In this case, a portable wheelchair ramp may be one of the best devices you can invest in, allowing you easy access to all areas, even vehicles, in a wheelchair or on a scooter.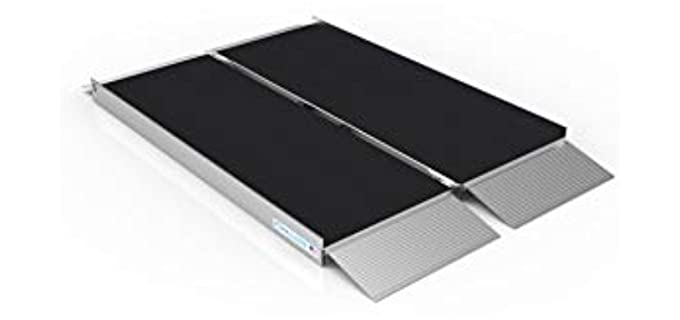 ---
---
Are Portable Wheelchair Ramps Safe?
The most important question is if portable wheelchair ramps for seniors are safe.
The answer is yes, they are quite safe if, indeed, they have the right features and design;
Portable Wheelchair Ramps are Safe if They Have the Following;

The surface of the ramp needs to be non-skid so that the wheelchair or scooter does to slip off the ramp.
There need to be safety edges on both sides of the wheelchair ramp.
The design of the wheelchair ramp needs to hold the weight of the individual, wheelchair, and caretaker, or person pushing it on the ramp.
There must be level transition plates on both ends of the wheelchair ramp.
Please make sure there are water drainage holes should it be raining.
Some may come with handy handrails.
There should also be full instructions on using and assembling the wheelchair ramp.
A senior can use a portable wheelchair ramp to access a home, vehicle, curbside, stores, and many other areas that are not easy to access.
Portable Wheel Chair Ramps Come in two Categories
Most portable Wheelchair ramps for seniors come in either a single platform ramp or a ramp with two separate channels or tracks used on either side.
---
Pros and Cons of Portable Wheelchair Ramps
The best portable Wheelchair ramps are the most comfortable, reliable, and easily installed for use.
Pros

Most portable wheelchair ramps are lightweight so you can use them anywhere.
They will have edges and bumper guides to prevent the wheelchair or scooter from slipping off the sides.
Portable Wheel Chair ramps can be used for electric and manual wheelchairs and scooters.
Portable wheelchair ramps also come in various sizes and designs to suit your specific needs.
Cons
Unfortunately, using channel-type portable Wheelchair ramps means they must be set up and taken down whenever used.
Lower-priced models may have poorer quality and dangerous sharp edges.
Most ramps are quite heavy to lift, and older and more frail people may be able to install and carry the portable ramp.
Most portable ramps do not come with handrails.
---
Features of a Good Portable Wheelchair Ramp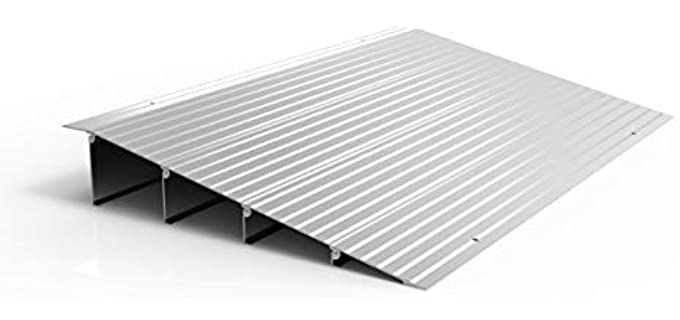 Anti-Slip Surface – Make sure that the Portable Wheelchair ramp for seniors has and anti-slip surface for proper grip.
Safety Edges – There should be safety edges or bumpers to prevent the wheelchair or scooter from slipping off the sides of the ramp.
Weight Capacity – Check the weight capacity of the ramp and make sure that it is the right weight according to your needs. You need to consider the weight of the wheelchair, the user, and the caretaker.
Transition Plates – The Transition plates or landings at the bottom of the ramp must be stable and adjustable.
Handrails – Very few Portable Wheel Chair ramps come with handrails, but it would be good if you could get one with handrails.
User Guide – Ensure the ramp has an informative and thorough user guide for easy installation.
Ramp Length – Wheelchair ramps come in many sizes and lengths, and you will need to choose one that suits your specific needs. ADA guidelines say the ramp should always be at most 30 inches or 12 inches long. However, for home use, these guidelines are not necessary.
---
Reviews: The Best Portable Wheelchair Ramps
Here you will find some of the best available Portable Wheelchair ramps that are suited for elderly individuals;
---
1
The Titan ramp is a portable wheelchair ramp with a multi-foldable design and 6 feet long.
The ramp is ideal for wheelchairs and scooters, with a six-foot length and 29-inch width.
It is lightweight, durable, with a safe construction and flexible design.
It is multiple foldable ramp convenient because it is highly portable and lightweight.
The ramp has an angled tip that offers additional security when you install the ramp.
---
2
The Ruedamann adjustable aluminum ramp is a comfortable and durable wheelchair ramp.
The ramp has a 600 lbs weight capacity and is extremely durable.
There is a non-skid surface and adjustable length settings.
The ramp consists of durable and lightweight aluminum and versatile indoor and outdoor functions.
The ramp is foldable and highly portable, as aluminum is quite lightweight.
---
3
The Drive Medical STDS us a portable wheelchair and scooter ramp for seniors.
The wheelchair ramp is designed to transition a wheelchair from one surface to another.
It can be sued for both wheelchairs and scooters.
The wheelchair ramp has a 28.5-inch width and 4-inch height. It can support 600 lbs in weight,
Highly portable and lightweight to carry and comes with a carry handle.
---
4
The EZ-Access transitions modular wheelchair ramp is portable and lightweight.
The wheelchair ramp has a 4-inch tall modular entry with a smooth and sturdy surface design,
It is extremely quick and easy to install and remove interchangeable extensions.
Ideal for home and car entry with a portable design and easy carry handles.
You can access almost anywhere with the highly adjustable wheelchair and scooter ramp for seniors.
---
5
The Multi-Fold Scooter and Wheelchair Ramps are lightweight and portable for seniors.
The Wheelchair ramp is designed for transferring steps, curbs, and raised surfaces of all kinds.
It can fold very compactly for portability and storage and has a convenient carry handle.
The wheelchair ramp for seniors has a high traction surface for optimal grip in all weather conditions.
It has a grip Tape surface for added traction.
The lightweight aluminum wheelchair ramp is very durable and can hold a weight capacity of 600 lbs.
---
6
The EZ-Access Wheelchair and scooter ramp for seniors is portable and lightweight.
The ramp has an ultra-strong design that is still very lightweight and can be carried into two sections.
It is safe and easy to use with a slip-resistant surface and easy applications,
The ramp has a weight capacity of 800 lbs, so it is much more heavy-duty in design.
Ideal for heavier-weight seniors and larger wheelchairs or scooters.
The wheelchair ramp allows you easy access almost anywhere.
---
Index Table: Top Rated Portable Wheelchair Ramps
---
---