A tablet may be the better choice for seniors who want to stay connected but enjoy surfing the web and other mobile entertainment forms.
Tablets are generally user-friendly for most adults and seniors, and even toddlers. They have larger screens and are much easier to operate.
Therefore, the best tablet for seniors may be just what you have been looking for all along.

---
Benefits of a Tablet for Seniors
Seniors are embracing technology more and more today, and one of the easiest forms of technology to use for a senior is the tablet.
Tablets allow a senior person to keep in touch with loved ones and are ideal for video chats and social media calls.
Tablets are also an excellent form of entertainment for a senior person as they can play games and access apps easily on a tablet.
Similar to a smartphone, you can adjust the sound, brightness, and font sizes on a tablet for clear and easier hearing and sight, which is ideal for older adults.
---
Choosing a Good Tablet for Seniors
There are a few highly relevant characteristics to consider in a good tablet for a senior individual;
Price Range – Firstly tablets can cost anything between $65 and $500 for a good quality tablet. The more expensive usually means more features. So you will need to select a budget available to you and decide which features are necessary.
Quality Build – Look for a tablet that will last at least the lifespan of a lithium-ion battery, which is around two years. Look for tablets with waterproofing, impact resistance, and other quality features, including good processing speeds, quality audio, and screen clarity, and good battery size.
Relevant Features – Besides robust accessibility for visually and hearing-impaired seniors, including font and audio adjustments, there are also some other great futures of note. Calendars, reminder apps, and launcher apps can be an excellent advantage in a tablet for seniors.
---
Features of a Good Tablet for Seniors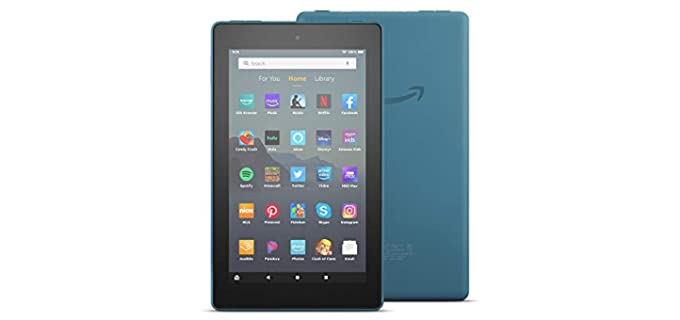 Warranty – With any new tablet or device you will receive some sort of a manufacturers warranty for quality, and there may be options for an extended warranty. Always check for good warranty options.
Price and Options – Tablets are available in many different hardware configurations at different prices. Some tablets may have a higher definition screen, faster processor, or larger storage capacity, while others may have other features. You will be surprised at how many devices you can find with similar characteristics at a broad range of pricing structures. I usually opt for well-known and trusted brands rather than new unknown brands. Well-known brands are also easier to get parts and accessories for as needed.
Hearing Aid Compatible – For seniors who have problems with hearing, it is advised to opt for a tablet that is hearing aid compatible.
Accessibility Features – Should the senior person have issues hearing or seeing in the unforeseen future, it is advised to always look at accessibility options for screen clarity, font size, and volume settings that will adapt.
Easy Set-Up and Operation – Always look for a device and brand that is user-friendly, easy to set up, and easy to operate by seniors. Many brands and models can be quite complicated. However, some are so easy to use by seniors.
---
Reviews: The Best Tablets for Seniors
Listed below are the top choices in tablets with features and functions ideal for seniors;
---
1
The Amazon Fire HD 10 is simply the best available tablet for seniors and children, for that matter. In all its features, it is easy to use and has an excellent display and audio quality.
This is the latest model in the Amazon HD fire tablet.
It comes in an option of 32GB memory or 64 GB memory which is slightly more expensive, and there are color options.
There is a 10.1 inch full HD screen.
The menus on apps on the tablet are extremely user-friendly and very easy to use.
The tablet is medium weight and comes with a one-year limited warranty.
---
2
The Apple iPad is, of course, the best tablet on the market for seniors if you can splurge a bit, and the 4th Generation Air is their latest model.
The tablet offers 10.9 inches of stunning Liquid Retina display with a true tone and P3 wide color option.
It has an A14 Bionic chip with a neural engine.
Touch ID for more secure recognition is easier for seniors than having to remember a pin or password code.
There is a 12 MP camera at the back and a 7MP face-time HD front camera for selfies.
It is available in more color options for your personal preference.
There is also wide stereo audio, and it is Wi-Fi compatible.
---
3
The Microsoft Surface Pro 6 is a versatile tablet and laptop all-in-one highly functional device.
A best in its class laptop that is versatile as a studio and tablet all in one.
It is more powerful with the 8th generation processor and ultra-slim with 1.7 pounds in weight.
There are seniors such as the ambient light sensor, accelerometer, and Gyroscope technologies.
It offers all-day battery life with 13.5 hours of video playback.
It has 8 Gb of RAM and 128 Gb of internal memory.
---
4
Lenovo is a trusted general brand in tablets that is affordable and has some excellent features for seniors.
The Lenovo tablet is budget-friendly and all that you need in a tablet.
It has a premium look and feels with a slim design.
There is a 10.3-inch screen with an FHS display and TDDI technology.
The Octa-Core processor is speedy and efficient.
There is an 8 MP tear and a 5 MP front camera.
Two side speakers are tuned with Dopoundsy Atmos technology for sound.
You can stay connected with Wi-Fi and Bluetooth.
---
5
The Apple iPad mini is a smaller tablet version that is easy to use and portable for seniors to easily carry around.
This is a much smaller IPad that is easy to carry around by seniors.
It has a 7.9-inch screen which is still quite large, and a Retina display with a True Tone and Wide Color.
There is an A 12 Bionic Chip and Touch Finger ID sensors for easy access.
There is an 8 MP back camera and a 7MP Face Time HD front camera.
The speakers are stereo, and the tablet is Wi-Fi compatible.
More color options are likewise available to you.
---
6
The Amazon Fire 7 is their most basic range and comes under $50, making it very budget-friendly for seniors.
The Amazon Fire 7 is a slightly older model that is budget-friendly for your basic needs.
The tablet has a 7-inch screen that is a bit smaller.
It has 16 GB or 32 GB of internal storage, depending on which option you choose, and more colors are available.
There is a faster 1.3 GHz quad-core processor, and you can enjoy 7 hours of video, reading, or streaming the web.
It features Alexa smart technology and comes with 1 ZGB of RAM.
There is a 2 MP front camera and rear camera with a 720p HD video function.
It also features dual-band Wi-Fi compatibility.
---
7
The RCA Voyager is a more affordable tablet model for seniors.
It is an Android device that has a ten-inch screen.
There is 16GB of storage and 2GB of RAM.
The Tablet operates with Wifi and has a camera.
---
8
Here we have another Android tablet for seniors.
It has a ten-inch display screen and a very long battery life.
Easy and Quick to charge in turn.
The tablet has 64GB of storage that is expandable.
---
9
Samsung is a top and trusted Tablet and phone brand that is also very user-friendly for seniors.
This tablet can be obtained with 32GB, 64GB, or 128GB onboard storage.
It has a large ten-inch screen and long battery life.
Furthermore, you can also expand the memory with an SD card.
---
10
The Samsung Galaxy S7 is a top choice tablet for seniors.
You can choose from a few colors as well as 64GB or 256Gb onboard memory.
It has a much bigger 12.4-inch screen and a clearer display.
The tablet is Android and Wifi compatible.
It also comes with a handy pen for operation.
---
Index Table: Top Rated Tablets for Seniors
---
---