An anti-fatigue mat can be ideal for an elderly person who moves around the house in specific areas and stands in certain areas for long periods.
It provides stability and underfoot cushioning to prevent pain and foot fatigue, especially in seniors with health conditions.
This article will examine some of the best available Anti-Fatigue Mats, especially for Seniors.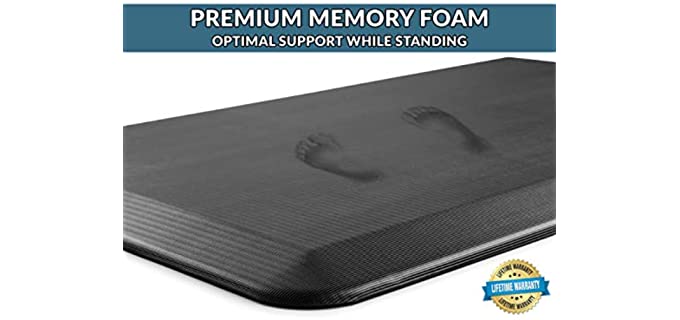 ---
---
What are Anti Fatigue Mats for Seniors
But firstly, what exactly is an anti-fatigue mat, and what does it do?
To answer, anti-fatigue mats are cushioned mats that you can stand or walk on for prolonged periods that reduce pressure and strain, often caused by hard floor surfaces on your feet and joints.
Anti-Fatigue mats are placed where you regularly walk or stand for a long period to reduce impact and pressure; it provides cushioning, slip resistance, and stability.
This could be particularly beneficial to seniors with foot and leg ailments, weakness, and other health conditions that may cause pain or discomfort.
---
Options and How They Work
An anti-fatigue mat will reduce pressure on your feet and lower limbs but can not cure any ailments. Please keep that in mind.
An anti-fatigue mat works well in a kitchen area where you stand for long periods, in a hallway where you tend to walk regularly, or in a work area where you also need to stand or walk quite a bit.
It provides comfort and relief; in most aspects, they are worth the effort and investment.
There are two considerations when it comes to anti-fatigue mats for seniors;
Thickness – An Anti-Fatigue mat should be around ¾ of an inch thick or slightly more; if too thick, they become unstable, too thin, and ether is not much protection. You want a safe and stable anti-fatigue mat for an elderly person that is soft under their feet yet still quite stable to walk and stand on.
Reach Zone – The reach Zone refers to the size, length, width, and coverage area you need the anti-Fatigue mat for. So you will need to consider the specific area of use, the room for the movement required, and get an anti-fatigue mat that is similar in size, maybe a bit larger.
Durability – A good quality anti-fatigue mat should last a while. Keep in mind heavy traffic and use will take their toll on the anti-fatigue mat. Most anti-fatigue mats have a slip-resistant underside and a durable, easy-to-clean surface to wipe clean. Once the padding starts to run out and become flattened, it may be time for a new anti-fatigue mat.
---
Features of a Good Anti Fatigue Mat for Seniors
Materials – Anti-fatigue mats for seniors are constructed of various materials. The base is usually a high density and thick foam such as EVA or Polyurethane. The cover may be vinyl and other materials with a slip-resistant texture and a rubberized bottom to prevent slipping.
Size and Thickness> – the size and thickness of the anti-fatigue mat will depend much on its specific purpose for use, and they are on which you need coverage for standing or walking on. Most anti-fatigue mats are designed for standing in the kitchen or for an area of work where you stand all day. Could you ensure that the size is efficient for the purpose you need the mat for?
Slip Resistance – With this regard, you want a mat that has a slip-resistant base such as rubber or other materials to prevent the mat from slipping underneath your feet. You will not slip on while you also want the surface t to have a texture or material.
Durability – Because an anti-fatigue mat is used for standing or walking for prolonged periods, you will want it to be more durable and long-lasting. The mat needs to be of good quality with durable materials and easy to clean should there be spills or soiling.
Design – The design of the anti-fatigue mat should be chosen to complement the colors and decor of your home. They are usually available in color and decorative options from which you can select.
Types – You get three anti-fatigue mats. Commercial anti-fatigue mats are used to provide protection and durability on the top and bottom. They can stand up to wear and tear from shoes and regular traffic in high walk areas. At the same time, the Ergonomic anti-fatigue mat is designed to increase motion and movement by having a sloped design, so you have better alignment and use your muscles. Then there are the Kitchen anti-fatigue mats designed for standing for long periods, cooking, and washing dishes to provide underfoot comfort.
---
Reviews: The Best Anti Fatigue Mats for Seniors
These are our top choices in Anti-Fatigue Mats that are ideal for seniors;
We hope you love the products we recommend!
We may collect a share of sales or other compensation from the links on this page.
---
1
The Gorilla Grip anti-fatigue mat also has a slip-resistant design.
It is a well-cushioned anti-fatigue mat that has an ergonomic shape and is very durable.
The mat is thick and fully washable, with a variety of purposes.
It is ideal for seniors with a slip-resistant surface and bottom.
---
2
From ComfiLife, we have an anti-fatigue floor mat for seniors.
The floor mat is ¾ inches thick and ideal for kitchen use.
You can comfortably use it at your desk or even at the office.
The mat has a safe surface for slip resistance and consists of high-quality materials.
The mat is stain-resistant and ergonomic in design.
---
3
The Kangaroo cushioned anti-fatigue mat has a ¾ inch thickness, perfect for seniors.
It offers all-day support and comfort in a variety of applications.
The anti-fatigue mat is ergonomic, designed to reduce stress on your feet and joints, and padded for comfort.
It consists of ultra-durable materials and has a slip-resistant base and surface.
---
4
The Butterfly Kitchen is an anti-fatigue mat specifically for kitchen use.
It has a lovely neutral color and decorative design to blend well into any kitchen space and decor.
The mat is cushioned for comfort and ergonomic design.
It is waterproof and very durable, with thick cushioning.
Also oil-resistant and quite easy to clean by just wiping it down.
---
5
The Royal Anti Fatigue mat is comfortable to stand on for prolonged periods.
It is ideal for home, office, and even garage use.
The mat has a non-slip base and surface for your protection.
It is padded for comfort and can be used on multiple surface types.
---
6
From Sky Solutions, we have the perfect anti-fatigue mat for seniors.
The anti-fatigue mat offers all-day support and comfort for various purposes and floor surfaces.
It has soft cushioning and a durable design.
The mat is slip-resistant and comes in many colors and designs from which you can choose for preference.
---
Index Table: Top Rated Anti Fatigue Mats for Seniors
---
---