The Talking Clock and Alarm clock is a device designed for a person who struggles to read the screen of a conventional clock.
This device is one of the best findings for elderly persons who have poor eyesight and dementia.
This article will discuss some of the best talking clocks for the elderly at some lengths.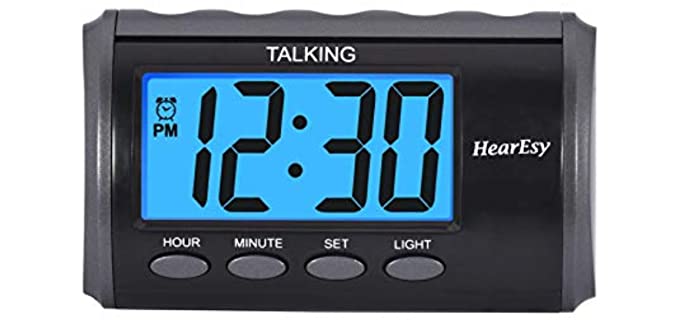 ---
Talking Clocks for Visually Impaired Seniors, and Dementia
What is the Time? What Is Today's Date? Y two questions, you may frequently hear two questions from an elderly individual who has dementia and even from persons who struggle to read a clock or a calendar.
Not to mention taking medication and performing certain tasks simultaneously can be confusing for an elderly person with or without dementia.
So here are some Talking Clock types and how they can actually help;

The Calendar Talking Clock – The Calendar Talking clock digitally displays the date and the time and can be activated by pressing a button to give you exactly the date and time at that movement. This type of clock is ideal for persons who have poor vision or dementia as it eliminates the need for constantly asking someone for the date and time and is less frustrating for the elderly person themselves.
Time Only Clocks or Day Clocks – This type of clock is similar to the calendar clock, yet it usually only gives the day and time. It is also ideal for seniors with dementia, however more suited to seniors with poor vision.
Alarm Talking Clocks – The Alarm Talking clock must have seniors who tend to forget to take medication or need reminding of special dates or times. Some can remind you of dates. Other models only have a daily time set.
---
How to Use a Talking Clock
in This video, you will see the Reminder Rosie Talking Clock and How it Works;
Using a regular talking clock is a simple and easy as pressing a button. Most talking clocks for elderly persons are designed to be as simple and easy to use as possible.
However, you will need to set the mode, alarms, and other features on the clock, which may be a bit more challenging and should be done by a younger loved one.
Most talking clocks for seniors with poor vision or dementia will announce dates, times, and even weather conditions or temperatures.
Most of them have LCD screens with extensive displays. However, there are some that do not have a display option and are talking Clocks only.
Some talking clocks will announce the time at scheduled intervals, and some have an alarm reminder that will activate and talk as soon as that time is reached.
All in all, the talking clock is a very convenient device, but you will have to decide which features you will need, as they all come with different features and designs.
---
Features of a Good Talking Clock for the Elderly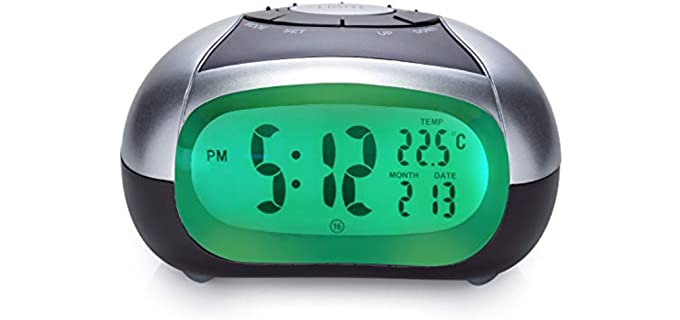 Easy Operation – Look for a clock that has a large LCD display and that has a large single easy-to-press button for a senior person.
Functionality – As I have mentioned, every Talking Clock has different functions, so you will need to choose which ones are more important. You get with alarm functions, date and time announcements at intervals, or requiring you to press a button, and models that announce the temperature.
Large Display – For elderly individuals who have poor eyesight or dementia, you can still opt for a clock that also has a large LCD display screen so that they can still see the time and change settings with ease. However, this function will not help someone that is completely blind.
Portability – I believe the talking clock should be battery-operated or rechargeable to allow for portability. As the elderly person moves from one to another, they should take the portable clock with them, especially when they need to set alarms. For elderly persons confined to a single area, a corded option is a better choice.
---
Reviews: The Best Talking Clocks for the Elderly
In our extensive list we have some of the best available talking clocks for elderly individuals;
---
1
The Okra talking clock is a top favorite that also features a digital display.
You can record your own alarm voice messages on it for up to eight alarms.
It announces the time and date in six different languages that you can set.
There is an extra-large digital display for seniors with poor vision that are still able to see.
---
2
Reminder Rosie is another top, favorite especially for elderly persons with dementia or that are forgetful.
The talking clock will speak in over 25 messages with the comfort of the voice of a loved one.
You can record personalized reminders and any language to playback at a specific time every day.
It is straightforward to use and very audible voice from a distance of 100 feet.
---
3
From Cirbic, we have a very loud talking alarm clock that gives you both the time and temperatures.
It is easy to use with just one tap on the clock, and you will hear the time and temperature in the room.
It talks with a very clear female English voice.
There is a backlit, so you can see the numbers much better at night on the display screen.
It also has an alarm setting and a full talking clock.
It uses two AA batteries that are not included.
---
4
This is a desk clock with a digital display, large numbers, and a talking voice for visually impaired seniors.
It has a large digital display with the time and the date,
There is a talking function that is ultra-clear, giving you the time and the date.
It also has a full alarm setting and loud chimes,
It is battery-operated and portable.
---
5
This is a very large talking button clock for seniors that are blind or just visually impaired.
For the visually impaired, it has a large high contrast display and an easy setting.
For blind persons, it has a talking clock that tells the date and time.
It is also easily set with audible instructions and only two settings for volume, high or low.
The clock uses AAA batteries which are unfortunately not included.
---
6
This talking clock is ideal for elderly persons with low and blurred vision.
The Clock still has a large display LCD screen that displays the time in large numbers.
There is also a talking function that will announce the time and temperatures of a room.
It operates using two AA batteries that are sold separately.
The Clock is also portable, being battery-operated.
---
7
The American Life talking Clock is the Newest Version for seniors.
It has an 8-inch high-resolution digital design and alarm clock.
The clock has a talking function and an extra-large display for the visually impaired.
The Multi-Functional Alarms can be set for different times of the day.
---
8
Here we have a talking alarm clock for visually impaired seniors.
It is battery-operated and has a large display.
There are two talking functions and a bright backlight.
The talking clock also has three helpful settings.
---
9
The Sonnet talking Clock is ideal for the elderly.
It is loud enough for heavy sleepers with alarm settings.
The click also has hourly voice notifications.
The display has a blue backlight.
---
10
The Smart Digital talking clock is also perfect for seniors with poor vision.
The display is very clear and large.
It has a talking function and alarm settings.
There are also different types of ringtones from which you can select.
---
Index Table: Top Rated Talking Clocks for the Elderly
---
---