When elderly loved ones start getting older, it becomes increasingly important for you to have regular contact with them.
Most elderly individuals may find landline phones limiting and most cell phones too difficult to understand and operate.
This is where the cordless phone for seniors can come in quite handy.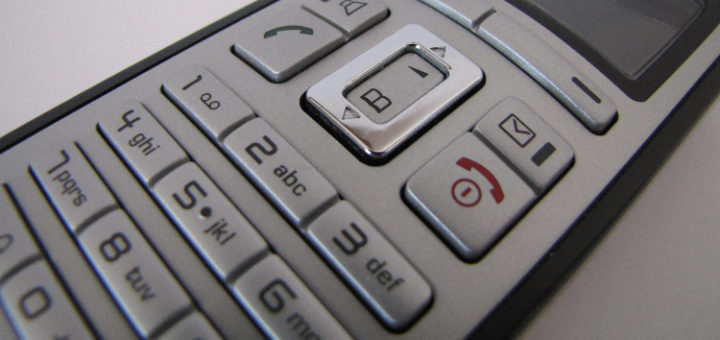 ---
---
Cordless Phones for Seniors
If you have loved ones that live away from you, or even if you need to leave them at home during the day, a cordless phone can become a necessity;
Emergencies – A phone that is easily accessed and close at hand for a senior person can be necessary for medical or other emergencies. Most cordless phones have a one-button dial emergency service function that is easy to use by seniors. Because the phone is cordless, it can also be kept close at hand by the senior person.
Keeping in Touch – A cordless phone is an easy and comfortable way for seniors to keep in touch with their loved ones and vice versa. The phone will be able to store some numbers in some models, so you can quickly and easily get hold of family and friends.
Easy to Use by Seniors – Some cordless design landline phones come with larger buttons, voice operation functions, and hearing aid compatibility functions and features, making them ideal for use by an elderly individual.
---
Benefits of a Cordless Phone in General
Most telephones have improved dramatically over the years in so many ways. They are much more efficient today and can maintain better connections, with much clearer sound quality and features such as noise cancellation.
There are so many types of phones that can be sued in a variety of circumstances; however, something that works well every single time, especially for seniors, is a cordless landline phone.
Many must understand the benefits and necessity of handling a cordless phone today. However, here are just a few;
Extra Antennas – Most cordless phones allow you to connect additional antennas that allow a much larger coverage area or range. This can be needed in the case of larger homes or living spaces where you need to travel a bit with the cordless phone.
Multiple Handsets – Some Cordless Phone models allow multiple handsets to connect to the same base. This is ideal if you share a home with other people and elderly loved ones so that each can have a phone and the option to charge the phone easily.
Easy reach – Having a phone that you can carry around the home is a perk for anyone, and it eliminates the need to be limited to one area for using a phone. It is also much easier and less dangerous in terms of an elderly person having to rush to get to a ringing corded phone.
More Freedom – You can move around freely, go about your day with a cordless phone, and remain within easy access should the phone ring or an emergency arise where you need to make a phone call.
Avoiding Dead Zones – With a cordless phone, you can easily move from one area to the next in your home to avoid dead zones, where you may lose connection.
---
Features of a Good Cordless Phone for Seniors
A cordless phone is very much different than a cell phone, and that is why there are specific features that you may need to consider in this type of phone;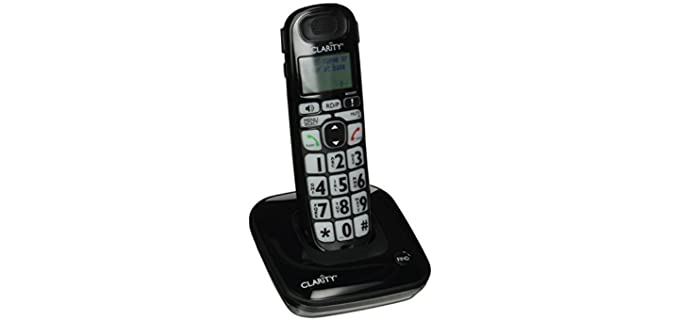 Large Buttons – The best Cordless phones for seniors should ideally have large displays and large buttons with clear markings that are easier to see, especially if they have trouble with vision.
Volume – many Cordless phones have volume settings where you can set the call and ring volumes. Some models may also be hearing aid compatible.
Answer Machine – Some cordless phone models may have an answering service integrated into the phone on which someone can leave messages and a service on which you can leave messages.
Price – Sometimes, a single cordless phone is more expensive than a set of cordless phones, whereas a set also comes in handy. Additional handsets may come in handy if you have a two-story home.
Caller ID – Many seniors do not like to answer the phone for just anyone or want to avoid telemarketers; this is where caller ID comes in handy. Caller Id helps you identify who calls you, usually shown on the LCD screen or using a voice prompt.
---
Reviews: The Best Cordless Phones for Seniors
These are some of the best cordless phone models that are perfect for seniors;
We hope you love the products we recommend!
We may collect a share of sales or other compensation from the links on this page.
---
1
The Vtech Cordless phone is the ideal design for seniors.
The cordless phone comes in a full handset set and is expandable.
It is silver in color. However, there are also black-and-white color options available.
The buttons are large and backlit for better visibility.
The phone is digital and easy to use by seniors.
---
2
The At&T cordless phone for seniors is an all-one option.
It is a full cordless phone handset with a proper answering system for answering calls.
It has extra-large backlit buttons for better visibility for seniors.
The cordless phone is battery-operated and has an LCD screen.
It also has a clear sound and speakerphone.
---
3
From Clarity, we have a cordless phone for moderate hearing loss in seniors.
The Cordless phone uses Lithium-Ion batteries and has interference-free technology.
It has 30% more battery life, and the design is expandable to up to five handsets.
It also features a digital answering machine.
---
4
Panasonic is a top brand that makes some of the best cordless phones for seniors.
This particular model is a wall-mountable and extendable cordless phone.
It is a digital phone with a large and clear keypad and clear sound,
It also features a good answering system function.
---
5
This model from Vtech is also an ideal cordless phone for an elderly person.
The cordless phone has an accessory handset and smart block technology.
It has a 50Db audio assist function and also enhances sound frequencies.
The phone further has a 90Db ringing volume.
---
6
The Clarity in Dect 6.0 model is also ideal for seniors with hearing loss.
It is a single-line operation cordless phone that is battery-operated.
The cordless phone is expandable to five handsets and has a much longer battery life.
It also features interference-eliminating technology.
The numbers are very large and backlit for seniors with poor vision.
---
Index Table: Top Rated Cordless Phones for Seniors
---
---