Today's landline phone with the latest technologies has many new and innovative features.
These are handy for seniors who still believe in the elegant and straightforward Landline phone.
Specialized landline phones today come with features ideal for seniors to improve visualization and audibility.
---
---
Why Choose the Best Landline Phones for Seniors?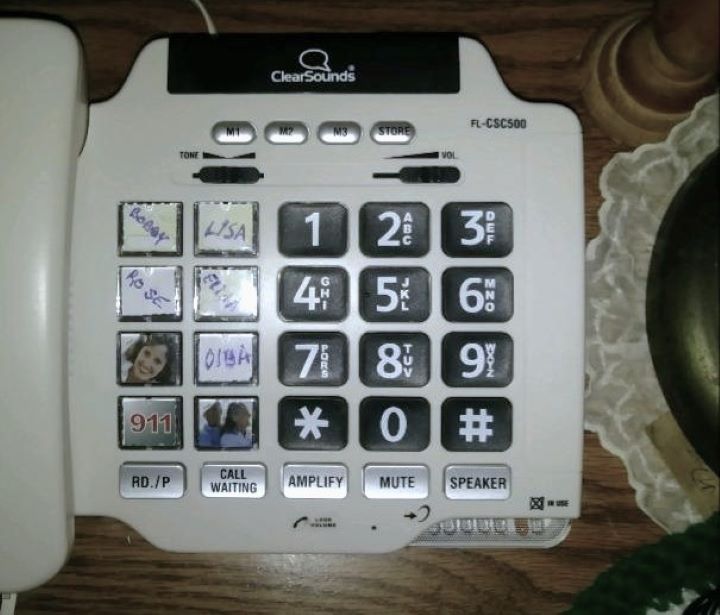 The landline phone truly is the better option for senior individuals, and here is why;
Emergency Calls – When you call 911 from a landline phone, your number is immediately shown at the help center so that they can locate your address much easier and faster.
Bad Weather – Because the copper lines are not affected as much by bad weather and are more readily available in most rural areas, you will not have the issue of lousy reception with inclement weather conditions.
Simpler To Use – A landline phone is just so much easier to use than today's Android and Cellular phone types, and it is much more user-friendly for seniors who may not understand or be able to use the new technology phones and gadgets.
Vision and Audibility – Today's new landline phones come with some superb technologies to make the numbers even more visible on the phone. Some can place a picture of a loved one with a certain number and program that number to the person's phone number. Audibility is also improved to adjust the ringer and sound at the other end to a higher or lower volume, and some models are heard aid compatible.
No Battery Charging – One of the main issues with Cellular phones is that their batteries need to be charged constantly, which is never an issue with a landline. Some landline phones even have a backup should the electricity be down.
---
Top Features of the Best Landline Phones for Seniors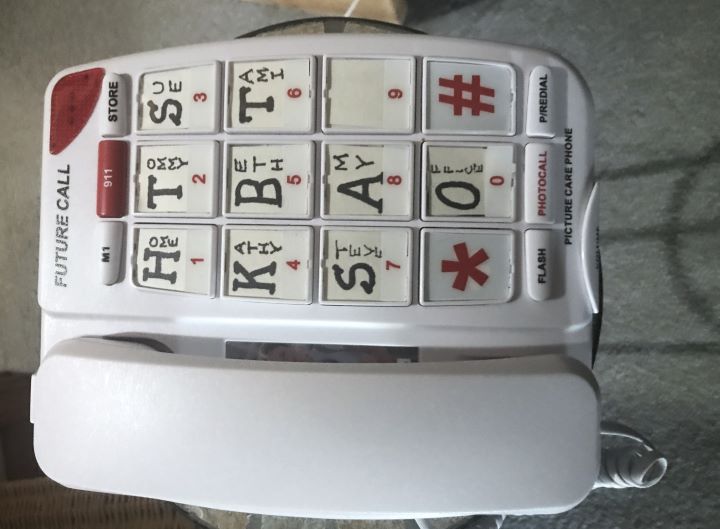 Still, trying to convince? Here are some more great features that you will find with the latest models of landline phones for seniors today;
Emergency Buttons – You can program and set buttons on your phones to immediately go through to an emergency number and program buttons with or without a picture of a loved one to ring that person.
Caller ID and Blcoking – Many new landline buttons show clear caller ID, and you can Block numbers you do not wish to receive calls from.
Cordless Handset Sets – For more mobility, you can invest in a cordless phone, a charging dock with as many handsets as you require, usually up to 12.
Hearing Aid Compatible – many new landline phnes are Hearing aid compatible.
Extra Loud Ring – Some models have adjustable volume to set the ring tone to moderate, loud, extra loud, or silent.
LED Screens and LCD Lighting – Cordless models have a clear LCD screen that is easy to use, and some landline models have flashing lights when they ring for better visibility.
---
Features of Good Landline Phones for Seniors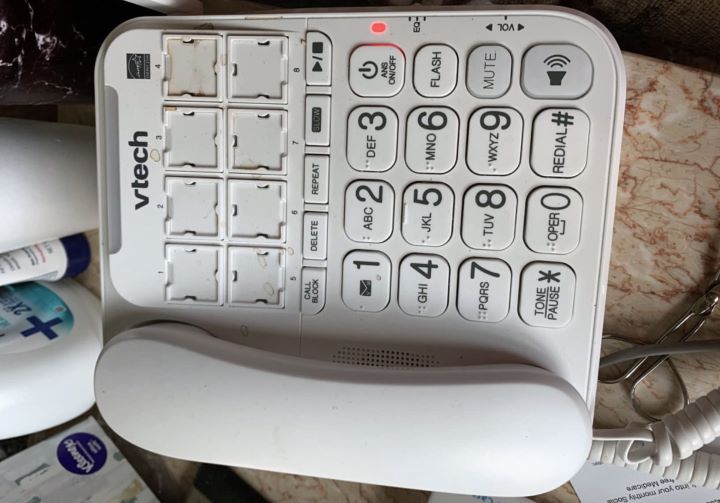 Display – LCD, Flashing Light, LED light, or large number display; some have a photo placement design for placing photos at the number display.
Sound – Amplified and adjustable sound for the ringer and two-tone speaker. Low, Loud, and silent mode sound options and LED light display when rining.
Compatibility – Some phone models are compatible with hearing aids.
Cordless – Cordless docking chargeable phones come with a selection of handsets, color options, and clear LCDs.
Functions – Caller ID, Caller Blocking, Answering Machine, and number saving options.
---
Reviews: The Best Landline Phones for Seniors
Check out this amazing list of the best landlines for seniors.
We hope you love the products we recommend!
We may collect a share of sales or other compensation from the links on this page.
---
1
---
2
ClearSounds offers you the Amplified sound and picture Id button landline that is the perfect phone for seniors.
Amplified sound and volume-boosting also boost the volume and tone of the person on the other side.
Compatible with most models and brands of hearing aids.
One-touch photo memory dialing system and large and clear number pad.
The Phone can store up to 32 numbers.
There is also a speaker option.
The ringer volume is adjustable and will automatically flash when the unit rings.
---
3
With the Future Call Picture Care phone, you can add photos of your loved ones to the display and use programmable numbers for easy operation.
You can place pictures on your phone buttons and set easily programmable numbers for calling loved ones or emergencies.
Ringers settings of high, low, or off.
Back-up features that backup emergency numbers for future use.
The numbers are also huge and easy to see.
LED lights indicate ringing, and the ringer can ring very loud for those with hearing issues.
---
4
The Vtech expandable phone has an answering machine, call blocking, and one-touch audio assist for those hard of hearing.
Digital technology phone with an answering function.
You can block robocalls on your landline and permanently blocklist up to 1,000 numbers with one touch.
It will enhance sound frequencies up to 50db, which makes speech easier to understand.
Additionally, it has a photo dial feature that will never let you forget whose number is whom.
It comes with adjustable volume settings, helpful for older people who often find their sense of touch decreased over time.
The oversized buttons and an easy-to-read display screen make the system super comfortable.
The extra-loud ringer allows you to hear incoming calls everywhere in your home.
---
5
The Perfect Codreded landline phone for seniors with high volume adjustability and large and clear numbers for trouble seeing.
Ideal for persons with trouble hearing and seeing.
Large display buttons with the option of inserting pictures.
The buttons are programmable, and the phone is straightforward to use.
Amplifies the sound to up to 20 decibels for those with trouble hearing.
There is also a vivid light ring indicator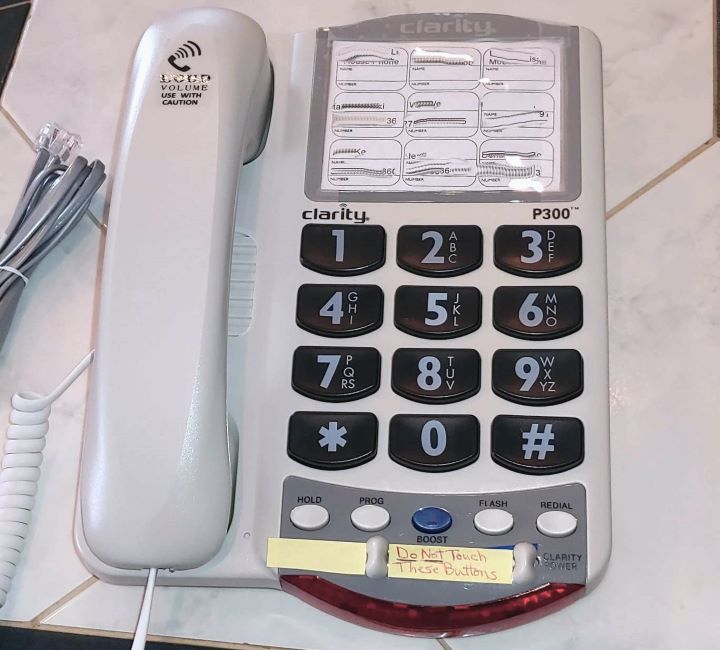 ---
6
Another superb cordless handset phone with an answering system and charging docks is simple and the best landline for seniors.
Two-color options with the choice of how many handsets you need.
A digital answering system with a voice guide recording up to 22 minutes.
HD clear and loud audio and an Equalizer for customizable audio.
Backlit keypad and a high-contrast LCD.
This phone is expandable to up to 12 handsets.
Caller Id function and a smart caller call blocking system.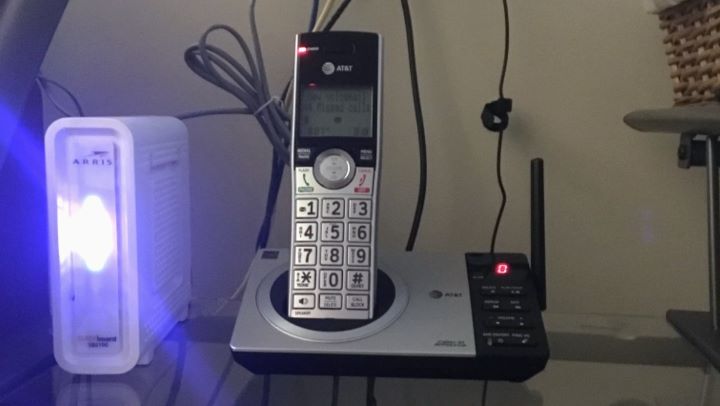 ---
7
Another superb model in cordless phones from Vtech is ideal for older individuals.
Two-color selections and the option of the number of handsets that you need.
This cordless design phone comes with handset phones and a charging dock.
Hands-free conversation with the speakerphone design.
A clear LCD screen and Illuminating keypad.
Power conserving technology for better battery performance.
Hearing Aid compatible.
Easy caller Id function.
---
8
The AT and T Landline phones have everything a senior may need in a landline phone, such as a larger display, audio assist functions, and much more.
The landline offers a caller Id and a call waiting option.
Audio assis, speakerphone function, extra-large buttons,s, and display options.
The LCD screen and tilt display are ideal for seniors.
The ringer is also very loud and easy to hear.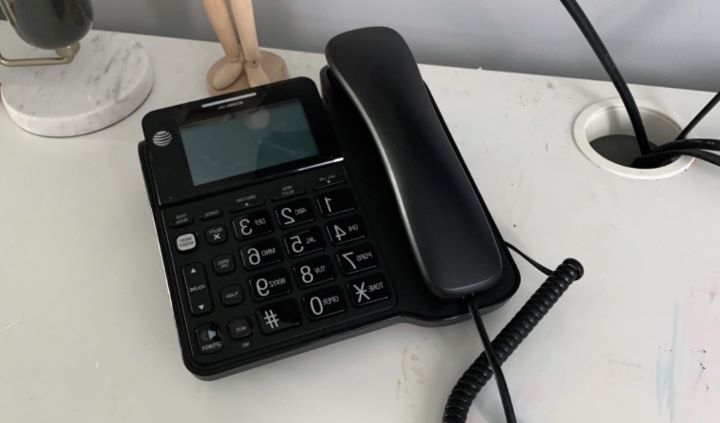 ---
9
The JeKaVis is a mountable phone for seniors with large Buttons and a Speakerphone.
This is a corded landline phone that works in power outages for emergency calls.
This is one of the best landline phones for seniors as the buttons are huge and easily visible.
There is amplified volume and speakerphone and louder ringer.
Easy speed dial buttons so that you can store numbers.
The base of the phone is wall mountable.
---
10
The Home Intuition phone has large buttons and displays and an extra loud ringer for hard-of-hearing seniors.
This phone has a simple, classic design with a neutral color for all home décor.
It is hearing impaired approved with a receiver volume control setting and switch.
The bell ringer has volume control and rings very loudly.
The cord is longer to allow you a wider range of movement.
---
Index Table: Top Rated Landline Phones for Seniors
---
---