As an elderly person bending down and reaching to [pick up items, or even reaching up for higher items may become difficult and somewhat impossible.
Many times, elderly individuals need to perform tasks such as gardening or picking up trash that requires them to bend down and reach. Even simple tasks such as reaching for a remote or switching on the television can be made simpler using a Grabber Tool for the elderly.
The grabber Tool is a device with a long handle and grabber jaw at the end that can pick up items and reach for items easily without you having to strain yourself.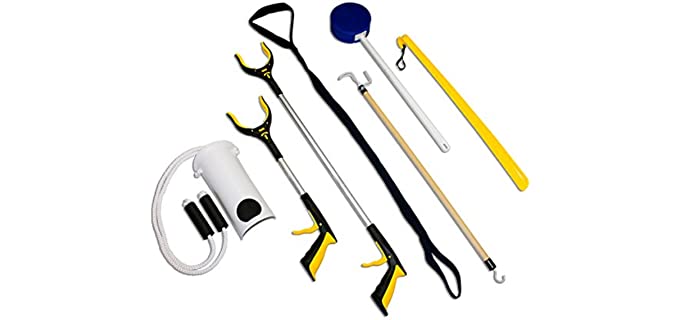 ---
How a Grabber Tool Works
The Grabber Tool, reach Extenderm Picker-Uppers, Long-arm gripper, and many other names refer to a simple device that is a handheld mechanical tool that increases your reach to grab and hold on to objects.
It is ideal for picking up waste, gardening, outdoor work, picking up items on the floor, reaching from your seat for a remote, magazine, and many other uses.
The Grabber tool has a very long metal or plastic pole, a handle at one end, and a pair of jaws at the other. The handle has a trigger that pulls you close to the grabber tool's jaws around an item you want to pick up.
Many different oils for the elderly also come with other functions and attachments, such as a shoe horn or magnetic tip.
---
Benefits of a Grabber Tool for the Elderly
The Grabber and reacher tool is such a wonderful multi-purpose device that is ideal for seniors;

Safe – Sometimes, you may need to pick up thorny items such as bushes or sharp ones like pieces of glass, in which case the reacher tool is also a safer option for you to pick up items.
Convenient – The Grabber tool is a very convenient device for anyone to easily reach and pick up items, especially for gardening and picking up trash.
healthy – Whether you are injured, disabled, older, or even just pregnant, the act of bending and reaching may be painful and can cause injury. The grabber tool makes the action safer and less hazardous for you as an elderly person.
Durable Design – Most Grabber tools are durable and reliable, meaning they will be a solid investment for your convenience.
---
Features of a Good Grabber Tool for the Elderly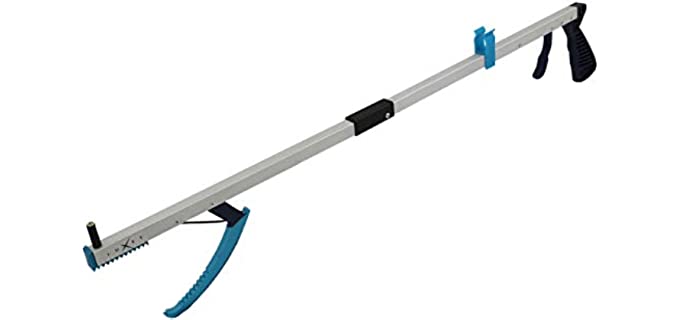 Grabbing Jaw – To maximize the grabbing and holding efficiency of the grabbing tool for seniors, you need to ensure that the grabbing jaw of the tool affixes errant objects with ease. Look for rubberized jaws and those that can rotate. A Grabbing tool with a jaw that locks in place with the push of a button is much more convenient.
Durability – Look for grabber tools that are more durable materials that are rust and corrosion-resistant. The jaws should have textured rubber or ABS, which is more durable.
Length and Weight Capacity – Grabber tools are available in different lengths, and some have adjustable lengths. Most can reach a maximum length of 26, to 32, to 48 inches. They will also have different weight capacities; most can hold at least five pounds or more.
Storage – Most Grabber tools for seniors are designed to be easily stored away, and they are mostly foldable designs or have hooks so that you can hang them on a wall or inside a cupboard.
---
Reviews: The Best Grabber Tools for the Elderly
Here we have some superb designs in grabber tools that are lightweight and comfortable to be used by elderly persons;
---
1
The Vive Reacher and Grabber Tool for the elderly has an extra long handle and rotating hand.
It is a heavy-duty grip arm with a 32-inch length for added reach.
The internal mechanism consists of sauntered steel wiring that will last very long.
It can pick up items as heavy as 5 lbs.
The grabber tool has a comfortable contoured handle and trigger padded with an anti-slip cover.
It is more comfortable and suitable to use for extended periods.
---
2
From Birdrock home, we have a lightweight aluminum grabber tool for the elderly.
It has a durable and lightweight frame with an extra-long 32-inch reach.
The articulated rubber head can rotate to 90 degrees and allows you to adjust the grabber easily.
The length is deal and has a comfortable handle with contoured rubber padding to prevent slipping.
---
3
The Ontel Gopher is a 2 Pick Up and Reach Tool for seniors.
It has an extendable handle that can reach hard-to-reach places and high areas.
An easy-to-use trigger with a comfortable grip handle ensures a sure grip.
The jaws have suction cup fingers that will securely and easily grab objects.
The arm can rotate and adjusts for maneuverability in tight spaces.
---
4
The Luxet store has the updated grabber and reacher tool for seniors.
It has a 32-inch length and very lightweight steel, with a foldable design for easy storage.
There is a premium steel design, and it makes for the perfect garden claw grabber.
The tip of the jaw has a magnetic design for storage shelves.
The grabber tool has a comfortable and ergonomic handle and trigger, and the head can easily rotate for your convenience.
---
5
Here we have the regular Luxet Grabber and reacher tool for the elderly.
It is a versatile, extra-long design with a magnetic tip claw and longer reach.
The grabber tool clutches and releases with the easy push f a button, which is ideal for seniors.
It consists of durable and weather-resistant premium stainless steel.
---
6
The RMS Premium Reacher Tool for seniors comes as a seven-piece kit for all your grabbing and reaching needs.
It has a rotating head design and different attachments for uses such as a shoe horn, sock aid, dressing stick, or even a bath sponge holder.
The design is made especially for recovery after surgery and is suitable for seniors with limited mobility or much pain.
It has a 42-inch length and a leg lifter strap so that you can reposition your legs in a chair or car.
The grabber rotates horizontally and vertically to easily pick up many items.
---
Index Table: Top Rated Grabber Tools for the Elderly
---
---