While the Wireless Caregiver Pager is a very simple device, it can make the life of caregivers and family members so much easier and safer for elderly individuals.
The Wireless Caregiver pager eliminates the need for yelling across a room and provides an elderly person with an easy-to-use device to alert a caregiver in case of ab emergency or need.

---
The Wireless Caregiver Pager and How it Works
The Wireless care alert system is a device that an elderly person uses to call a family member or caretaker in the home or facility where they reside.
It usually has a wireless design and a call button that alerts a loved one or caretaker when an elderly individual needs assistance.
---
Why Would a Senior Need a Wireless Caregiver Pager
You Cannot Always be On Hand – No family member or caretaker can be with an elderly person 24/7, and there may be instances where the elderly person needs assistance, and you are too far out of reach for them to call. An elderly person may also not have an audible or strong enough voice to call for help.
Fall Detection – Many of the Wireless Caretaker pagers also come with fall detection sensors, that immediately sound an alarm should an elderly person fall down.
Wandering Off – You also get Wireless Pagers for seniors that will sound an alarm when the senior wanders off too far out of range, to alert you of their whereabouts.
Emergency Services – Some Wireless Caregiver Devices come with an emergency service button should there be a bigger emergency, and elderly individual can immediately call for assistance from a medical institution or emergency institution that have 24-hour staff on stand by.
---
Features of a Good Set of Wireless Caregiver Pager for Seniors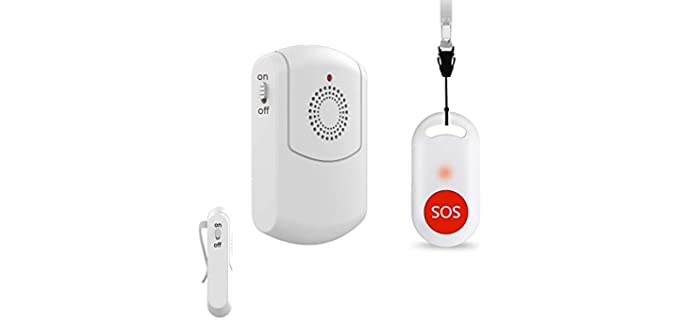 Easy Portability – Make sure that the pager for the caregiver and patient has a lightweight and easily portable design so the person can always carry it around.
Battery Life – The Battery life should last for at least 30 days on the caregiver pager and be reliable, as well as quick to charge.
Signal Strength – Make sure your wireless caregiver pager has a strong signal that will reach a distance of at least 500 feet or more.
Easy to Use Design – The buttons of the device need to be within easy reach for seniors in case of an emergency.
Monitoring System – The monitoring center that you use for emergencies needs to be available and trained professional staff.
Waterproof Casing – A person can easily drop the pager or receiver in a bath or toilet. Thus, make sure that the initial casing has some waterproofing features.
Self Alert – Look for a pager that has a self-alert system that can alert you should an elderly individual leave a certain area or have a fall.
Receivers – Make sure that you get a caregiver pager that comes with at least two or more receivers.
Adjustable Volume – Make sure that the pager is equipped with volume control so that you can adjust the sound and volume of the alarm.
---
Reviews: The Best Wireless Caregiver Pagers for Seniors
Below are some of our top favorite options in Wireless Caregiver Pager systems that are ideal for seniors;
---
1
---
2
The Daytech Caregiver pager for seniors comes in two options.
There is a Three receiver and three call button, or two receivers and two call button option.
The pager is very quick and easy to set up, and the receiver and push buttons are expandable.
It has a 300 feet range and 55 chime options with adjustable volume.
---
3
Another model from CallToYou is their Smart Call Pager.
It is a wrist pager that has two call buttons for the senior and caregiver.
The pager has a vibration and audible prompt from which you can choose.
It is a lightweight and very easy-to-carry design for both the patient and the caregiver.
---
4
The Smart Caregiver Pager comes with two call buttons and is ideal for seniors.
It has one pager with two call buttons and a 300-foot range.
The pager has two alarm options from which you can choose and requires 2 AAA batteries, which are not included, for operation.
The Caregiver Pager is an affordable option and is very easy to use.
---
5
The Daytech Wireless and Portable Caregiver Pager have a lightweight and easy-to-use design for seniors.
It is an Alarm call system with two portable receivers and three call buttons.
It is so easy to operate, and there are limited functions for less confusion.
You can get assistance quickly and easily with this handy Wireless Caregiver Pager for Seniors.
---
6
The Smart Caregiver Pager comes complete with and additional pill organizer for the elderly.
It is a remote alert monitor that also offers fall and wandering protection.
You get cleaning wipes included, as well as a pill organizer box.
It can easily monitor multiple devices simultaneously.
---
7
The DayTech caregiver Wrist pager is easily wearable by the senior person and caretaker.
It has a very long stand-by time of up to three days and is an easy-to-carry design.
The pager has a long 500 feet range in an open area, which is quite extensive.
It has vibration and audible prompts from which you can choose to suit your personal needs.
---
8
The EverNary wireless caregiver pager for seniors is an alert for nurses and caregivers.
It is a 1 receiver and 1 call button device that can vibrate or make an audible sound of your choice.
The pager is extremely easy to use and operates with 2 AAA batteries that are included.
It is a highly lightweight and portable design, perfect for seniors.
The design is simple and easy to use, for your basic needs, with an affordable price tag.
---
Index Table: Top Rated Wireless Caregiver Pagers for Seniors
---
---