A TV remote is your connection to you8r television at home. However, a universal remote connects you to many more devices.
For an older adult that may have poor vision and not be too well equipped with new technology, you will need the best Universal remote for the elderly, with a design and functions that they need and that is simple to use.

---
Why Get a Universal Remote For Seniors
Most seniors do tend to spend a lot of time watching television. Many seniors are immobile or do not take part in activities anymore. Thus watching television still allows them to enjoy the world and others doing these activities through a screen.
The TV remote for a senior gives them the independence to control the shows they watch and the sound, clarity, and many other aspects.
They may struggle to get up from their chair every time they need to turn on or operate a device such as a TV, speaker, or music center, and thus a Universal TV remote can be of great convenience.
The universal Tv remote gives them one device that does everything they need without searching for different remotes, and you get used to every shape and design.
---
What is a Universal Remote
So exactly what is a Universal Remote, and what will it do for an elderly person.
Well, you can control your television, audio devices, video devices, and other devices with one single remote control.,
You can basically control all AV devices with one remote, making it much easier should you need to replace the remote.
You basically get two types of Universal remotes that are available;
Replacement Remotes – You can get a universal remote to replace all your old remote controls for your television and other devices.
Smart Control Remotes – This is a Pre-Programmed universal remote that can control up to 8 devices with a free setup app. They are the most compatible and future-proof, so they will work on devices that are still to come.
---
Features of a Good Universal Remote for the Elderly
When looking for a Universal remote for an elderly person, you need to consider three aspects. Elderly persons may have poor vision, so the buttons and design must be obvious and easy to see. Elderly persons are not always up to date with technology and therefore need a very easy-to-use remote, without any buttons to confuse them. Then again, the remote must function for the devices and uses that the elderly person requires.
With that in mind, here are some features that you should most definitely look out for;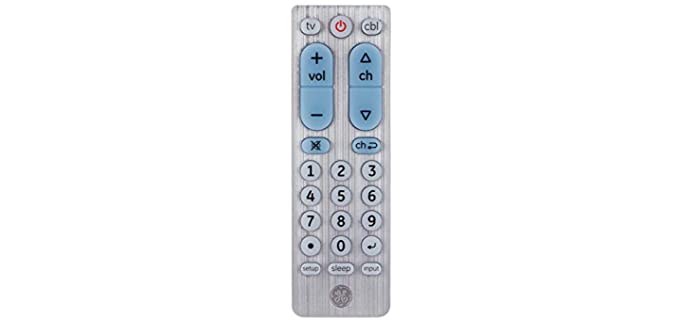 Compatibility – Firstly, the remote needs to be compatible with all the devices that you would like to use it with. It does not help to set up a universal remote with your television, only to find out that it does not work with your cable box or speakers, You will need to check the products description closely, and you can also contact the manufacturer to find out with what brand the remote is compatible with.
Design – Firstly, the buttons on the remote control need to be large and easy to press, especially for elderly people who may have weakness in their hands or have Parkinson's and other conditions. They also need to be set far apart enough not accidentally to press two buttons at once. A good contrasting color between the remote base and the buttons is ideal for helping individuals with poor vision. Backlit buttons are also quite ideal for watching television at night when the lights are dimmed. I would suggest a remote with no more than ten buttons that are simple and easy to use. Otherwise, it may become too complicated for an elderly person to use.
Large and Easy To read Numbers and Wording – Any numbers or wording on or around the buttons on the universal remote need to be large and easy to read by an elderly person, particularly if they have poor vision. Also, look for buttons that have single functions only per button, as those with the multiple function descriptions may be too small to read and confusing to use.
Simplicity To Use – Depending on the savvy of the elderly person when it comes to technology, I would rather it for a more straightforward and no fuss remote with fewer functions and buttons than more. Most seniors do not need to cycle through Tv input changes and settings or another formatting, but rather change a channel or increase volume. So keep the remote simple with basic functions. If needed, a loved one could always help with the more advanced setting on the television or device directly.
Wrist Strap – Some Universal remotes for seniors do actually come with a handy wrist strap to keep the remote secure and close at hand for an elderly person to use whenever they need to. Seniors may suffer from dementia, Alzheimer's, and other conditions, which can cause them to forget where they have placed small items such as a remote control. In this case, the wrist strap comes in quite handy and can also be used to tie the device to a piece of their clothing or place it in a pocket.
---
Reviews: The Best Universal Remotes for the Elderly
Here are some of our favorite picks in universal remote Controls for Seniors;
---
1
The Amazon Fire Tv stick is the perfect universal remote for seniors.
It allows fast and full HD streaming in your home.
The remote comes with an Alexa Voice remote as well.
You can enjoy many channels, and the remote is very easy to use.
The ideal design and setup for seniors.
---
2
The Flipper Big button universal remote is another favorite for elderly individuals.
It has three major functions that are simple and easy for seniors to use.
You can control multiple devices with this single remote.
The buttons are large, clear, and easy to read by the elderly.
---
3
The Tek-Pal is a large button universal remote for the elderly.
It has a palm-size fit for easy holding.
There are only size large clearly displayed buttons.
The background of the buttons is also backlit.
You can operate multiple devices with the remote with ease.
It requires two AA batteries which are not included.
---
4
The Matrix is another Big Button universal remote model for seniors.
It comes in three different options from which you can choose.
The universal remote has huge and easy-to-see buttons.
The design is simple and easy to use, and not confusing for seniors adults.
It is also clear and has contrasting colors.
---
5
Form Continuus we have a senior universal remote that is just perfect for everyday use.
It will easily operate a variety of devices in your home.
The remote has huge and clear buttons.
It is designed specifically for assisted living and elderly care with all these needs in mind.
The buttons are backlit, and the design is simple and easy to hold.
There are also only size buttons for operation.
It requires two AA batteries that are not included, unfortunately.
---
6
From the Ge store, we have another large button design universal remote for seniors.
It is a universal remote that accommodates Samsung, Vizio, Lg, Sony, Sharp, Roku, Apple TV, TCL, Panasonic, Smart TVs, Streaming Players, Blu-Ray, DVD, 2-Device, Silver, and 33701.
The device has a simple setup and comes pre-programmed.
It has large and clear buttons that are easy to use by the elderly.
---
7
The Sony Universal remote is perfect for seniors.
It is ideal to use with Sony products but will also work with other brands.
The remote is easily programmable with major brands.
The design is clear and visible with minimal buttons.
---
8
The Luckystar Big Button universal remote is a favorite for elderly individuals.
It has three modes and is compatible with most brands.
The remote has a natural fit design and is easy to work with.
It also comes with a one-year guarantee.
---
9
The Universal Big Button remote is clear and easy to use by seniors.
The large buttons are very visible and easy to press.
The design is easy to grasp and simple to use.
It is also compatible with a variety of devices.
---
10
Here you have two options in the universal remote.
It consists of ABS materials that are durable and wearable.\Powered by batteries that are not included.
The remote is simple to use with clear buttons.
It is small in size and easy to carry around by an elderly person.
---
Index Table: Top Rated Universal Remotes for the Elderly
---
---