If you need to keep track of an elderly loved one easily, a GPS tracker may be the best device available to you.
The best GPS Trackers for the Elderly come in various designs with many ideal features.

---
Why Get a GPS Tracker for an Elderly Person
For seniors with Alzheimer's or Dementia and other similar conditions, a GPS tracker may be an absolute lifesaver in their lives and peace of mind in yours as a loved one or caretaker.
GPS trackers today are not large and obtrusive. They come in small, lightweight designs that are easy to wear or keep by an elderly loved one.
Here are a few reasons why you should get an elderly person a GOS Tracker;
Track Their Whereabouts – If you have an elderly loved one or a caretaker to an elderly person that tends to wander off by themselves due to a memory condition or confusion, a GPS tracker can become a very handy device. Even if you allow an elderly person to take walks or can still function independently, they may get confused and get lost, whereas a GPS tracker would have been an easy measure to ensure their safety. GPS trackers also set certain zones, so the device will go off when the elderly person wanders off too far or is out of these boundaries.
Get Help Straight Away – Some GPS trackers send texts and have an SOS app for when an elderly loved one needs assistance; the Safety App can easily be downloaded to the Tracker and used in case of an emergency to call a loved one or the necessary services.
SOS to Multiple Persons – Some GPS trackers can send a distress signal or text to multiple persons at once should there be an emergency so that the senior person can request help from more contacts until they receive the help that they need.
---
Types of GPS Trackers
The GPS tracker comes in many shapes and forms, each with the main Tracking function, some with SOS Apps and others with even more functions and features.
The Tracker used for a specific person is called a Personal GPS Tracker.
Here are a few ways in which you can use a GPS Tracker for an Elderly person;
Bracelets – You get small GPS Trackers that are lightweight enough to be worn as a bracelet by elderly individuals.
Keychains – Keychains are suitable for seniors who always keep their keys with them or can still drive around.
Small Device – A small GPS device could be placed inside their pocket or handbag when traveling.
Pocket Chip – The Pocket chip is a small GPS tracking device that easily clips onto a shirt or pants pocket.
Necklace – You also get GPS Tracking necklaces that are safe and easy for a senior person to wear around their neck.
Wrist Watch – Lastly and probably the most popular are GPS Tracker watches. GPS Tracker watches usually have many more functions and are most versatile and easy to use.
---
Features of a Good GPS Tracker for Seniors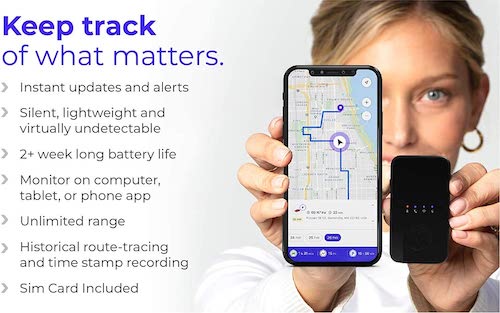 Type of GPS Tracker – You will need to consider the most comfortable device with a GPS tracker for the elderly to wear, something that they will not easily lose and close at hand. A watch or bracelet is usually a good idea, or a keyring is attached to their belt or placed in their pockets. You also get GPS necklaces that can be worn.
Monthly fees – Keep in Mind that many GPS trackers use cellular technology or some form of internet, so that monthly fee may be linked.
Additional Features – GPS trackers may also come with additional features, including SOS emergency buttons, fitness tracking, audio monitoring, and two-way calling.
GPS Capabilities – If you want your Tracker to track nationwide, you will need a more expensive model than a conventional tracker. Most conventional GPS trackers will only cover a short range.
---
Reviews: The Best GPS Trackers for the Elderly
In our list, we have some top-of-the-range GPS trackers which are perfect for elderly individuals;
We hope you love the products we recommend!
So that you know, We may collect a share of sales or other compensation from the links on this page.
---
1
---
2
The Jiobit GPS Location Tracker for elderly persons is versatile and effective.
It can track elderly persons, children, adults, and even pets.
The device is tiny, waterproof, durable, encrypted, and has a very long-lasting battery.
It uses Cellular, Bluetooth, and WiFi technology to work.
The GPS Tracker can track indoors and outdoors at any distance and has a very small and lightweight design.
You can easily clip it into an elderly loved one's clothing or handbag.
---
3
From AngelSense, we also have a very versatile personal GPS Tracker for seniors, children, pets, and adults.
It offers continuous all-day monitoring and tracking with advanced safeguard GPS technology.
It gives you detailed locations, has a Geofence Safe Place system, and is fully customizable in settings.
There is a two-way call function and an alarm sound and SOS functions.
---
4
From Sonew, we have a GPS Tracker and Locator for elderly individuals.
It is a Necklace design Pendant that you can hang on any necklace for a child or elderly loved one.
It can monitor voices and also has an SOS function for emergencies.
The GPS Tracking device uses WiFi, GPS, LBS technology, and positioning.
It offers fast and effective positioning and has a power-saving design.
---
5
From Invisawear, we have a lovely bracelet personal GPS Tracker, which is generally more suitable for elderly ladies.
The bracelet looks good and fashionable and is very lightweight to wear.
The GPS Tracking technology sends an SMS text message to your location and SOS messages when you need help.
The battery has a one-year life guarantee before it will need to be replaced, and it needs no recharging.
---
6
From the Primetracking store, we have a small and effective Personal GPS Tracking device for an elderly person.
You can also use the device for children and pets if needed.
It offers affordable monitoring of a person and has a real-time GPS tracker inside,
The tiny, lightweight Tracker can easily be placed in a bag or pocket.
It can work on multiple devices and networks and is very versatile.
---
7
From Invoxia, we have the perfect GPS tracker for seniors.
The design monitors 24/7 and offers you peace of mind.
It has exceptional battery life for months between charges.
There is a built-in sim and real-time anti-theft alerts.
---
8
The Geozilla GPS tracker is a location tracker for kids, seniors, and pets.
It utilizes a cellular phone and WIFI or GPS.
Very accurate and lightweight.
Comes with a 30-service fee-free subscription plan.
---
9
The Hanang personal GPS tracker has an easy-to-use design for elderly individuals.
It has a Portable design and SOS emergency function.
You will need a subscription plan, however.
It has a free APP and tracking Web platform.
---
Index Table: Top Rated GPS Trackers for the Elderly
---
---