There are so many cases where an elderly person tries to get out of bed, loses their balance, and has a fall. Falls in the elderly are one of the number one causes of their injuries, which could be very severe.
The Bed Alarm for the Elderly system will notify you when an elderly person gets out of bed or stumbles so that you are in time to prevent them from falling.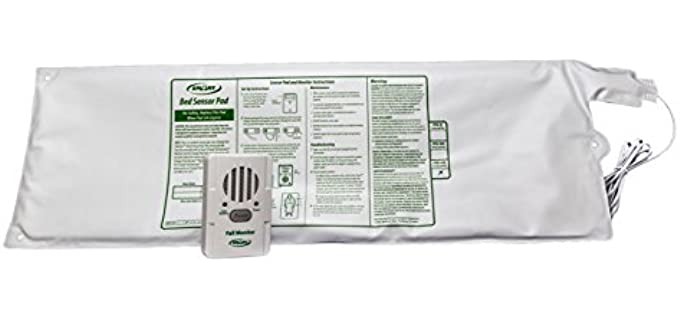 ---
---
When is a Bed Alarm Necessary
You may need a Bed alarm for an elderly person for the following reasons.

Immobile Elderly Individuals – Should the person become less mobile or weak to the degree that they are off balance and have difficulty standing or sitting up on their own, a Bed Alarm may be needed. The bed alarm will alert you should the elderly person be trying to get up from bed so that you can provide some assistance.
Elderly Persons with Dementia – Elderly persons with Dementia often get confused and lost when they wander through the house at night. They may also easily trip and fall when trying to leave bed alone. Thus, a Bed alarm can give you an early warning when the person is on the move.
Injured Seniors – Seniors with injuries or who are ill and need to stay in bed or assistance getting out of bed will also benefit from a bed alarm should there be an accident.
---
Types of Bed alarms and How They Work
Most Bed alarms have a Bed mat that you place underneath the sheets of the elderly person underneath person, and they come with an alarm and sensors that connect to the alarm to notify you should the person be moving.

Wired – You get Wired Bed Alarms where the sensors are attached to a wire to the Monitor that will be placed inside their room or outside that will go off.
Cordless – The Cordless Monitor does not have cords or wires connecting to the bed pad and works entirely with batteries.
Floor Mat – Some Bed Alarms come in the form of a floor mat that alerts you as soon as someone steps on the floor mat. So, when the elderly person tries to get out of bed, you will be notified once their feet touch the floormat.
---
Features of a Good Bed Alarm for the Elderly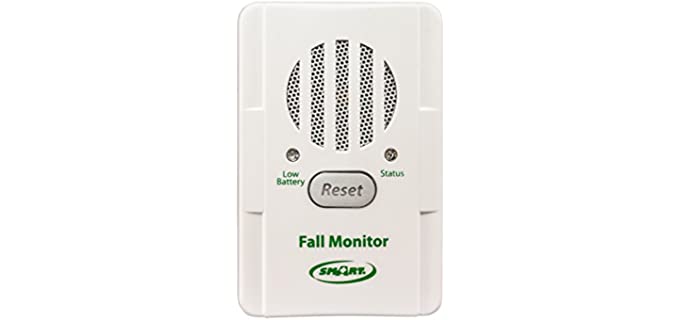 Floormat or Bed Mat – You can have a floor mat that alarms you should there be a fall or a bed mat that alarms you when an elderly person is out of bed or moving.
Alarm Options – Most alarms come with sound options from which you can choose.
Alarm Sound – The alarm needs to draw your attention quickly and thus should have a high volume you can easily hear.
Pads – Most sensor pads will last around one year if used regularly. After this time, you may need to replace the sensor pad. The Pads should also be tested regularly. The Pads usually consist of waterproof and durable materials that help protect the alarm's sensors.
Power Source – Bed alarms come in wired or cordless, operated with batteries. The battery-operated models are safer regarding tripping hazards, though the wired options will never lose power.
---
Reviews: The Best Bed Alarms for the Elderly
---
1
The Secure Bed Alarm system for the elderly is cordless with a bed pad design.
It offers a very reliable wireless connection between the sensor and the pad.
The alarm sensors pause and delay when tending to an elderly person.
You get a set of one Wireless Alarm Monitor, a Power adapter battery, a sensors pad, and a wireless bed sensor pad.
---
2
The Lundberg bed alarm is ideal for elderly individuals for fall prevention and to help dementia patients.
It uses unique smart technology that detects the process of an elderly individual getting up from bed and alerts you before the time.
It has a very easy-to-use set-up design, a chair, an alarm pad for the bed, and a wireless handheld monitor.
The Pager is portable with adjustable volumes and is very lightweight.
You can set it on vibration or low volume as needed.
---
3
The Smart Caregiver Bed alarm sensor is reliable and will last you very long.
The bed pad has a one-year guarantee for regular use.
It has a prominent reset button to silence the alert, a low battery indicator, and a lost pad alert if the pad is disconnected.
The bed pad consists of soft latex vinyl that is waterproof and durable.
The Monitor requires batteries that aren't included, which you can buy separately as needed.
---
4
The FallGuard Economy Monitor comes with a floor mat for fall protection.
It is a complete system with an economy exit alarm and a floor mat for full protection.
The alarm has an on-and-off switch, so you can reset it when responding to an elderly person.
The floor mat consists of heavy-duty non-slip materials and has beveled edges for safety.
It is wired and plugs into the Monitor that audibly senses and alerts.
The Monitor works with batteries and not with adapters.
---
5
The Bed exit Alarm from Smart Caregiver is ideal for fall prevention in seniors.
It uses a 9-volt battery in the bed alarm that is not included.
The bed alarm has a reset button to silence the alarm, which is easily located,
The system includes the Monitor and a durable bed sensor pad that will last long for frequent use.
---
6
The Smart Caregiver Corporation Bed Alarm is a full system that includes a TL-2020 Wireless Economy Monitor, a 20in x 30in Corded Bed Pad (PPB-WI), and a Caregiver Pager.
A Corded bed pad will plug into the Monitor and signal an alert to the Monitor when needed.
The Pager requires two AA batteries which are also not included.
The Bed Pad is a comfortable size and long-lasting design that is water resistant to use.
---
Index Table: Top Rated Bed Alarms for the Elderly
---
---