A senior adult may need to reach something too high in their home occasionally.
Although I do not entirely approve of any form of a ladder for an elderly person, some more mobile and stable elderly individuals may greatly benefit from a stepladder for the elderly to reach certain areas and for other uses.

---
Benefits of Using a Step Ladder for Seniors
as much as any one of us wants to rely solely on our height to reach things, and even if we were previously able to, there might come a time when a piece of furniture and the ceiling may be too high to reach. You will need a ladder at some stage, whether young or old. The difference is some ladders are just much safer than others for seniors.
The stepladder is a favorite among many homeowners because it is safe and reliable. A stepladder in your home allows you to clean a top shelf easily, replace a light bulb, and many other uses.
The stepladder has a solid base that prevents shaking when you move up and down, and the A-Frame structure likewise gives it fantastic stability, which is ideal for seniors.
Additionally, step ladders are only sometimes short, and you get different heights for reaching objects a bit higher on the shelf.
Most stepladders are very convenient for the elderly. However, they may only be somewhat suitable. Seniors require support and stability features that you will only find in specialized stepladders.
[/super_list]
---
Benefits of a Stepladder for Seniors
Then again, if you find a suitable stepladder for a senior person, there are so many benefits;
Transportation is – Most safety stepladders for seniors will have a design with a carry handle that is safe and easy for transportation.
Comfort – The height between the steps in a stepladder for seniors is less than that of the rungs of conventional ladders. The steps are also wider and more comfortable for elderly persons with joint issues and knee ailments.
Safety – Seniors' safety step ladders are designed with extra support such as Crossbars, rail systems that prevent tilting, and anti-slip steps and platforms.
Convenience – Most safety step ladders for seniors will have handrails for grip when climbing to help with stability and support.
Carry Space – Many step ladder designs have a tray or ring at the top to keep or hang items you are working with.
---
Features of a Good Stepladder for the Elderly
Most step ladders come with many features that you need to consider, especially for a senior adult.
But to narrow down your search, I have listed the most basic considerations and features that you need for safe and easy use of the stepladder;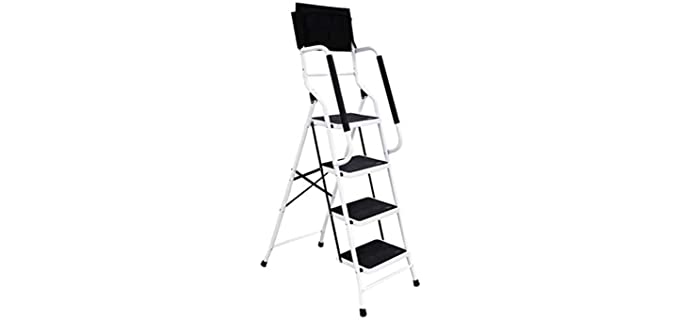 Step Size – Most seniors have balance issues, so you need to look at the step size for choosing a step ladder. The steps must be wide, wider than their feet, and sturdy.
Non-Slip Surface – The steps and platform surface of the step ladder need to be rubberized or textured for slip resistance. Grooves and lug patterns on the steps provide excellent grip.
Handrails – I would highly recommend a step ladder with handrails for an elderly person. Most typical stepladders do not have handrails, so you must look for models with handrails on both sides for an elderly person to hold on to.
Safety – A great advice I can give when looking for a stepladder for a senior person is always to look for some form of commendation or safety certification. You want a properly tested product examined for safety-certified or recommended by experts.
Durable Materials – Good and sturdy construction and durable materials are ideal in a quality stepladder. It should, however, still be lightweight enough for an elderly person to carry around from room to room, as needed.
Weight Capacity – When it comes to weight, a heavier step ladder will be more sturdy and durable; however, it may be heavier to carry. A lightweight ladder may need to be more sturdy and more durable. Could you look for something sturdy that is still lightweight enough to carry and transport?
---
Reviews: The Best Step Ladders for the Elderly
Below you will see some of the best quality safe step ladders ideal for an elderly person;
We hope you love the step ladders we recommend!
We may collect a share of sales or other compensation from the links on this page.
---
1
---
2
The HB tower is a two-step stepladder for seniors for reaching certain high objects.
It is small, saves space, and is very portable in design.
The stepladder has a high-grade steel frame for stability and non-slip rubber hand grips.
The steps are likewise non-slip and wide with a rubber design.
---
3
The GameGem Stepladder is a four-step stepladder for seniors.
It has an aluminum frame that is stable yet lighter to carry.
There are anti-slip wide pedals and handrails for security and stability.
The stepladder easily folds for storage and is quite compact.
---
4
The Support Plus Stepladder has a perfect design for seniors.
It is also a four-step step ladder with a heavy-duty steel frame to support 440 lbs.
There is padding on the handrails, and they are non-slip.
The steps offer a comfortable grip.
There is also a handy pouch caddy for storing tools and other needed items.
When you are done, the stepladder easily folds and can be stored.
---
5
The Stalwart stepladder is perfect for seniors.
It is a durable design that comes with a tool bag.
The stepladder has two steps and is foldable.
Ideal for hard-to-reach areas and is very sturdy.
---
6
The Leekpai Step Ladder is a Four-step stepladder for elderly individuals.
It has a quality steel frame and a secure metal buckle for locking the ladder in place.
The Top area has a safety handrail, and the steps are rubber for slip resistance.
The stepladder is certified and approved.
---
7
The Leekpai stepladder is perfect for seniors.
It has easy-grip handlebars for safety.
It is a four-step ladder for higher areas.
The frame is very secure and stable.
The steps have a grippy texture.
---
8
The Foowin Stepladders for seniors is a four-step ladder.
It is a foldable and easily portable design.
Here are safety handrails for seniors.
The design is space-saving and folds quite compactly.
---
9
From Luisladders, we also have a good design step ladder for the elderly.
The stepladder has three steps and is foldable.
It has a sturdy steel frame and is portable.
The ladder offers comfortable grip handrails.
The steps have a textured surface for grip.
---
Index Table: Top Rated Stepladders for Seniors
---
---