A Calendar clock is an outstanding invention for elderly persons with Alzheimer's or Dementia or those that are just more forgetful.
The Calendar clock can be a visual aid or have a sound that speaks the day, date, and time as a reminder for elderly persons or just when needed.
However, there are a few considerations when choosing the best calendar clocks for the elderly, which we will further investigate.

---
Benefits of a Clock with the Day and Date for the Elderly
What time is it? And What Day is It? are questions that you may come here from an elderly loved one more than once a day, which can be frustrating for them and you.
For people with Alzheimer's or Dementia, the calendar clock is more than just a convenient device; it's almost necessary to help an elderly person not lose track of time.
Series memory loss in older adults can cause them to easily lose track of time and get caught up where they have no idea what time or date they are in at that moment.
This confusion may also lead t significant stress and disorientation in an elderly individual.
An elderly person may also need to manage their time, for example, do certain activities in certain parts of the day, take medication, remember a loved one's birthday, and many more.
Depending on the brand, a calendar clock can help an elderly person keep track f time and remember certain things, dates, and times with an alarm setting that acts as a reminder for performing certain activities.
It gives a senior a sense of independence and control over time and helps them lose track of time easily.
---
Types of Calendar Clocks for Seniors
There are a few types of clocks that fall under the Calendar Clock category;
LED Clocks – This calendar clock is ideal for visually impaired seniors as it has an extensive and bright display on a contrasting background.
Talking Calendar Clocks – A talking clock is ideal for elderly persons with poor or no vision. The voice on the clock will give you the time and date when a button is pressed, or even a voice command is given. It may also be set with reminders throughout the day.
Day Calendar Clock – The day clock is a calendar clock that emphasizes the date, month, and day of the week along with the time, whether it is evening, morning, or afternoon as an added benefit.
Basic Calendar Clock – A basic calendar clock displays the time and date with the day of the week, depending on the brand and model. It is a more clear and more simplistic design.
---
Features of a Good Calendar Clock for the Elderly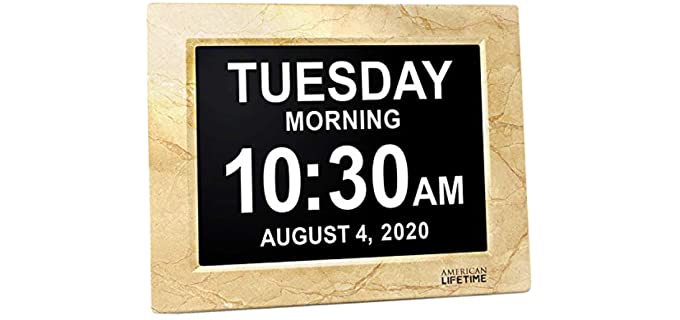 Battery Operated or Electrical Clock – Firstly, you get electrical calendar clocks that need an electrical outlet or calendars that work with batteries that need to be recharged or replaced. Battery clocks are very easily portable and move around; however, the battery may go flat, confusing the elderly. Whereas electrical calendar clocks stay put in an area without the risk of a flat battery.
Large Display – The display on the clock needs to be clear and large enough for an elderly person to see with solid and thick letters, numbers, and contrasting backgrounds.
Hanging or Desk – You will also have the option f a clock that can sit on a desk or hang on the wall. The design will depend on where the elderly person will most clearly see the clock and where it is most likely to be seen regularly.
Alarm Features – the calendar clock can come with alarm features for daily wake-up time or set reminders for certain activities.
Adde Features – Some calendar clocks have a dimming function, especially the Led screens, for night time use. Others may have voice activation that Cleary says the date and time or speak reminders for persons with impoverished vision.
---
Reviews: The Best Calendar Clocks for the Elderly
Here are our top choices in Calendar Clocks that are ideal for elderly persons;
We hope you love the products we recommend!
So that you know, We may collect a share of sales or other compensation from the links on this page.
---
1
---
2
The Raynic Calendar Clock is the perfect design for elderly individuals.
It has an 11.5-inch large LED display and is also dimmable should it be needed.
The clock is adjustable in brightness and shows the day, date, and time.
It has an alarm function for reminders and also shows indoor and outdoor temperatures as an added extra.
---
3
From DayClox, we have their trendy calendar clock for the elderly.
It has an original memory loss digital calendar and day clock with large non-abbreviated day and month displays.
The clock is perfect for seniors with dementia and more severe memory loss.
It is ideal for standing on a desk or mounting on your wall.
The design is also stylish and perfectly suits most home décor.
---
4
This is the newest version of the American Lifetime calendar and day clock for seniors.
The clock displays the date and time for visually impaired seniors and can spell them out.
It also has multiple alarm functions for daily reminders.
There are quite a few options available.
As you can see, the display is apparent and bright with a colored frame.
---
5
From Pipishell, we have their premium calendar clock that is perfect for elderly individuals.
The display is extensive and clear with a high resolution.
There are two color display options and an alarm function with five daily reminder settings.
The clock also speaks in eight languages for those with poor vision.
The clock has an auto-dimming function and comes in more color options.
---
6
For seniors with poor vision, this is a talking calendar clock.
The clock has a touchscreen talking design that speaks and shows the date and the time.
It also has eight alarms that can be set during the day,
There is a full battery backup if the power goes out.
You can also fully adjust the volume on the calendar clock.
---
7
The WallaGE calendar clock comes in quite a few options.
It has a very large and clear display.
The clock displays the date and time.
It is a digital clock that also has an alarm option.
The clock is battery-operated or USB chargeable.
---
8
The Johnziny is the ideal Calendar clock for seniors.
It has a large screen IPS-type screen display.
The clock has alarms and reminders.
There is a battery backup and eight languages.
The clock shows a clear date and time.
---
9
From the Examate store, we have a unique 8-inch display screen clock for seniors.
It displays the accurate date and time settings.
The clock has 13 alarm settings and an auto-dimming setting.
There are also voice options in 8 languages.
---
10
LaMi and easy-read digital calendar clock.
There are 12 alarm options and eight languages in the voice option.
The alarm clock says and reads the date and time.
Versatile and easy to use by seniors.
---
Index Table: Top Rated Calendar Clocks for the Elderly
---
---