As you get older, the chances of dropping your phone or forgetting where you placed your phone are quite high.
Since the Cell phone necklace was introduced, it has made it much easier for seniors and adults to keep their phones safe and close at hand.
The Cell Phone necklace is a cell phone holder attached to a necklace that you can keep around your neck, and there are designs that you can keep across your body.
The cell phone necklace for the elderly is the ideal device to help them keep their phones close at hand in case of an emergency and to prevent dropping the phone, which could ultimately break and damage their phones.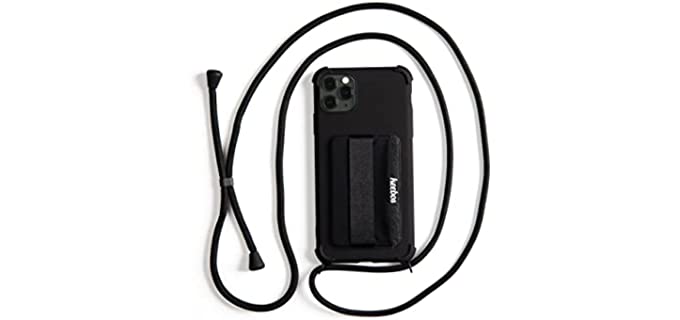 ---
Why the Elderly Need a Cell Phone Necklace
There are so many benefits to having a cell phone necklace for everyone, but especially for an elderly person;

For Emergencies – In case of an emergency, even when you are outside and have fallen, or wherever you may be, having a cell phone close by gives you a chance to get helps in the case of an emergency immediately.
No Lost or Dropped Phones – Holding a phone in your hands or pocket increases the risk of dropping the phone, which could cause severe damage to your phone. On the other hand, elderly persons can easily misplace a phone and forget where they put it. The phone may stay left in the car or a store by accident. You can eliminate all these risks by having a cell phone necklace for the elderly.
No Missed Calls – You may miss important calls because your cell phone is not always with you. Your cell phone is always closed when you have the cell phone necklace. Should someone call you, or do you need to make a quick call, which you may forget to do later on?
Hands-Free – Having your cell phone around your neck frees your hands to perform other tasks and to enjoy your day without having to hold on to a cell phone or fearing that it will fall out of your pocket.
Travelling – When traveling by car or airplane, it is always the best idea to have your trusted cell phone close at hand. You do not want to struggle to dig through bags and hand luggage to find your phone when needed. Having your cell phone around your neck means that it's close at hand for use and safe from being stolen.
For Walks and Jogs – For seniors who still enjoy walking or jogging outdoors, the Cell Phone necklace can be an excellent companion. You can use it to listen to music, and the GPS function is at your fingertips if needed. It is also there in case of an emergency.
---
Options with a Cell Phone Necklace
The Cell Phone necklace comes with I option that you can easily wear around your neck or that you can wear across your body.
The Pouch in which the cell phone is placed may also have an additional sleeve in which you can store a card or cash; thus, it could act as a wallet and cell phone holder.
The Cell Phone Necklace comes in many different designs and Materials, from metal to fabric, and they can be adjusted to fit your neck as needed and are very comfortable to wear. There is a color and design that will easily suit every preference and need.
Some Cell Phone necklaces also come with a finger strap at the back of the case so that you can easily hold the cell phone in one hand.
---
Features of a Good Cell Phone Necklace for the Elderly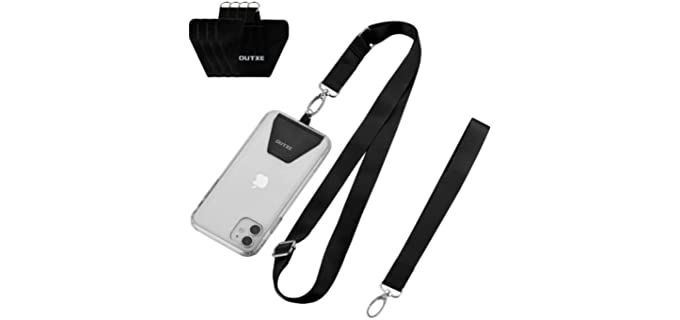 Design – The cell Phone necklace may hang around your neck or across your body which may be more comfortable for seniors. The necklace is usually adjustable or comes in a comfortable length for men and women that will not be in the way.
Colors – Cell Phone necklaces and cases usually come in metal with a clear or black case, however, with the silicone, plastic, and fabric models, you have many more options in colors and prints.
Materials – Cell Phone necklaces can come in stainless steel or metal options that resemble actual necklaces with a hard plastic or silicone case. There are also fabric, soft silicone, and other material options for the necklace that may be more comfortable than metal.
Extras – The Necklace may be adjustable in size so that you get the perfect fit. Some cases may also have an extra sleeve or space where you can store cards and money or come with a finger strap allowing you to easily hold the cell phone in your hands.
---
Reviews: The Best Cell Phone Necklace for the Elderly
In our review section, we have included a few of the best available cell phone necklaces that are ideal for elderly individuals;
---
1
The Kerberos Cell phone necklace is one of the most popular brands around.
It is an adjustable necklace or crossbody cell phone case for seniors.
The necklace consists of high-high-quality, and the cell phone cases are shockproof.
It is also available in more colors.
---
2
Here we have a leather neck pouch for your Cell phone.
It is a genuine leather pouch where you can place a cell phone and other items.
The Pouch comfortably hangs around your neck with an adjustable strap.
There are plenty of bright and neutral colors available from which you can choose.
---
3
The gear Beast cell Phone Necklace us a phone lanyard design with a universal fit.
It comes with an additional card pocket and a soft silicone neck strap that is adjustable.
The design is convenient and useful for seniors and allows easy access to your cell phone.
It consists of durable and soft silicone that is easy to clean.
---
4
The Lawanda cell phone necklace is the ideal design for the elderly.
You get a set of two lanyard-style crossbody and necklace straps that are fully adjustable and universally fit for a cell phone.
The design will not block the charging port of the cell phone.
It also has a storage space to keep cards or your keys safe.

---
5
The Outxe cell phone necklace is durable and ideal for seniors.
It is available in more colors that are neutral.
The strap can be worn on your wrist or around your neck and is fully adjustable.
The case is very convenient and does not block the charging port.
---
6
From Chapter Seven, we have a universal smartphone necklace and a stand-in one for the elderly.
It is a mountable holder with a flexible lazy bracket that you can hang around your neck.
The older one is fully adjustable and easily portable size.
You can likewise choose from a few color options available.
---
Index Table: Top Rated Cell Phone Necklace for the Elderly
---
---