For the most part, watches have turned into more of a fashion accessory than an actual functional piece of technology.
The main aim of the watch I to help you keep time. However, with today's Smartwatches, you can do so much more.
You can keep track of your fitness, access your mobile phone, use a GPS function, and even access emergency services.
Smartwatches and even regular watches have come such a long way, catering to all age groups, even elderly persons.
So, today we want to have a look at some wristwatch options that are ideal for seniors.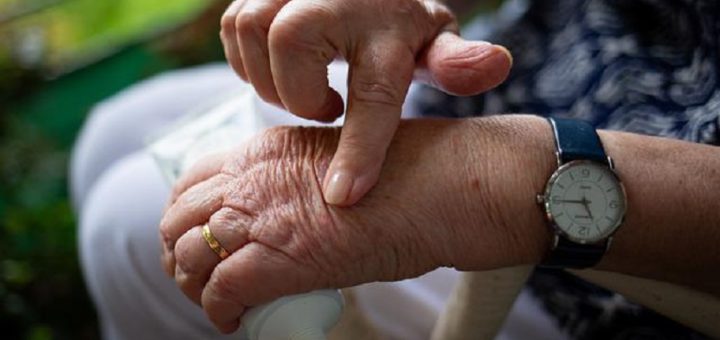 ---
Wrist Watches for Seniors
As I have mentioned, wristwatches today are far more than just a fashionable watch that you place on your arm to check the time with. They have come a long way and can be beneficial to seniors in many ways.
A wristwatch for a senior individual gives them independence and security of knowing the time and also following schedules for taking medications and keeping up with appointments.
With some of the Smart wristwatch options, you get features like GPS, Fall detection Systems, Emergency services, and fitness tracking, as well as alarms which are features that work very well for seniors.
In turn, these watches are designed with much clearer and better displays to enable seniors that have difficulty with sight to easily see the time and other features on the screen of their wristwatch.
---
Types of Wrist Watches for Seniors
Besides just the regular wristwatch with large numbers that tells the time, I want to show you a few other watch options that could be particularly beneficial to seniors;
Fitness Tracking Watches – Similar to the FitBit, these watches are ideal for seniors that like to keep track of their health and fitness levels. The Fitness watch is a smartwatch that keeps time but also tracks your daily steps, and calories burned, heart rate, and activity.
Medical Alert Watches – The Medical Alert Watch doubles up as a medical device that helps to keep seniors safe in case of a medical emergency. The watch can monitor a senior's heart rate and health, as well as sense when there is a fall or emergency. The watch may include GPS tracking and have an emergency button that directly puts you through to emergency services or a caretaker. The watch, in turn, contains medical information about the elderly person that may be vital in terms of care when there is a medical emergency.
GPS Location Watches – Especially for seniors that suffer from Dementia, Alzheimer's, and other conditions that may affect their memory or cognitive abilities, the GPS watch can come in quite handy. Similarly, the watch may have there features such as fitness tracking and emergency services, along with regular timekeeping. The GPSS watch keeps the location of elderly individuals, and you can track their whereabouts with an APP on your phone. You can even set the alarm or alert for when an elderly person travels too far out of range.
Fall detection Watches – The Fall detection watch is a smartwatch that may have regular and other features, including fall detection sensors. The watch has sensors that detect when an elderly person has a fall, and then it will immediately send a distress signal to an emergency service contact or to a loved one or caretaker's phone.
---
Features of a Good Wrist Watch for Seniors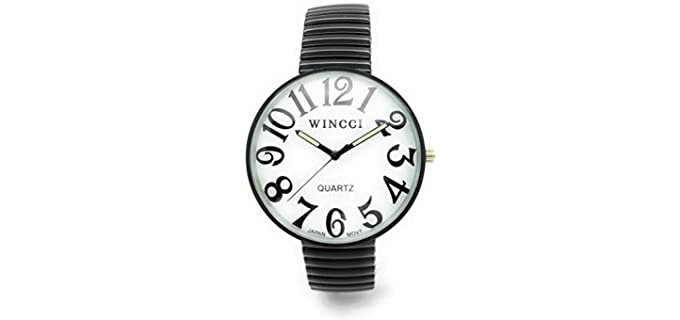 Design and Comfort – Look for a watch that will be comfortable to wear by elderly individuals, with a soft strap that will not cause chafing or irritation. Make sure that the watch has an adjustable fit so that the senior may be able to adjust the fit accordingly.
Display – The display should be large and clear, it can be digital or analog, and with most watches today will be LED displays.
Easy To Use – the Wristwatch should be easy to operate by a senior without too many features that could cause them to become confused.
Features – You can select anything from a regular large analog watch to a smartwatch with various functions, as we have discussed. The needs of the elderly individual personally may affect your choice of watches.
---
Reviews: The Best Wrist Watches for Seniors
In our list we have a variety of regular and Smart wrist watches that are perfect for seniors;
---
1
The Wincci is a basic wristwatch for seniors with a comfortable fit and a very large display.
The Wristwatch has a stainless-steel back and large display numbers.
It has an easy dial on the side to set the time.
It is fashionable and ideal for both men and women.
---
2
The Fossil Gen 6 is one of the best available smart wristwatches for seniors.
The Gen 6 is an Android wristwatch that has a very clear display and is easy to set by seniors.
It is also a fitness tracking watch and has a calendar.
The watch has a touchscreen that is easy to use and operate by seniors.
The watch uses an APP to operate and is compatible with Alexa.
---
3
The Garmin wristwatch has a built-in GPS for tracking and a compass.
The watch is ideally suited for outdoor use and also includes Health monitoring.
It has a comfortable fit and a large display design for seniors.
You can also stay connected with smart notifications.
---
4
The Popglory store brings you their Fitness tracking watch for seniors.
The watch monitors your heart rate, activity, and calorie burn.
It has a full touch screen and a clear display.
It is ideal for Android and IS operations.
---
5
The Kalinco Smart Watch is a GPS watch and fitness tracker for seniors.
It has all-day activity tracking functions and seven different sports modes.
The watch has a clear display and a full touchscreen design.
The wrist strap is adjustable and very comfortable.
---
6
The CoCo Bluetooth enable Wristwatch for seniors is ideal for emergencies.
It has fall detection sensors and emergency notifications, ideal for seniors.
The Wristwatch has a waterproof body, and the band is breathable for comfort,
It also has a medication reminder and a Geo-Fencing function.
---
Index Table: Top Rated Wrist Watches for Seniors
---
---