A lightweight large buttoned, and easy-to-use TV remote is an absolute must for seniors as they enter their golden years.
In this article, we look at some of the best TV remotes for seniors with many features to accommodate all the challenges that most seniors may face in their age.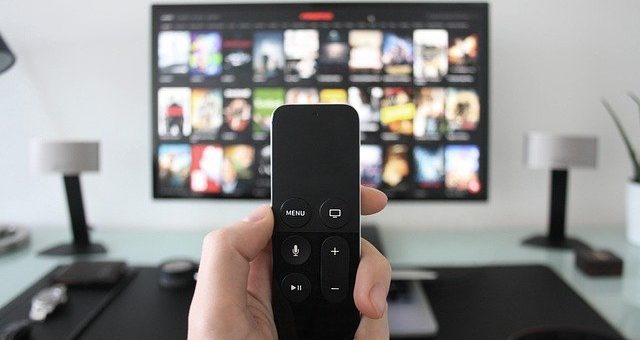 ---
TV Remotes for Seniors
Seniors face all kinds of challenges as they age, some with eyesight, some with hearing, and some with memory and cognitive issues such as Alzheimer's and dementia.
Seniors are generally not very practiced in the latest technologies and may struggle with difficult and intricate electronic devices such as a remote control.
With technology today, you get remote controls with so many functions and small buttons that they are difficult to understand and cope with, not to mention difficult to read.
Therefore, a lightweight remote control, easy-to-use, and clear buttons are ideal for a senior person to see, understand, and hold in their sometimes fragile hands.
---
Best Types of TV Remotes for Seniors
The Right TV remote can make it so much easier for seniors to use their television and enjoy entertainment in the comfort of their own home;
Lightweight – A lightweight design Tv remote s easy to handle and not heavy and uncomfortable. Many seniors have joint immobility and do not have much stretch in their hands, so a lightweight Tv remote and easy-to-use buttons are ideal.
Easy to Use – A TV remote that is easy to understand with more basic functions will not confuse a senior person and allow them easy access to basic television functions.
Visibility – Visibility of the Buttons on the remote is important for seniors who have poor vision. Large display and backlit buttons are ideal.
Voice Activated – You do get Remote controls that are voice-activated for seniors that cannot read the buttons.
Multi-Device Remote Controls – A Multi-device remote control is a remote control that can be used to operate a variety of devices in your homes, such as a television, music players, and other devices.
---
Features of a Good TV Remote for Seniors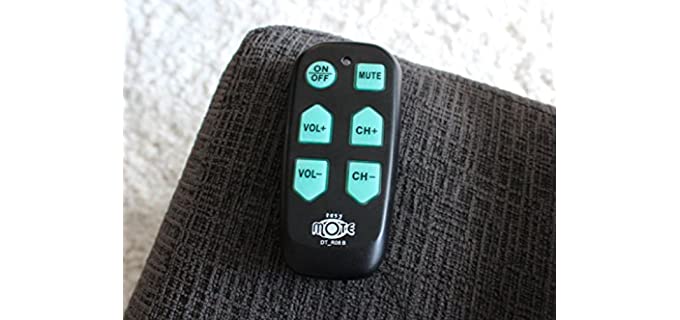 Large Easy to Read Numbers – A remote control with large and easy-to-read numbers and buttons is advised for senior persons.
Voice Control TV remotes – You do get TV remote models that can be voice-operated or operated with an operating system such as Alexa.
Compatible – Many TV remotes for seniors may be designed to work with specific TV models or Devices, such as the Amazon model. However, there are TV remotes designed to be universally compatible with most TV and device models. Just make sure that the model you get is also compatible with your TV or device of choice.
Backlit Buttons – Backlit buttons are another feature that makes a TV remote easier and more visible to use for seniors. Particularly for seniors who watch television in darker areas.
Multi Device – If you do invest in a multi-device compatible Tv remote, make sure that it is easy to use by a senior person and compatible with the necessary devices.
Wrist Strap – TV remotes, particularly multiple device remotes that a senior may need at hand most of the time, is quite a good idea to get in a design with a wrist strap that is easy for them to carry around.
---
Reviews: The Best TV Remotes for Seniors
In our extensive list, we have some TV remote brands and models that are ideal for seniors and to accommodate for many of the issues they come to face making the use of a remote difficult;
---
1
The Alexa Voice Remote is compatible with most Amazon TVs and devices.
This remote control is compatible with the Fire Stick, Fire TV Cube, and Amazon Fire TV.
You can easily skip and navigate with the remote.
There is a voice search option with a built-in microphone.
It is compatible with Alexa for voice operation.
It can work anywhere in the room without having to point at the television.
The TV remote comes with two included AAA batteries.
---
2
The Flipper Big Button is a large display universal TV remote for seniors.
It is the perfect gift for seniors, easy to use, and has basic functionality.
It has an On and Off Button, Volume, and Channel buttons, as simple as that.
You can work multiple devices remotely, such as Soundbars, Comcast, Dish, Spectrum, Bose, and more.
You can program favorites and set sleep modes.
It does, however, not have navigation buttons for streaming devices.
---
3
For the Apple Television brand specifically, we have the Siri remote.
This is a more advanced remote for seniors that are still up to date with technology.
The remote has a touch surface, and you can use the Siri App to find what you are looking for.
Quite easy to use once you get the hang of it.
---
4
The Continuus Tv remote has large buttons and a backlit design to make use easier for seniors.
You can take control of all your home entertainment devices with this universal remote.
It has a very sleek and lightweight handheld design with large and backlit buttons.
You can teach the remote custom commands from your television or Cable Box remote as it Is s smart remote.
There is a quick search universal library function that takes seconds.
---
5
The Universal Learning Remote is another favorite universal TV remote for the elderly.
The remote operates most compatible devices such as a TV, VCR, HiFi, DVD, DVB, and STB.
It is a durable ABS plastic and uses batteries not included.
The remote is very easy to use by seniors.
---
6
The GE Big Button Tv remote is a universal remote compatible with almost all TVs, and it has large buttons for seniors to use.
The large simplified keyboard on the remote is easy to use with this remote for seniors.
It is a two-device remote with easy-to-read large buttons and fundamental functions.
It can control multiple devices up o two at a time.
Simple and easy to set up and use by seniors.
---
7
This model from Continuus has an easy handheld design for seniors, with clear large buttons and a wrist strap.
You can control your Tv and Cable Box with this remote.
It has a sleek and comfortable handheld design that is very lightweight.
There are large bright-lighted buttons for basic control.
There is a universal library.
The remote comes with a strong wrist strap that allows seniors to carry the remote around with them.
---
8
The SMPL is a universal remote that is easy to use by seniors.
The TV remote is compatible with most TVs, Boxes, and OR receivers.
It is straightforward to use by an elderly person.
The remote consist of durable ABS plastic.
---
Index Table: Top Rated TV Remotes for Seniors
---
---