The Mobility scooter for seniors can provide an elderly loved one with newfound freedom and mobility, especially when they struggle with day-to-day activities and moving around.
However, it would help to choose the right Mobility Scooter for seniors to get the best option.

---
---
The Mobility Scooter and Its Benefits for a Senior
A mobility scooter is a power-operated vehicle that acts as a personal transport vehicle for individuals that are disabled or struggle with mobility.
It is similar to a scooter but usually has four wheels and can be disassembled for storage and transport.
Mobility scooters are ideal for seniors with mobility issues who are weak in their legs or knees and generally unsteady.
---
Choosing a Mobility Scooter
It will help if you choose a mobility scooter that is comfortable and safe for the elderly person that will be using it;
Indoor or Outdoor – You get mobility scooters that are easier to turn and maneuver indoors in a limited space. Outdoor mobility scooters have larger motors and have more heavy-duty tires for uneven terrains outdoors.
Three or Four Wheel – Mobility scooters are available in three- or four-wheel options. The three-wheel is smaller and easier to turn, with the four-wheel being more stable and balanced.
Portable Mobility Scooters – Portable Mobility scooters can disassemble into smaller pieces for storage and portability.
Heavy Duty Scooters – Heavy-duty Mobility scooters are designed to ride on outdoor and trail surfaces such as grass and sand.
---
Features of a Good Mobility Scooter for Seniors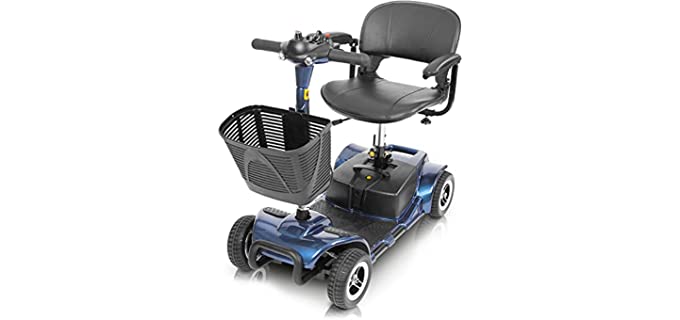 Comfort – The Seat and design should be comfortable for an elderly person to sit in, with proper back support and padding.
Safety – Safety features such as quick stops, seatbelts, indicators, and headlights are required.
Portability – Some scooters are foldable or dissemble for portability and storage.
Speed and Battery – Consider the scooter's speed ranges and the mileage it offers on a single battery charge.
Warranty – Make sure that there is a warranty on the Mobility scooter that ensures all the parts.
---
Reviews: The Best Mobility Scooters for Seniors
Below are some top-of-the-range mobility scooters that are especially perfect for seniors.
We hope you love the products we recommend!
We may collect a share of sales or other compensation from the links on this page.
---
1
---
2
The Pride Mobility Go-Go Traveller and Elite Plus four-wheel mobility scooter is ideal for the elderly.
The mobility scooter has feather-touch disassembly and easily disassembles into five smaller pieces for easy storage and transport.
It has a 300 lb weight capacity and heavy-duty design.
The Scooter is a Delta tiller with ergonomic wraparound handles. You can operate the Scooter with one hand.
The Scooter has non-scuffing tires and a stable frame-mounted seat post.
It has a standard front basket for easy storage and a Charger port in the tiller for convenience.
The dual voltage charger allows the battery to pack on and off-board for convenience, and there are standard red and blue LED lights.
---
3
The Pride Mobility, S74 Go-Go Sports is a four-wheeled electric scooter for elderly individuals.
The Scooter has a very high weight capacity of 325 lbs.
It is easily portable and disassembles into five smaller pieces for storage or transport.
The Scooter has an ergonomic design, with a wraparound Delta Tillet to help your hands and fingers relax as you drive.
There is LED lighting, and the tiller is fully adjustable.
The Scooter offers excellent indoor and outdoor performance and has non-scuffing tires for protecting indoor floors.
It is ideal for everyday travel and recreational use.
---
4
The Pride Mobility Zero Turn is a heavy-duty 400 lbs weight capacity mobility scooter for seniors with CTS suspension and foldable seats.
You can choose from three colors and sizes with either a foldable back seat or a higher backrest.
The Scooter has a contemporary style and superior technology.
The Zero Turn 10 is a combination of aggressive performance and maneuverability.
The Scooter has comfortable CTS suspension technology and can transition easily from an indoor to an outdoor mobility scooter.
It has FULL LED light packaging for the headlights and rear lights, with sequential and puddle lights under the tiller.
---
5
The E-wheels Heavy Duty Scooter is the ideal four-wheel Scooter for seniors.
It is a Free Challenger Mobility scooter with four wheels ad a very high 500 lbs weight capacity.
The Scooter has a maximum speed of 15 mph and can do 14 miles on a single charge.
It has a comfortable swivel seat and a digital design dash.
The Scooter has extra-large tires that easily navigate even on uneven terrains.
There s a digital anti-theft alarm system with a key FOB remote, LED headlights, and tail lights for driving at night.
There is also a large rear storage basket for your convenience.
---
6
The Rubicon All-terrain 4 Wheel drive mobility scooter for seniors is a heavy-duty, long-range design.
The Scooter has very long-range, with a battery lasting up to 25 miles after a single charge.
It has an adjustable speed setting that has three different speed levels for you to use.
The All-terrain city slicker has four-tire suspensions for a smooth ride on all terrains and a no-fall design.
The Scooter has a lightweight 63 lbs design, including the battery.
It is easily foldable for storage and portability.
---
7
The Drive Medical SFScout Spitfire is a Mobility scooter ideal for seniors.
It has a Powered design with enhanced indoor maneuverability and a four-wheel-drive design.
There is comfortable seating with a swivel seat, adjustable height, and comfortable operation.
The Armrests extend out from the seat and easily adjust in width for the user.
The tiller angle can be adjusted for easy operation of the Scooter.
There is a chargeable battery that gives you nine miles after fully charged,
The Scooter is foldable and easily portable or stored.
---
8
The Vive four-wheel mobility scooter for seniors is electric-powered and has a compact, heavy-duty design for long-range use.
It has safe navigation over most smooth surfaces and even rough outdoor surfaces,
The seat has comfortable padding and is a wide design. There is also an adjustable height in the seat and a comfortable backrest.
The Scooter has an easy step for getting o and off of the Scooter,
It disassembles quickly and into four small pieces for easy transport and storage.
---
9
---
Index Table: Top Rated Mobility Scooters for Seniors
---
---