Having to wash your clothes and linens is a task that even elderly persons need, and when a senior needs to do the task themselves, you want to make it as simple and quick as possible.
The best washing machines for seniors and the elderly offer a convenient and easy-to-use machine that seniors can use to wash their clothing effectively.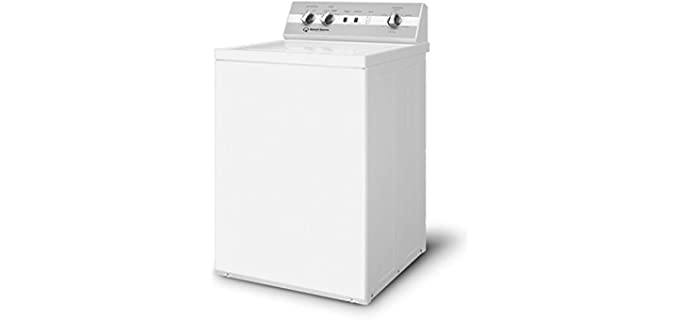 ---
Why Seniors Need a Proper Washing Machine
Seniors need a washing machine that is easy to reach for them and easy to set for washing their clothes and other items.
Some seniors may not have much space available so the smaller top-loading washing machine can be more beneficial.
---
Choosing a Washing Machine for Seniors
Here are a few tips for choosing a good washing machine for seniors;

Main Functions – Your washing machine should be able to soak, wash, rinse, and spin, which are the basic features. Features such as settings for more delicate clothing, eco settings, and water level settings are also ideal.
Features – Extra features can add to the cost of the washing machine; you do not need all the bells and whistles if you are not going to use them.
Management – Choose a washing machine that is easy to clean or self-cleaning and needs little management and repair.
Price – Always consider a good quality washing machine for which you can get parts later on, which will affect the price. A washing machine is a lifelong investment that you will use regularly.
---
Features of a Good Washing Machine for The Elderly
Size – Washing machines for seniors come in different size options. There are larger front-loader models and smaller top-loader models that are more space-saving.
Functions – The washing machine will have different functions that you can set with dials or an LCD screen. You can set the water levels, time cycles, fabric types, and spinning cycles.
Capacity – The washing machine will have a certain lbs capacity that should not be exceeded. Most will be around 7 to 9 lbs of clothing and items.
Combo – You also get washer and dryer combination options, which can be ideal for seniors who need two-in-one options.
---
Reviews: The Best Washing Machines for The Elderly
In our review section, we have some of the best available washing machine models that are ideal for seniors;
---
1
From Giantex, we have a more compact washing machine for the elderly that is ideal for small spaces and single or couples.
The washing machine washes and spins very effectively with a large draining pump.
It has a multifunctional control panel that you can adjust to get the perfect settings.
It is very easy and safe to operate with a detailed manual and a clear transparent lid that allows you to see and monitor water and washing conditions.
There is a delay function and a time and water level function that you can set before and during the washing cycle to add water as needed.
Though the washing machine is quite compact, it has a large load capacity of 9.92 lbs, allowing you to wash more items at once.
Seniors very easily operate it with comfortable dials and a back Lit LCD screen that is visible.
---
2
The Speed Queen is one of my favorites, as we still own one of the much older models that have come with the family for many years.
The speed queen is a long-lasting washing machine for seniors that you will not struggle to get parts for or someone to repair it if necessary.
The model I have chosen is their more classic style, which is a smaller 3.2 cubic feet for elderly persons living ins small homes or apartments.
It is a top-loading washing machine that is easy to load and space-saving in design.
It has a built-in agitator that ensures your clothing moves and washes properly to remove all dirt and stains.
The speed queen washes clothes effectively and very fast.
It is one of the most durable and reliable washing machine models for seniors that I have come across so far.
---
3
From Lg, we have another Smart washing machine that is top-of-the-range technology for seniors who like less fuss and are more hands-on with technology.
The washing machine can be operated with WiFi and has built-in intelligence technology.
The washing machine is an easy front loader for seniors with TurboWash 360 technology that takes care of tough dirt and stains on your clothing and items.
The washing machine has an Allergiene cycle that removes at least 95% of pet dander and hairs, making it ideal for seniors with pets like cats and dogs.
The Washing machine is energy-saving with an ENERGY STAR certification, which means you will save quite a bit on your electrical bill.
It is easily operated with a clear screen and easy dials for different settings.
---
4
He Kenmore is a 28-inch size Top-Loading washing machine for seniors that is a medium size for all your washing needs.
The machine has customized cleaning modes with 12 wash cycles for a custom clean.
It is very convenient and easy to use by seniors allowing you to load your clothes from the top of the machine, and it also has an express wash option for quick loads and bulky bedding.
There is a triple-action agitator with a direct drive motor to keep your clothing from moving around during the entire cleaning session, get your clothes cleaner and remove stains easily.
The washing machine is 4.2 cubic feet, a medium size, and the top loader makes it much easier to use by seniors and more convenient in terms of saving space.
It is a white color and has easy-to-use dials for different setting options.
---
5
The Samsung 6.0 is a smart dial large capacity washing machine for seniors that need a larger capacity washing machine in their home.
The LCD screen and dials to set the washing machine are extremely easy to be used by seniors, and the lit display is very clear to read.
The washing machine has FlexWash technology meaning you can wash two loads with different cycles and settings at once to give the best care to all your clothes and fabrics.
It is a very fast machine that will wash and spin in 28 minutes for your convenience.
The washing machine is treated with CleanGuard, an antimicrobial technology that will deliver longer-lasting technology in all the high-touch areas of the machine.
The washing machine has a five cubic feet capacity, and a bottom washer with a one cubic foot washing capacity that is separate.
The washing machine has excellent stain removal technology that is likewise quite gentle on your clothes.
---
6
From LG, a leading brand in electronics and equipment for home and outdoor use, I have chosen their Smart WiFi-operated washer and dryer in one.
The washer and dryer option is ideal for seniors that need to save on space and does not want to invest in a separate dryer and washing machine.
The TurboWash technology takes care of tough stains and allows a proper wash cycle that you can set according to your needs with the WiFi functions.
The dryer is effective, convenient, and useful when you need all one solution.
The washer and dryer have a dark grey glossy finish and a front-loading washer and dryer with a large door opening.
It has a maximum spin speed of 1300 and a weight of 213. 8 pounds.
The washer and dryer will take up a space of 4.5 cubic feet in your relatively small home.
---
Index Table: Top Rated Washing Machines for The Elderly
---
---