The Best Phone for Hearing Impaired Elderly is a device that provides a means to communicate with family and loved ones that is easy and effective when you cannot hear properly.
This article looks at some excellent designs and phone models to help you communicate when you struggle to hear.
---
---
Why the Need for the Best Phones for Hearing Impaired?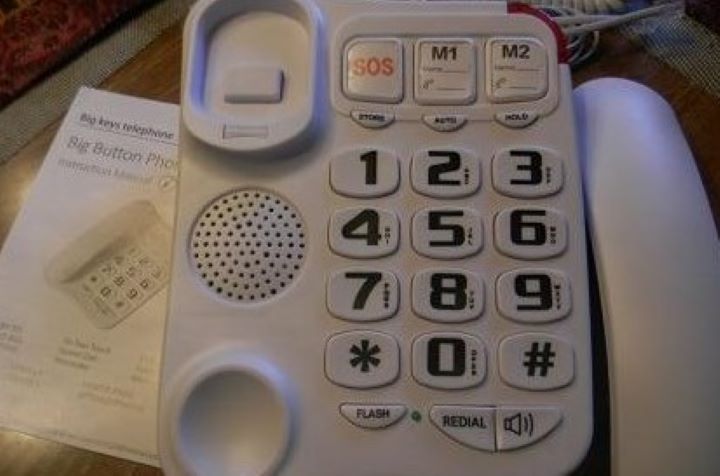 Eventually, almost everyone will suffer from hearing impairment at some stage, which is where a hearing-impaired telephone can come in handy.
When you start asking friends and family to repeat themselves over the phone, or if your phone is on maximum volume and you still struggle to hear or hear it ringing, it may be time for a specialized phone for the hard of hearing.
Hearing Impaired phones are not just for the elderly but also for persons who are deaf or have communication disorders from a very young age.
The Basic function of a Hearing-Impaired phone is to amplify volumes of ringing and talk, although some come with other features that are also quite impressive, such as speech-to-text and vice versa.
---
Tips on Choosing a Phone for Seniors
Here are a few tips on choosing the best phones if you struggle with hearing.
Easy To Read – Many seniors also have trouble seeing, so a phone for seniors needs to have a clear and large display with larger prints and fonts on the buttons and screens.
Good Audio – The main purpose of hearing-impaired seniors is to amplify sounds. Therefore the phone needs to allow for volume amplification and good voice quality. Also, look for a compatible hearing aid phone for seniors with hearing aids.
Easy Handling – This is an important factor for seniors. The phone needs to be in a shape and design that is easy to grip by fragile elderly hands, and the buttons and dials must be easy to operate.
Simplicity – Lastly and most importantly, in simplicity lies beauty. Elderly persons are not able to operate intricate and highly technical phones. Many older persons are new to the more advanced technologies and cannot learn or remember the new techniques. Therefore keep the device as simple and easy to use as possible.
---
Related Articles on Hearing Devices for Seniors
---
Features of the Best Phone for Hearing Impaired Elderly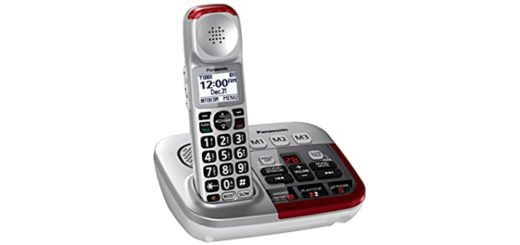 Visibilty – Any phone for an elderly adult should also accommodate poor sight. A Clear and visible LCD screen and picture option buttons are always ideal. Some phones also come with text-to-speech and speech-to-text options for those who need them., clearly displayed on a screen.
Sound Adjustability – Amplified capable phones will come with sound adjustability for Voice and ringing up to 50dl for vice and 100db for ringing. Noise reduction technology is also ideal.
Other Features – The phone can be corded or cordless with a charging bank. Caller ID and answering service with clear messaging and a backlit LCD screen display are just some added features you can look forward to.
---
Reviews: The Best Phone for Hearing Impaired Elderly
If you struggle with hearing as a senior person, look no further than our top list of Corded and Cordless Phones for Hearing Impairment;
We hope you love the products we recommend!
So that you know, We may collect a share of sales or other compensation from the links on this page.
---
1
---
2
The Alto Plus from Clarity offers an Amplified Corded phone with a Circuit City Microfiber Cleaning Cloth.
The Phone is corded and comes with a one-year warranty for quality and ease of use.
There is an Amplified call volume up to 53db and an amplified ringer volume of up to 100db.
The large buttons are easy to see and illuminated for people with poor vision.
The Tone control settings allow you t adjust the amplifier to a clear and bearable volume.
---
3
The Clarity XLC3.4+ is ideal for seniors who have severe hearing loss.
The amplified volume can go up to 50dn for better hearing.
Adjustable ringer volume settings and a loud and clear speakerphone for hands-free communication.
The Phone is cordless and very simple to use.
The display is clear and visible for elderly persons.
---
4
The Vtech SN5127 is an Amplified and Cordless phone for seniors struggling with her properly.
There is a 1000 name and number smart call block directory.
The 50db audio assist function temporarily increases volumes and enhances sound frequencies for easy-to-understand speech.
There are Photo dial display options and large buttons for visibility.
The phone is straightforward and comfortable, with a 90db ringer volume.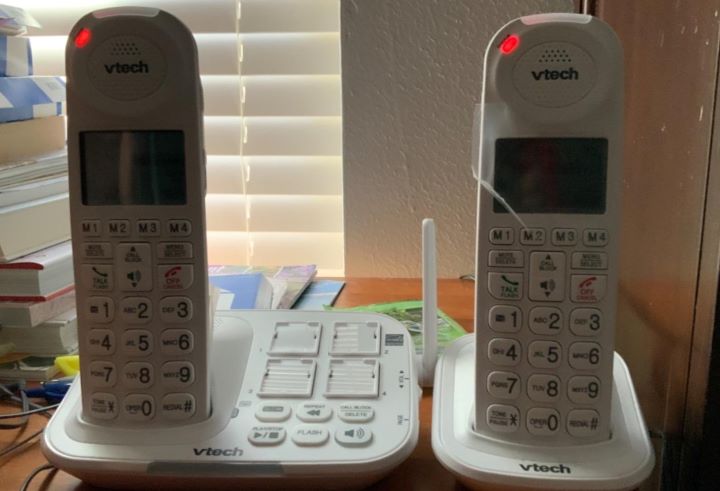 ---
5
Another superb addition from Panasonic is its Expandable Cordless Noise Reduction Phone.
The display is large and backlit with a large keypad that allows older persons with poor vision to see much easier and clearer.
There is enhanced transmission quality with an improved range and security.
Talking Caller ID is available, and text-to-speech technology makes it easier for seniors to communicate and know who is calling them beforehand.
There is also optimal noise reduction technology for better hearing, as background noises can confuse the phone's quality of sounds and voices.
---
6
The Hamilton Cap Tel is a Captioned Large Touch Screen Phone for Older Persons.
The Easy read large Touch Screen display is ideal for seniors who see clearly.
There is also a Volume booster and a Built-In answering machine.
Caller ID Capable and Captions are available with the push of a button.
The phone is Wifi and ethernet capable and comes with all the cables you need.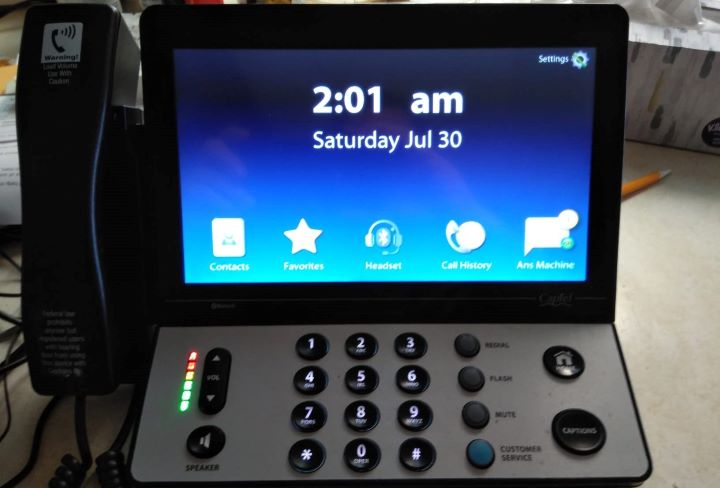 ---
7
The IsoHo phone is designed specifically for seniors that are hearing impaired.
It is lightweight and has huge numbers.
There are adjustable volume controls and a very large ringer.
The phone has a retro vintage design.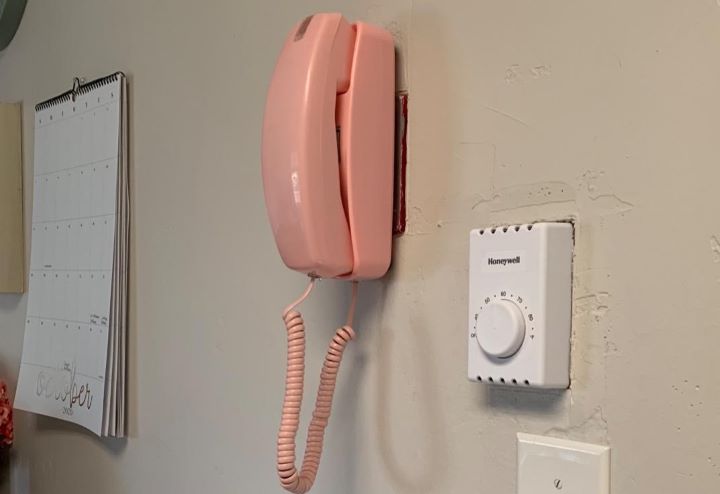 ---
8
The Jekavis is another great phone option for hard-of-hearing elderly individuals.
It has large numbers and amplified volume with volume controls.
The phone has a two-touch speed dial function and can store nine numbers.
The phone is corded with an anti-slip design.
---
9
The Latnex is an EMF protection phone for seniors.
It is ideal for the hearing impaired and has a comfortable and convenient design.
The phone works well with home telephone jacks and has an impressive design.
The sound is loud and clear.
---
10
From KerLiTar, we have a phone for hard-of-hearing seniors.
It has large buttons that are easy to see.
There is a hands-free speakerphone.
The sound is loud and amplified.
---
Index Table: Top Rated Phone for Hearing Impaired Elderly
---
---