If you have ever felt completely lost trying to find the perfect bra, you are not quite alone. This is a personal topic for which you do not always find the help needed, especially as an older adult.
As we age our needs in clothing and even underwear change, and we need to find better alternatives.
This is also important when it comes to bras for Elderly ladies, as what you used to wear when you were your, may not be as easily accessed or as comfortable to wear now.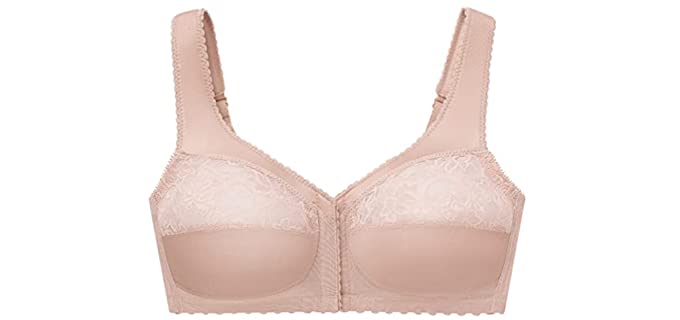 ---
Should an Elderly Lady wear a Bra
You may find a bra that clips at the back uncomfortable and difficult to reach as you age. Wired bras and more revealing cups may also not fit as comfortably as they sued to.
Fortunately, there are many bra designs that will ideally fit you as an older lady, and that is so comfortable to wear.
So why do you need to wear a bra in the first place?
Well, around the age of 60 to 65 you will notice that your breasts are not as firm and perky as they used to be, this may be due to breastfeeding, or the wrong choices of bras, and even not wearing bras in your younger days.
Investing in a bra that fits you well can easily address these issues.
Wearing a bra or not wearing a bra is a matter of choice and both options have their pros and cons.
Going braless may be good for health and circulation issues, however wearing a bra is much more comfortable and your breasts are less likely to become saggy as you age.
If you choose the right bra type, in the right size with the right materials you will feel much more comfortable wearing a bra and there will be much less irritation and issues from wearing improper bras, especially as you age.
On the other hand, a sports bra could also be a more comfortable and good choice, although most sports bras need to be pulled over your head and breasts and can be quite difficult for an elderly person to put on and take off.
---
Best Bra Choices for Seniors
So what does the perfect bra look like for an elderly person?
Before we review the top bras for seniors, lets first take a look at a few things you will need to pay attention to pertaining to a bra;
Size – Bra sizes will vary according to your body size, shape, and your cup size, as well as according to the specific brand. When shopping for bras, do not limit yourself to sizes and numbers, but rather try on the bra to see if it fits comfortably. Try different brands and different sizes to get the perfect fit in that specific brand. You should have a relative idea of your bra size, but I would still recommend that you take measurements of your body and your breasts by using a measuring tape around your chest at the fullest of your breasts and around your chest just underneath your breasts. Use the measurements to compare sizes and round the sizes off to the larger ones.
Material – The Material of the bra is very important in relation to how comfortable it will feel against your skin and how durable and breathable it will be. I always recommended natural materials for senior ladies such as cotton that is soft and easy to maintain, Wool such as merino wool that is soft and sweat-resistant, or silk that is more luxurious and comfortable. Avoid scratchy materials and lace bras, and also look for bras with a seamless, or t-shirt design.
Support – Overall the bra needs to support your breast properly and hold most of its weight. The bra should not be too loose or too tight in the cups.
Coverage – Bras come in different cup options some more revealing than others, I find the more revealing they are the more uncomfortable they become. Thus, rather opts for a bra that ensures fuller coverage, and avoids unusual cuts that may irritate your skin.
Closure -One thing that I most definitely recommend especially for older ladies is a bra that closes in the front. You get clasp or hook options bras, the clasp are usually easier to use, but also tend to break just as easily, Zipper bras are the best choice, however, they can be pretty hard to find.
---
Features of a Good Bra for Elderly Ladies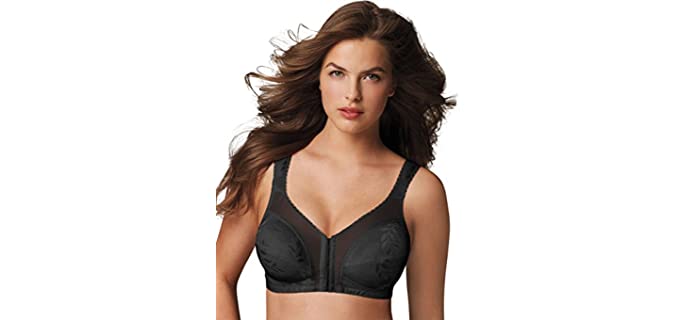 Materials – Look for soft and comfortable bra materials that will not irritate and chafe your skin. Cotton, silk, and wool are great choices in natural materials for bras that are gentle on the skin.
Size – Bras come in a range of size, with size and cup size options. You will need to take measurements to make sure that you get the perfect size bra as an ill-fitting bra will be very uncomfortable.
Closure Type – It may be difficult for seniors to close a bra at the back, so I would rather opt for a front closing bra. Also, look for easy hooks or clasps that a senior person can easily use.
Cup Style – Opt for a bra that offers fuller coverage in the cups rather than the new modern and more open styles, as this is a much more comfortable fit for seniors.
Wire or Non-Wire – You can choose between wire and non-wire bra options. Wire option bras offer much better support especially for larger breasts, however, the wires can be hard and uncomfortable. A Non-ire bra is much softer and more comfortable, but on the other hand not as supportive as the wire options.
Colors and Designs – Bras for seniors come in a variety of colors and designs, and you will usually have plenty of options available from which you can choose.
---
Reviews: The Best Bras for Elderly Ladies
Here are some great options in bras that are ideal for elderly ladies;
---
1
The Playtex 18-hour bra is the ideal shape and fits for elderly ladies.
The bra is wireless for more comfort and has an easy front closure with full coverage and back support.
The bra comes in a few neutral color options from which you can choose.
It consists of nylon and spandex, with an adjustable front closure that has a PowerSupport X design back.
It also features True Support and a four-way design for comfort.
---
2
The Just My Size is the ideal easy-fit bra for seniors.
It has Nylon, polyester, and spandex for stretch.
The bra is available in a few neutral colors.
The bra has a hook and eyelet front closure that is easier for seniors to reach.
It has wide and cushioned straps that are more comfortable and full coverage,
The stretch design will move with you.
---
3
From leading Lady, we have a genuine cotton bra for elderly ladies.
The bra consists of cotton and spandex for stretch.
It has an easy front hook and eye closure for your convenience.
The bra is wire-free for comfort and has lightly padded straps.
It is a soft cotton blend that is breathable and gentle against the skin.
---
4
The Glamorise bra for elderly ladies is a full-figure plus-sized option.
It comes in a few neutral color options and plus-size options.
The bra consists of polyamide, polyester, and elastane.
There is a front hook and eye closure and MagiclIft design for better support,
The straps are wide and cushioned for your comfort.
Ideal for curvier older ladies.
---
5
Here we have a comfortable front closure bra for senior ladies.
The bra us polyamide and spandex with easy front zip closure.
It is a more sporty style and very comfortable, with full coverage,
Ideal for sports and leisurewear.
There are also more color options available.
---
6
This is a suitable model from Playtex that is wire-free and has an easy front closure.
You can get the bra in a few neutral color options and many sizes.
It is easier for seniors because of the front closure.
The cups offer fuller coverage and the straps are wider for more comfort.
The bra consists of cotton, polyester, nylon, and spandex.
---
Index Table: Top Rated Bras for Senior Ladies
---
---