Not many of us look for energy drinks for senior citizens. However, this is not entirely true, there are safer options, and it also depends on the senior person's health conditions.
This article will look at some natural energy drink alternatives and some of the best available and safer Energy drink brands for seniors.

---
How the Ingredients in Energy Drinks for Senior Citizens Work?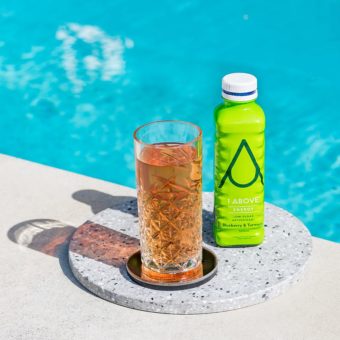 Commercial Energy Drinks – Most Energy Drinks will contain large amounts of caffeine, taurine, and some Guarana for energy, along with B-Vitamins, and sugars, and flavorings. In moderation, caffeine in moderation is acceptable for seniors, and Taurine and Guaran could be quite good. Vitamin B's are healthy and natural energy-boosting elements. Yet, the sugar content and additives may not be as good, particularly for Diabetes or similar conditions. However, there are sugar-free options available in most commercial energy drink brands.
Natural Energy Drinks – Natural Energy Drink brands utilize Green tea for its healthy and natural Caffeine, along with Fruit and Vegetable Juices for their Vitamin benefits. Some may contain natural or regular sugar. Many Natural Energy drinks are also fortified with B-Vitamins and other Vitamins such as Vitamin C and Calcium.
---
Natural Energy Boosting Tips
Besides having delicious and nutritious energy drinks for senior citizens, there are a few other methods you can use to boost your energy levels as a senior adult;
Proper Nutrition – Eating smaller meals more regularly and including fruits ad vegetables, along with lean meats and legumes in your diet, will greatly enhance your health and energy levels.
Consistent Sleep – Consistent sleep is required for steady energy levels. Establishing regular bedtimes and nap times and keeping your sleeping area cool, dark, and quiet will improve sleep patterns. A quick midday nap will also give you some extra energy for the last few hours of the day.
Excercise – If you are mobile enough for exercising, even if just for a short walk, exercise will improve your energy levels and keep you fit and healthy.
Magnesium – Magnesium is a critical element that your body uses to turn your food into energy for your body to utilize.
Hydration – Drinking enough water keeps your energy levels up, and dehydration can cause extreme fatigue.
B-Vitamins – Taking additional B-Vitamins will help you boost energy; in fact, they are found in most energy drinks.
Green tea – Green tea is a natural Caffeine also found in natural energy drinks, which boosts energy levels.
---
Features of a Good Energy Drink for Seniors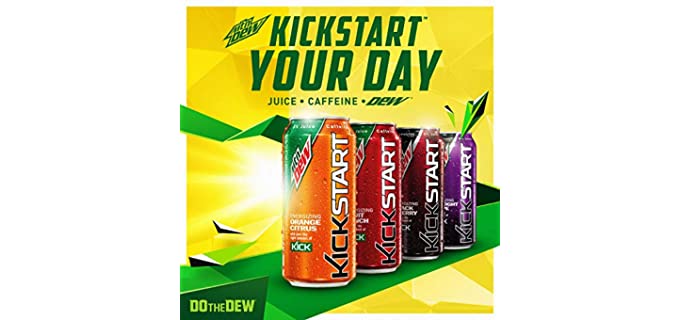 Natural energy Drinks – Green tea along with B-Vitamins are used in Natural energy drinks for energy, and fruit juices for taste.
Synthtic Energy Drinks – Caffeine, Taurine, and Guarana are the main elements in energy drinks, and B vitamins may also be added.
Other Ingredeinets – Sugar, Flavorings, Natural fruit Juices, and carbonated water can be used in most energy drinks for taste and flavor.
---
Reviews: The Best Energy Drinks for Senior Citizens
Here is a list of the top Energy drinks which are safe and nutritious for Senior persons. Please note that this page includes affiliate links.
---
1
One of the top favorite Energy Drinks on the market for seniors is the Aspire energy drink, in many flavors.
The Energy Drink comes in Mango Lemonade, Lemony Lime, and Raspberry Acai flavors.
It contains no sugar, calories, or carbs.
Besides, it is also free of artificial flavors and preservatives and is safe for people on a Keto diet.
The caffeine content is also naturally sourced from guarana seed and green tea.
Not to mention, this drink for the elderly is enriched with vitamin B, C and soothes one's metabolism.
---
2
One of the top favorite Energy Drinks on the market for seniors is the Mountain Dew Kickstart range, which comes in many flavors.
The Energy Drink comes in a 16fl Oz, 12fl Oz can option, and 12 or 18 cans.
You can choose between a few fruity flavor options in the range.
The Mountain dew Kick Start is a Low Calory caffeinated energy drink containing fruit juice.
The mix is a perfect ratio for energy and fruit juice blend.
---
3
The V8 +Energy is an all-natural energy drink that uses Green tea and Fruit Juices for energy.
You can choose between a pack of 12 or 24 in the 8 Ounce can.
The energy drink consists of natural Green tea, which contains caffeine and juice from fruits and vegetables.
There are no GMOs or additives, and the drink is gluten and sugar-free.
Because of its all-natural ingredients, this is a safe and effective energy drink for senior persons.
---
4
The Red Bull is surely one of the most favorite drinks among youngsters, but the elderly can also have the wings, thanks to this sugar-free version.
This sugar-free Red Bull has some very high-quality ingredients that deliver a big energy boost.
These include caffeine, aspartame, taurine, etc.
Especially if you have Diabetes, this energy drink is just for you.
---
5
The Celsius Energy drink is safe for seniors with Diabetes as it is completely sugar-free.
The drink is ideal for seniors who still work out and need a pre-workout drink.
Because it has Zero Sugar and preservatives, it is safe for individuals who have Diabetes or allergies.
There are also no artificial flavors or colorants used in the energy drink.
Different flavors and pack size options are available.
---
6
The FocusAid Energy drink is part of the LifeAid energy drinks range, all-natural and safe.
You can choose between the different ranges, such as the ImmunityAid, LifeAid, or FocusAid energy range, and many more.
The drink is completely natural, utilizing Green tea for Caffeine and a B-Complex Vitamin Blend.
It also contains L-Carnitine and Ginseng for memory aid.
For fitness, the energy drink has a very low-calorie count of only 45 calories per 12 ounces can.
---
7
The C4 Smart Energy Drink is an energy drink and Nootropic Brain Booster with Zero Sugar.
It contains no sugar or artificial flavors and colors making it ideal for diabetics and allergies.
The ideal energy drink and brain booster for seniors.
There is no sugar or calories in the drink, so it is safe for dieting.
Innova Tea is used as a Caffeine alternative, which is natural and safe.
There are likewise many different and delicious flavors to choose from.
---
8
Power up with this zero-calorie best energy drink for the elderly.
It contains natural fruits and herbs as well as cleaner caffeine with fewer side effects.
This is a premium product with zero calories and sugar for seniors who have Diabetes or a diet.
The serving is a can option that you can buy in twelve packs.
---
9
From Pureboost, we have a no sugar and high energy drink with added antioxidants for senior individuals.
Puerboost contains Ginger and Vitamin C, as well as immune-boosting zinc.
There are 30 Powerful packets that you tear and drink.
Soy, GMO, Dairy, and Gluten-Free.
Contains natural vitamin B12 and Green tea for energy.
---
10
The Yerbae Sparkling water contains Yerba mate with natural caffeine for energy and antioxidants.
The Yerbae energy drink is natural and safe to use by seniors.
It contains natural yerba Mate caffeine and guarana seed extract, white tea, and natural antioxidants.
There are 12 cans in a pack, each for a single serving.
It is packed with antioxidants that make it a super healthy beverage.
---
11
The Uptime Energy drink is a sparkling drink with natural caffeine and flavors you can select.
The Uptime Energy drink is a sparkling natural drink with natural flavors.
It contains natural caffeine and has less than five calories per serving.
Flavors come from natural fruits and vegetables in a sparkling drink.
Get yours in a pack of 12 oz bottles.
---
Index Table: Top Rated Energy Drinks for Senior Citizens
---
---