You may have been told to eat fruits and vegetables from a very young age. And this is very true, vegetables and fruits, or packed full of vitamins and minerals, as well as father probiotics and prebiotics.
As we age, they might be specific vitamins and minerals that we need, and the food that we eat may not give enough of these vitamins or minerals, or we may not be eating enough fruits and vegetables.
A fruit and vegetable supplement can help to complement your diet. However, they do not replace real fruit and vegetables. Fruit and vegetable supplements can help to give you much-needed nutrients to nourish your body, and they can balance your diet.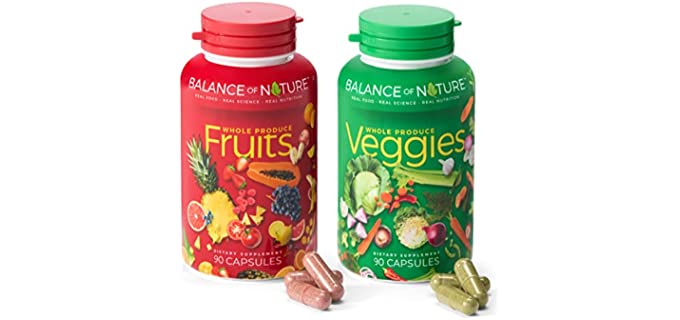 ---
Vitamins and Minerals Needed by Seniors
Individuals that are over the age of 50 may quite likely need more of some vitamins and minerals than younger adults do. A doctor or dietician can help you to tell you what vitamins and minerals you are lacking, and how to change your diet to get these. A good fruit and vegetable supplement can help you get much-needed vitamins and minerals that you may not be getting enough of through your diet.
Calcium – Calcium works alongside vitamin D, and it helps to keep your bones and teeth strong at all stages of life. Bone loss can easily lead to fractures, especially in older men and women. Now, calcium is found mostly in milk and milk products. However, green, leafy vegetables such as kale, spinach, and broccoli, are also extremely high in calcium.
Vit D – Though you will not find Vitamin D in most fruits and vegetables, it is found in fatty fish and most milk products. Vitamin D is also absorbed by your body through sunshine.
Vit B – Vitamin B6 is needed to form new red blood cells, and it is found mostly in bananas, chicken breasts, potatoes, and most fortified cereals.
Antioxidants – Antioxidants are ideal to strengthen your immune system. However, in large quantities, they may not be beneficial, and antioxidants are also excellent in anti-aging. Antioxidants, or found in vitamins a vitamin C, selenium, and beta carotene.
---
Are Fruit and Vegetable Supplements for You?
I need to remind you that fruit and vegetable supplements do not replace the real deal. They are complementary supplements that you can use to increase your intake of nutrients, fiber, and phytochemicals.
A fruit and vegetable supplement contains mostly blonde material. The whole botanical, or some parts of it, like just the fiber, to give you an example. To get a fruit and vegetable supplement. The fruit is dried out and then blended into a powder, which you can use to drink with water or other liquids, or which is placed in a capsule. Most fruits and vegetables supplements are also good sources of fiber, probiotics, and some digestive enzymes depending on how comprehensive the formula of the specific product is.
For the most part, a fruit and vegetable supplement gives you a larger variety of nutritional benefits than your diet may be giving you. You may not be getting enough, of similar fruits and vegetables in your diet, or in a variety to give you all the vitamins and minerals that your body needs.
Many seniors may not enjoy the taste of fruit or vegetables or be able to eat them as well as they used to, they may also not be as available to them, in this case, a fruit and vegetable supplement is much easier to take and as much better in availability.
---
Features of a Good Fruit and Vegetable Supplement for Seniors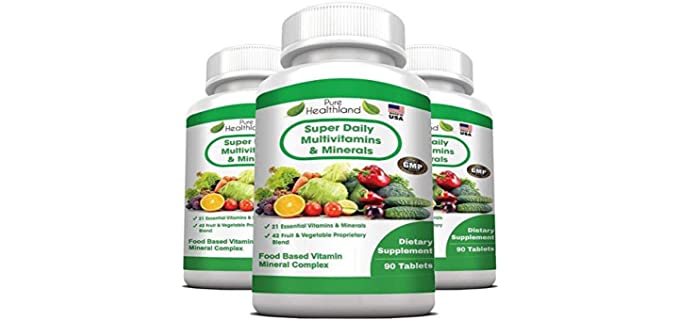 Fruits and Vegetables – We have included blends of fruits and vegetable supplements, as well as more specific options such as greens, or antioxidant options.
Bio Actives – Some of the fruit and vegetable supplements that we have chosen also contain Bio actives such as functional Prebiotic fiber herbal botanical, probiotics, and micronutrients for your health and digestion.
Quality – Ensure that the fruit and vegetable supplement you choose is a high-quality product. There should be no additives and only pure and quality natural raw materials used for making the product.
Organic – Organic food supplements are always a better choice as you get the healthiest and purest fruits and vegetables, without any chemicals.
---
Reviews: The Best Fruit and Vegetable Supplements for Seniors
These are some excellent quality fruit and vegetable supplements that are especially suitable for seniors above the age of 50 years;
---
1
From Balance of Nature, we have two capsules, one containing fruits, and one vegetable based.
They are both whole-food supplements with extracts of fruits that are high in antioxidants and Phytonutrients.
The vegetable supplement contains green and root vegetable extracts.
They are Keto friendly, fully vegan, and are made using Freeze drying technology to retain nutrition.
---
2
The NutraChamps Green Vegetable supplement is perfect for seniors that require extra greens in their diets.
It also contains digestive enzymes and Probiotic blends.
The green vegetable supplement has organic ingredients that are clean and natural.
It hydrates and nourishes your body with 40 nutrient-rich whole foods.
---
3
From Orgain, we have an organic Green superfood and antioxidant supplement.
It contains green superfoods and Berry antioxidants, as well as 1 Billion Probiotics.
The supplement is completely organic, vegan, and natural without any additives.
It is non-GMO, kosher, and Gluten free.
---
4
Another option from Orgain is their immune support organic supplement.
It is a Vegan Immunity boosting supplement with high dosages of Zinc and Vitamin C, D as well as Probiotics, and ashwagandha.
It is a Non-GMO product that is natural and organic.
It is available in two lovely natural flavors that are delicious for seniors.
---
5
Pure Synergy Berry powder is very high in anti-aging antioxidants for seniors.
It has 20 of the most nutrient-dense organic berries and superfruits that are concentrated in a convenient powder for you to use.
The Blend has a delicious natural taste and easily mixes with water or into a smoothie.
It is USDA Certified Organic and a Non-GMO, vegan, and allergen-free powder, without any sweeteners, or additives.
---
6
Another option from Pure Synergy is the Heart Protecting fruit and vegetable supplement.
It is an excellent supplement for heart health in the elderly.
The product is Certified organic and contains no GMOs, gluten, dairy, sweeteners, or additives.
It is a Pure extracted supplement that has no chemical solvents.
The supplement contains 11 concentrated organic herbal extracts and enzymes that support and nourish your cardiovascular system.
---
Index Table: Top Rated Fruit and Vegetable Supplements for Seniors
---
---