Something I have come across that is not only perfect for seniors but also for individuals who need to take medication, even just vitamins regularly is a Pill Organizer.
Besides making it so much easier to take medication or vitamins, a monthly pill organizer for elderly persons can help if they suffer from Detia or struggle to remember which medication to take.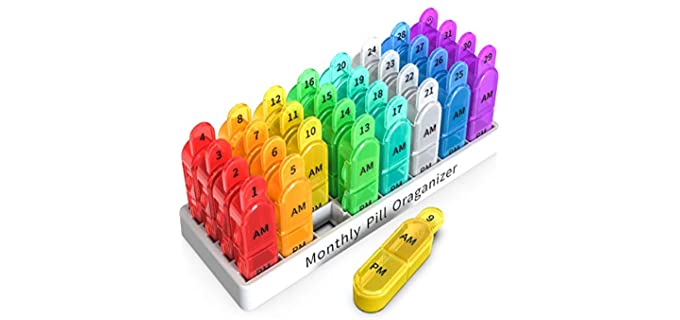 ---
Why I Recommend a Monthly Pill organizer for Seniors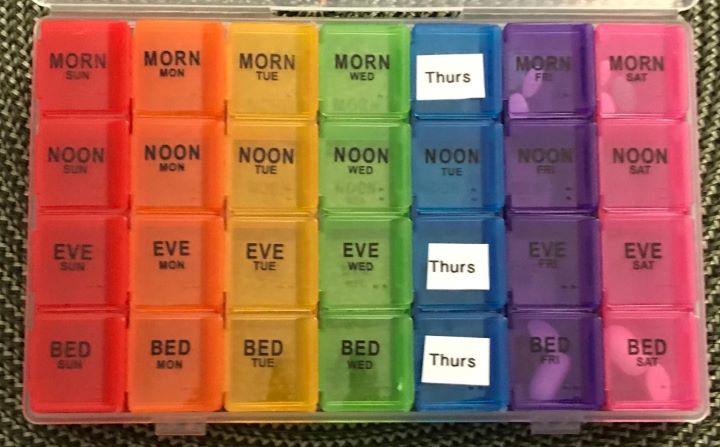 Monthly, even weekly, pill organizers are ideas. However, the Monthly Pill organizer reduces the need for re-organizing medications regularly.
In general, a pill organizer can be a necessity for an elderly person for these reasons;
Memory Loss or Dementia – Seniors that suffer from memory conditions and conditions such as Alzheimer's, and dementia or who just forget easily will greatly benefit from having a monthly pill organizer which allows them to take the right medication daily without forgetting which pill to take when.
Parkinson's and Weakened Hands – It may also be difficult for seniors to open medication bottles and boxes to get their medication. In contrast, a pill organizer has an easy flip-open design, and you can access everything you need by just opening one container.
Travelling – A Monthly or even weekly pill organizer is ideal for traveling so that you can easily have your medications on hand without carrying around many bottles of medication.
Easy to Use – Seniors may get frustrated and find it very difficult to track when to take all the different medications and lose track easily. A Pill organizer simplifies the overall process greatly.
Poor vision – For elderly persons with poor vision, it may be quite difficult to read what is on the labels of medication containers, so when a loved one helps to organize them neatly in a pill organizer, it is easier for them to know what dosages are needed and when.
Prevents OverUse of Medication. I have encountered a problem with elderly adults: they may often overdose on medication because they forget or cannot read the dosages on the containers properly. These can be dangerous and cause health issues that can easily be prevented by employing a Pill organizer.
---
So How Do Monthly Pill Organizers Work


Generally, you get different types of Monthly Pill organizers, and you also get weekly Pill Organizers. The monthly Organizer will need to be filled every month, which takes less time than refilling every week.
On the other hand, a monthly Pill organizer is much larger than a weekly pill organizer.
The Monthly Pill organizer should at least have small containers every day and every night of the month, and some may also have an afternoon container.
Because most medications need to be taken either once, twice, or three times a day, the Pill container must accommodate this.
You place your daily medications in small containers for day or night use and fill the entire month's storage.
When you need to take the medication, you open a single container for the day or evening and take the necessary medications.
---
Features of a Good Monthly Pill Organizer for the Elderly
Material and Construction – The Monthly Pill organizer needs to be durable and well constructed so that it will last and the small openings and latches will not break with regular use. The hard plastic is usually used for monthly pill containers and is the easiest and safest to use and clean.
Design – You get a monthly pill container with daily smaller containers, day and night smaller containers, or morning, afternoon, and evening containers. You will need to select one according to your specific needs.
Marking – Make sure that the days and times on the container are marked with something that will not wash off or rub off easily.
Opening and Closure – The small flaps that you open and close to access medication need to close securely so as not to slip open and lose the medication inside, but they also need to open easily enough for an elderly person.
---
Reviews: The Best Monthly Pill Organizers for the Elderly
below we have chosen some of the best designs in Monthly pill organizers that are ideal for seniors;
We hope you love the products we recommend!
So that you know, We may collect a share of sales or other compensation from the links on this page.
---
1
I start with an incredible invention, the automatic Pill organizer for seniors.
This monthly medication organizer has six interchangeable dosage rings and a digital display.
It has audio and visual alerts reminding you to take your medication for up to 28 days.
The Organizer is extremely easy and clear to read and use.
It is easy to program and set up in turn.
---
2
The Modish Home Decor Pill organizer is a monthly pill organizer, especially for seniors.
It has 31 pill boxes with clear numbers and is and PM labels for morning and evening use.
The Pill organizer is as easy as a general calendar for seniors.
It is durable, and the small pill containers easily open with generous space.
---
3
the Stuff Seniors need Monthly Pill organizer is a special design specifically for seniors.
It has a convenient seven-day design with the time of day compartments.
The Pill boxes are stackable and very easy to use,
they are marked, and the boxes are easy to place in your handbag for travel.
---
4
The Yakima Pill organizer for seniors offers an entire month of organizing.
It has AM and PM slots for morning and evening medications.
The Organizer has easy-to-open slots and visible markings for dates and times.
The removable case has a large capacity and a very durable design.
---
5
From MedCenter, we also have an excellent Monthly pill organizer for seniors.
The pill organizer has 31 daily pill boxes that seniors can easily open and operate.
The boxes are marked with red and green coloring to show you when your daily dosages are complete.
The container consists of durable white plastic.
---
6
The coloring Monthly Pill organizer for seniors is a larger design.
The Pill cases are spacious and easy to open for elderly individuals.
The container is durable and consists of plastic.
It is a BPA-free plastic design and is also eco-friendly.
Premium quality and colorful indications of each day of the month, with an additional slot.
---
Index Table: Top Rated Monthly Pill Organizers for Seniors
---
---