Many senior individuals may struggle to swallow or even chew solid foods at some stage in their lives.
The issue with swallowing can be from many causes; however, it may cause serious malnutrition and health issues in seniors if they cannot eat proper food.
That is why we want to help you find the best nutritious and delicious soft foods for seniors with swallowing issues.

---
---
Dysphagia in Seniors
Dysphagia is a condition with difficulty in swallowing when it takes more time and effort to move food or liquids from your mouth to your stomach.
It can be painful and, in some cases, make swallowing almost impossible. Dysphagia can also occur when you swallow too fast or do not chew your food properly, and it is much more common in older adults.
Some Symptoms of Dysphagia – If an elderly person feels pain when swallowing or the sensation of food getting sucked in their throat, regurgitates or suffers from frequent heartburn, it may be a symptom of dysphagia. Weight loss, coughing and gagging when swallowing, and the inability to swallow, along with hoarseness and drooling, may indicate swallowing issues in seniors.
Risk Factors – Due to natural aging, normal wear and tear on your esophagus, and the increased risk of other conditions such as a stroke or Parkinson's Disease, swallowing difficulties may become a greater risk in older adults. Certain health conditions, such as neurological or nervous systems disorders, may also lead to dysphagia.
Complications with Swallowing Issues in Seniors – Seniors who struggle to swallow may suffer malnutrition. They may also become dehydrated and weak. Aspiration or Pneumonia can occur because of foods or liquids that may enter the airways in their attempts to swallow. On the other hand, larger pieces of food and hard foods can cause a senior individual with dysphagia to choke on the food.
---
So How Do You choose foods for Seniors with Swallowing Issues
I suggest you choose pureed foods that are soft and easy to swallow, along with liquid shakes, such as meal replacement shakes and protein shakes containing plenty of nutrients for their diets.
In our article, however, we concentrate mainly on soft puree-type foods for seniors with swallowing issues so that they can still enjoy a nutritional and tasty meal.
As you will see, there are more than just regular fruit smoothies and baby foods available on the market in puree form, and there are certainly many brands that cater to create delicious full meals in a soft puree form for seniors.
---
Features of a Good Soft Food for Seniors with Swallowing Issues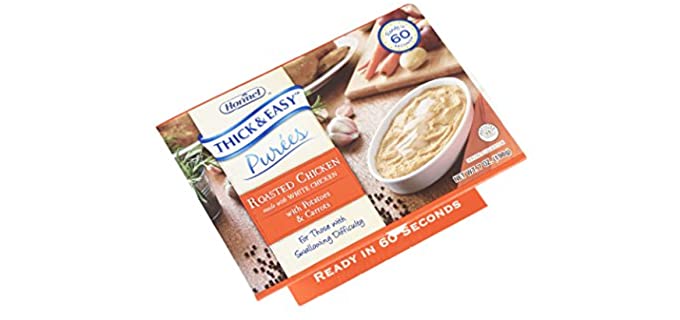 Ingredients – Look for soft foods that contain more natural and healthy ingredients and provide a sustainable and nutritional meal or snack for a senior.
Packaging – The packaging should be easy and convenient. Most soft foods come in pouches or cans that can be stored elsewhere.
Options – Look for a selection of soft foods that offer more variety of flavors and variants from which you can choose for a senior.
---
Reviews: The Best Soft Foods for Seniors with Swallowing Issues
Below you will see some excellent options in soft foods that offer a variety of meals and snacks for senior individuals that have problems with swallowing;
We hope you love the products we recommend!
We may collect a share of sales or other compensation from the links on this page.
---
1
---
2
The GoGo squeeZ organic fruit comes in on-the-go, ready-to-eat packs.
Here we have an alternative to fruits in a soft puree that is easy to swallow by a senior adult.
The fruit purees come in different flavors, and you get a variety of sets with 12 pouches in your purchase.
It is free from all major allergens, such as nuts, dairy, and gluten.
The snack can be frozen or eaten as is.
Ideal for on-the-go for both seniors and children.
---
3
The Thick-It Purees Protein Variety pack provides a food option that includes a protein meal for the elderly.
It is a Protein variety pack of 12.
The set of tins contains; 3 Beef Stew Purée, 3 Seasoned Chicken Patty Purée, 2 Chicken A La King Purée, 2 Beef Lasagna Purée, and 2 Beef in Barbeque Sauce and a Smoke Flavor Added Purée.
It is made with real ingredients and is full of delicious flavors for seniors.
The consistent texture of the food meets dysphagia diet guidelines for IDDSI Level 4.
---
4
Another addition from Thick and Easy is their Maple Syrup French Toast puree for seniors.
The puree is delicious and resembles maple syrup French toast with a puree consistency that seniors can easily swallow.
You get seven pouches per case that contain seven ounces of puree.
It contains healthy and real ingredients that are safe and tasty.
---
5
From Noka Foods, we have some delicious smoothie pouches for seniors with trouble swallowing.
The smoothies come in a six-pack with various pouches.
They contain Plant proteins, Prebiotics, Fiber, Flax seeds, and healthy fruits and vegetables.
The ingredients are gluten-free and vegan.
The pouches are ready to eat and very delicious.
Ready to eat and great for on the go as a meal or snack.
---
6
From the Farmer's Market, we have a canned organic pumpkin puree that can be added to a meal for seniors with difficulty swallowing.
It consists of organic sweet potato or pumpkin and no added ingredients.
The can is 15 ounces and comes in a pack of 12.
---
7
From Thick and Easy, we also have a delicious breakfast option for seniors.
This is a Scrambled Eggs, Potatoes, bacon, and cheese meal that is ideal any time of day.
The meal comes ready in a soft, puree form that is easy for seniors to swallow.
It needs no refrigeration for storage and has a long shelf life.
Quick and easy to prepare rakes 60 seconds before you can serve.
---
8
From Thick and Easy Purees, I have added their very popular Chicken meal for seniors with issues with swallowing.
It is a delicious chicken-flavored puree meal that is ready to eat and only needs to be heated.
The puree is safe and additives-free, with delicious flavors that seniors enjoy.
It comes in a ready-to-eat pouch, and you get a set of 12 with your purchase.
Ideal; for emergency preparation of food or an on-the-go meal.
---
Index Table: Top Rated Soft Foods for Seniors with Swallowing Issues
---
---