As your body ages, it becomes less effective at absorbing protein from food sources.
Therefore as a senior person, it is always a great idea to take an additional protein supplement.
In this article, we will look at some of the most advantageous Protein powders for senior individuals.
---
Why Do Seniors Need More Protein
The lack of Protein absorption in seniors may lead to muscle weakness and bone density loss over time. Therefore a good Protein powder can provide essential proteins and amino acids to aid with muscle strength and bone density, and many other nutritional needs.
Here are a few good reasons why seniors should take a Protein powder Shake;
Slower Digestion – Because our digestion slows down as we age, so does the absorption of protein from foods in general. Using the right Protein supplement will improve digestion and protein absorption.
Muscle Mass – As you age, some level of muscle mass and strength is lost, causing weakness. When taking a Protein and Amino acid supplement, muscle mass and strength will improve.
Bone Density Loss – Protein can increase your bones' strength and density as you age.
Injury Recovery – A good Protein supplement helps build muscle tissues faster and ensures a more speedy recovery when it comes to strained muscles.
Amino Acids – Many protein Powders contain amino acids such as BCAA's, which also strengthen tendons and ligaments in the body, enabling better mobility in seniors.
Increased Energy Levels and Better Nutrition – Overall, a good protein powder provides nutrition for underweight seniors in lack energy. The proteins will keep them energized and full for longer, supplying much-needed nutrition.
---
How to Use Protein Powders for Seniors
The Best way to take a Protein Powder or shake is to make it a daily habit that you do at the same time every day.
Protein Powders are mixed with water or milk and juice of those that are unflavored.
Most protein powders are instantiated, meaning they blend well with liquids without clumping. Some are also flavored, making them tastier to drink.
---
Features of a Good Protein Powder for Seniors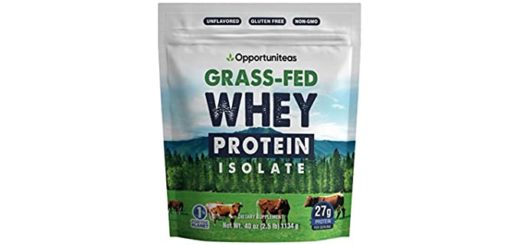 Contains BCAAs – Amino Acids which hep to build lean muscle and help with muscle recovery are added to protein Shakes many times.
Vitamins and Minerals – In some cases, Vitamins and minerals are added to Protein Powders for additional health and immune support functionalities.
Protein Sources – The best protein sources are 100% Whey, which can also be Grass-fed in a purer form. Other forms are Milk proteins, Egg protein, soy, pea, oat, or even Rice proteins.
Flavors – Protein Shakes come n a large variety of flavors you can select. I usually recommend going for a flavor such as chocolate or vanilla for seniors, which has a more tolerable taste for the long term and daily use.
Instantized – As you will see, many protein powders say that they are Instantized, which means that the powder mixes much easier with a liquid and does not clump.
---
Reviews: The Best Protein Powders for Seniors
Here are some excellent choices in Nutritious Protein Powders just for Senior perons;
---
1
The Dymatize Elite XT Protein Shake is a Multi-Source Protein drink that is ideal for senior persons.
The Dymatize Elite protein drink comes in a Bana Nut, Fudge Brownie, Rich Chocolate, or Rich vanilla flavor, some delicious and luxury flavors.
Each serving offers 21 grams of multi-sourced protein, including whey concentrate, milk protein isolate, and micellar casein.
There are also 4.5 grams of BCAA's in each serving and 2.2 grams of Leucine.
All Dymatize products are based on the latest scientific research and tested at elite training facilities.
---
2
The Isopure Zero Carb Protein supplement for seniors offers excellent immune support and no carbohydrates.
The Isopure shake comes in many flavor options you can choose from, all delicious and creamy in texture.
The protein shake has added vitamin C and Zinc, which is beneficial in optimal immune support.
The supplement consists of 100% pure Whey protein, the highest quality protein, with a 25-gram protein per serving.
The protein shake is also Keto friendly and supports an active lifestyle.
---
3
From Quest Nutrition, we have a high protein and low carb protein shake for seniors.
There are 22 grams of protein per serving, only 2 grams of carbs, and only 1 gram of sugar.
You can easily mix the shake with water or milk, whichever you choose.
The shake comes in a delicious chocolate flavor, which is obtained using pure cocoa.
Stevia is used as a healthy alternative sweetener making the shake is ideal for those who have sugar or diabetes issues.
The Container of the shake stores easily and keeps the protein powder fresh.
---
4
The Pure Protein Powder has low sugar and is Gluten-free with a very high protein content for senior adults.
You can choose from a delicious Rich Chocolate or Vanilla Cream flavor, which mixes easily with milk or water.
The protein powder contains high contents of Whey protein and zero gluten.
The powder is instantized for easier mixing and to prevent clumping.
The proteins help improve muscle strength and protein synthesis in your muscles, which is ideal for seniors.
---
5
From Opportunities, we have pure Grass-fed Whey Protein, which is perfect for senior individuals.
The Pure Grass Fed Whey protein is Non-GMO and Gluten-free.
You can choose between an Iced Coffee, Chocolate, or Unflavored flavor.
There are no added sugars or sweeteners in the unflavored shake and no preservatives or colorants added.
The shake offers you 27 grams of pure Grass Fed Whey protein per serving.
The shake mixes easily with water or milk for a delicious protein-filled drink.
You can also mix the unflavored protein shake with juice for a better taste.
---
6
From Optimum Nutrition, we have their Gold Standard 100% Pure Whey protein shake for seniors.
The protein shake comes in many flavor options you can choose, according to taste and personal preference.
The Gold Standard protein shake contains 100% Pure Whey protein with 24 grams in every serving.
Ther are also added 5 grams of BCAA's that help to build strong and lean muscles.
The shake is instantized, which means it mixes fast and easily with milk, juice, or water and will not clump.
There are likewise no banned substances, and the proteins are of the highest quality.
---
7
Nature's Bounty protein shake comes in many delicious flavors and has added vitamin C.
A high protein powder that contains added vitamin C.
There are a few flavor options so that you can choose your favorite.
High-quality protein that is consistent and nutritious.
The powder mixes easily in a liquid f your choice.
---
8
Jarrow Formulas offers you a more natural and safe protein powder for elderly persons.
A very easily dissolvable protein powder containing whey proteins.
It is free from rBST and artificial sweeteners and agents.
Natural with reduced lactose and fat content for a healthy diet.
Comes in a few flavor options.
---
9
A premium and flavored whey protein powder from Premier Protein Store for seniors and elderly.
A premier protein that is high-quality Whey Isolate protein.
The tub contains exactly 17 servings with a 30g protein per serving content.
There are also flavor options from which you can select.
There are no soy ingredients, and it is gluten-free for seniors with allergies.
---
10
A premium and healthy protein powder for seniors from MuscleTech.
The powder offers 25g of protein per serving suggested.
There are different flavor options available in the protein powder.
The excess lactose, fats, and carbs have been removed with a cold microfiltration process.
It has also been tested for quality and purity.
---
Index Table: Top Rated Protein Powders for Seniors
---
---