One of the best and easiest ways for a senior to strengthen and build some muscle is to use a dumbbell.
They are easily accessible and quite affordable as an investment in your health and fitness.
In this article, we delve a bit deeper into the world of Dumbbells for seniors.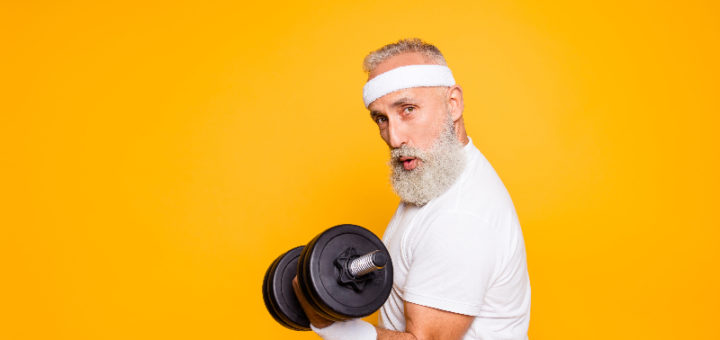 ---
Dumbbells for Seniors
As your body ages, you still need to protect it from illnesses and disasters such as injuries.
Sports and physical activity are some of the top methods to keep your body healthy, protected, and in good strong shape, especially as your age.
Exercise is critical for seniors as from after 50 your chemical metabolism starts to change which stars to reduce cell reproduction,
Exercise can help you against aging side effects and also helps your body to produce fresh cells.
Building some muscle can be one of the ways to prevent harmful aging and loss of strength.
Dumbbells are an excellent choice for fitness and muscle building in elderly individuals.
---
Dumbbell Exercise Tips for Seniors
Here are a few tips for seniors to safely and easily use a pair of dumbbells;

Keep Sessions Short to Average – I recommend starting with a 20 to 30-minute session three times a week. Although strength training is a great exercise method for seniors it should not be done daily, and you do need rest in between sessions. You should also not have longer than 45-minute sessions, and do some cardio exercises in between.
Sets and Reps – The reps are how many times you repeat a specific exercise, and the sets are how many times you do that specific amount of repetitions. To build muscle you need to do at least three to five sets of 12 repetitions of each exercise. Start by doing four sets of ten repetitions and of from there as you progress.
Gradually Increase Weight – You will need to start with a low weight dumbbell that you can comfortably control. As you will notice you may need different weights of dumbbells for different exercise routines. You should slowly increase the weight of the dumbbells as it is comfortable for you.
Warm Up and Cool Down – Make sure that before you start a session you begin with some light warm-up exercises to get your body ready. Also, finish off your session with a slow cool-down workout.
Be Careful – Listen to your body to prevent injury. If your experience sharp pain, particularly in the joints, stop the exercise and consult your doctor.
---
Features of a Good Dumbbell Weight for Seniors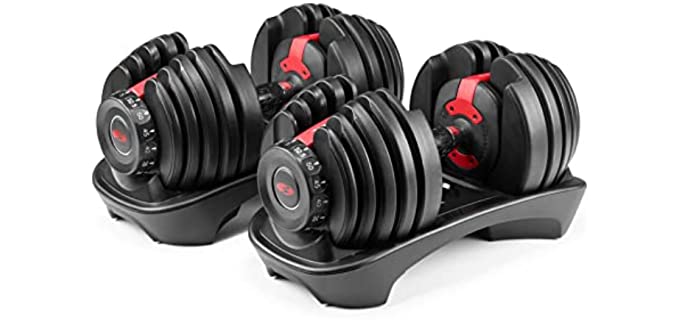 There are a few features that you will need to consider when purchasing Dumbbells for seniors, however safety neds to be your first concern;

Weight – One of the most important aspects f the Dumbbells to consider first is their weight. You do get sets available that have a stand with different dumbbells that are different weights so that you can increase the weight gradually. there are also options in which you can add weights to a single dumbbell. It is advised to start with a low weight that feels comfortable and to move slowly to higher weights.
Type – You get fixed and adjustable dumbbell designs. the fixed dumbles are a fixed weight and cannot be adjusted. Adjustable dumbbells allow you to add weight to either side of the dumbbell handle in order to gradually increase the weight as needed.
Shape – You get hexagonal-shaped dumbbells as well as circular-shaped dumbells. The Circular shaped dumbbells are more prevalent in dumbbells that are adjustable, while smaller and fixed dumbbells will be hexagonal mostly.
Grip – The Grip can be metal, or rubber, or other materials. the grip is the middle part of the dumbbells that you hold on to. the size of the grip should be comfortable enough for you to close your fingers around it. The grip needs to be textured or a material that will not slip out of your hands when you get sweaty.
---
Reviews: The Best Dumbbell Weights for Seniors
In the list below are some of our top choices in dumbbells for seniors individuals;
We hope you love the products we recommend!
So that you know, We may collect a share of sales or other compensation from the links on this page.
---
1
The Bowflex SelectTech 552 are adjustable Dumbbells for seniors.
They can adjust from 5 pounds to 52.5 pounds.
You can easily switch from one exercise to the next with the adjustable design.
They have a safe and comfortable grip for seniors.
---
2
The Flybird adjustable Dumbbells are is a single dumbbell with a non-slip handle for elderly men and women.
It has an adjustable design so that you can adjust the weight to your preference.
The hand has a textured and ergonomic non-slip design.
It is safe and ideal for seniors, and suitable for a variety of workouts.
---
3
The JFIT dumbbells are a 32 LBS set of dumbbells for seniors.
They are vinyl with a non-slip handle and a Hex shape.
Premium quality and safe for senior individuals.
The Dumbbells have a comfortable neoprene coating for your safety.
---
4
The Amazon Basics Rubber Encased dumbbells are safe and easy to grip by seniors.
They are ideal for resistance training and all forms of exercise.
They have a solid cast-iron core that is durable and a rubber coating for easy grip.
The rubber has hexagon-shaped rubber encased ends.
The contoured and textured chrome hand is safe and easy to grip.
You can also choose from different weight options.
---
5
The Epic fitness is premium Dumbbells for seniors, that are excellent quality, and very durable.
They have a heavy-duty design and come with an A-Farm rack.
The rack contains dumbbells that are different weights in a full set.
They are easy to grip and safe to use by seniors, and will not slip from our hands easily.
---
6
The NordicTrack dumbbells come in a pair and can be adjusted in weight.
They are an adjustable dumbbell set that has a 15 weight increment design and fitted storage tray included,
They are durable and have an easy-grip design for seniors, that will not slip out of your hands.
You will get the Dumbbell tray with a complete weight set in your home, which is extremely ideal and convenient.
---
7
The Crown Sporting Goods weights are perfect for seniors.
They are a set of two body sculpting weights.
The weights have a cast-iron design wrapped with neoprene.
They are soft and comfortable to grip.
There are also more weight options available.
---
8
From Amazon Basics we have Neoprene-covered dumbbell weights for seniors.
They are available in a set with different weight options.
The neoprene cover is easy to grip and won't slip.
They are color-coded according to weight.
---
9
From Nice C we have adjustable dumbbells for the elderly.
They also come in different options and colors.
They are a non-slip neoprene design.
The dumbbells are a patent adjustable weight.
---
10
The Amazon Basics vinyl dumbbells are perfect for seniors.
They are steel with colorful vinyl coats.
Easy to grip by seniors.
There are different weights, this is the 3lbs set.
---
Index Table: Top Rated Dumbbell Weights for Seniors
---
---