Tennis is an extremely popular sport that individuals of all ages and experience levels can enjoy.
It is a healthy sport for seniors that they can also compete in and, in time, come to master; there are even senior and super-senior divisions in the International Tennis Federation.
Tennis is an excellent and safe sport for seniors; however, you will need the right tennis racquet for their level of play and comfort.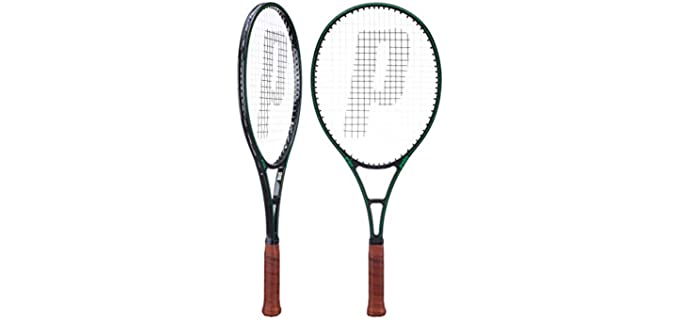 ---
---
The Benefits of Tennis for Seniors
Tennis is an extremely versatile and fun sport for seniors that can hold many benefits for their health and emotional well-being;
Improved Fitness – Tennis is an excellent sport for seniors who can easily scale down the intensity of the sport to match their capabilities and fitness levels. In tennis, your technique is almost more important than your physique; thus, playing at a lower intensity with good technique is ideal. Tennis is a game where skill by far outnumbers fitness. Though you need some fitness to play tennis, your skill is what counts essentially, and that is why tennis is such an excellent sport for seniors, not just in terms f exercise but also mental health. Playing tennis will, in turn, improve your fitness, but at a level that you can be comfortable with and increase the pace as you advance more in the sport.
Health Benefits of Tennis – Tennis for seniors is an excellent way to stay fit and enjoy many other health benefits. It can help improve your bone density and also help improve lower body strength, flexibility, and mobility. Likewise, Tennis is an excellent aerobic activity that seniors can easily participate in. Tennis may, in turn, increase your life expectancy by up to 10 years, with its health benefits. Playing tennis is likewise an excellent cardio workout that proves your heart health and will help with weight and fat loss, which could lead to other conditions such as obesity and diabetes. On the other hand, tennis is a game in which you need to stay mentally sharp. Thus, it can improve your mental health and stamina. Tennis is enjoyed with one or more people and can be an excellent and healthy way for seniors to socialize and make new friends.
---
Why Seniors Need the Right tennis Racquets
Today, unfortunately, it is not just as easy as going to your nearest store and getting a tennis racquet; there are quite a few considerations, especially as a senior adult, when it comes to the best tennis racquets for seniors.
You want to get the best out of your tennis game but also not risk having an injury, whether an immediate injury or injury from repetitive movements.
As a senior, sight may also become more challenging, so I always recommend a tennis racquet with a much larger head that is slightly easier to hit the ball with.
As a senior, you may experience more weakness in your hands and arms, making it difficult to hold a heavy tennis racquet.
To get a tennis racquet that will work well for you, you must consider your physical capabilities compared to your play style, level, and fitness capabilities.
---
Features of a Good Tennis Racquet for Seniors
Here are a few tips that seniors tennis players can follow in terms of the features that their racquets should have;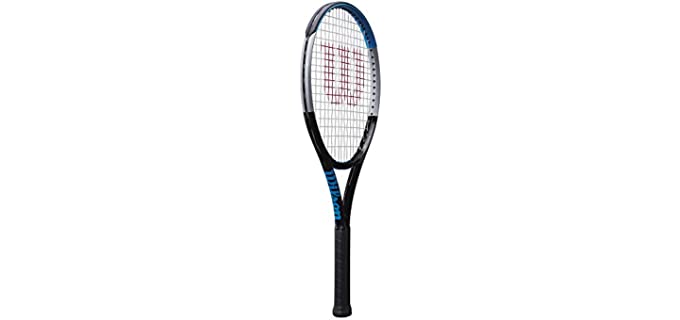 Racquet Weight – Over the decades, tennis racquets have generally become much more lightweight with advancements in technologies and materials. Tennis racquets can weigh from 8 ounces to around 11 ounces, with heavier racquets at 13 ounces. As a senior, it is best, to begin with a lighter-weight racquet.
Light or Heavy Racquets – Lightweight racquets require much less maneuver strength, making them ideal for beginners and seniors. On the other hand, heavier racquets are chosen by more advanced players because of their power and better shock absorption. Thicker, heavier racquets will therefore absorb more shock, which is better on the joints for you as a senior, but they are heavy and can be difficult to hold with weaker hands. In contrast, lighter racquets are easy to hold and handle but absorb little shock.
Head Size and Balance – Look for an oversized head of around 110 square inches with a lightweight but sturdy frame. This sized head will have the largest sweet spot, where the ball will rebound the fabric and allow for much more powerful and accurate hits. A balanced or heal light racquet is likewise more suitable for seniors. With a balanced or headlight racquet, you will have the center mass of the racquet closer to your wrist, meaning you will need less strength to keep the racquet upright.
Practice – Overall, seniors should consider light to medium-weight tennis racquets with oversized heads, which are lightweight. However, I always recommend you try a few different racquets to find out what feels more comfortable for you and which will suit your playing style and level.
---
Reviews: The Best Tennis Racquet for Seniors
Here are some of the best tennis Racquets that are perfect for seniors to use;
---
1
The Head Graphene is a powerful speed racquet for seniors.
It has a lightweight and large head with graphite material.
It is an extremely durable design and has excellent head balance.
You will feel clean impacts and excellent energy transfers.
---
2
The Clash 108 is perfect for seniors.
It is lightweight and very easy to maneuver,
There is a 697 square centimeter head size and a 16 X18 string pattern.
The tennis racquet is lightweight, 270 grams.
---
3
The Yonex Ezone is a Lite Deep Blue Colored tennis racquet for seniors.
It has a 677 square centimeter head and weighs 275 grams.
The tennis racquet is well-balanced and offers excellent control.
It is a mid-weight design.
---
4
The ProKennex is a 260-gram lightweight and well-balanced tennis racquet.
It has a comfortable grip for seniors.
There is a large oversized head and more kinetic energy.
It also has good anti-vibration and shock features.
---
5
The Wilson Ultra is ideal for more advanced tennis players.
It is powerful and unforgiving from the 108 series.
Ideal for better sweet spot channeling and power.
The frame is a mid-weight and carbon fiber.
---
6
The Prince Graphite Oversized tennis racquet is perfect for beginners and seniors.
It has a large head size and graphite construction.
The tennis racquet is well-balanced and quite lightweight,
Powerful and ideal for the modern game.
---
Index Table: Top Rated Tennis Racquet for Seniors
---
---