Resistance and strength are excellent for seniors, enhancing muscular strength and endurance.
For this type of exercise, you can use a variety of implements such as machines dumbbells, but the favored one for seniors is exercise bands or resistance bands.

---
---
Why Should You Rather Use resistance Bands?
There are many tools and equipment, even routines, a senior can use to start training to improve their strength and fitness.
However, resistance bands are among the safest, most comfortable, and most cost-effective methods to produce proven results.
They are Affordable – First and foremost, resistance bands are very affordable, and they also come with other accessories, such as a DVD with training routines.
Ideal for Different Fitness Levels – Resistance bands are available in various resistance levels, such as light, medium, and heavy, for all ages and beginners to more advanced users.
Full Body Exercise – Exercise bands can solve full-body exercise routines that target all the main muscle groups.
Easily Stored – Exercise bands take up very little space and are so easy to store.
More Variety – You can alternate between resistance bands and light weights or dumbbells for training.
Very Portable and Lightweight – Resistance bands are highly portable and lightweight, so you can take them anywhere to perform your exercise routines.
They are Effective – Resistance bands will give you an effective strength and endurance workout to increase your stamina and balance.
---
Tips on Buying Resistance Bands for Seniors
You can follow these tips to help you get the best resistance bands as a senior individual;
Try to buy various brands that cater to different fitness levels because you may need higher resistance levels as you advance.
Get bands that are comfortable and easy to use for yourself, that have padded handles, or a high grip.
You can try to get accessories such as a comfortable chair if you are doing stead exercises or a door attachment to tie them to.
You can stick to basic exercises and start simple and easy.
---
Features of a Good Exercise Bands for Seniors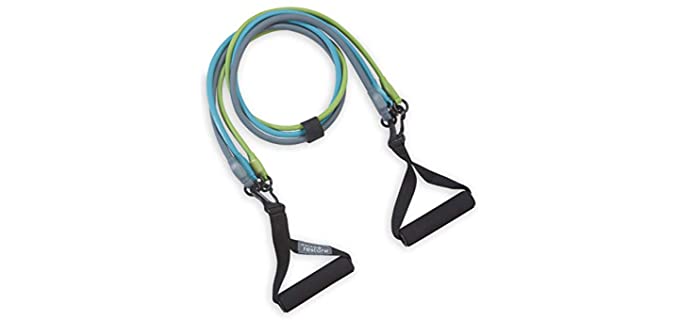 Resistance Levels – Resistance bands come in different resistance levels for people of different fitness levels. They are usually color-coded. You get various options that include resistance bands of all levels in a set.
Elasticity – A good resistance band must stretch as far as your arms can go without breaking. Most cheaper models will break if they are stretched too far, though.
Quality and Durability – Your resistance bands need high-quality, durable materials to be safe and last long for seniors.
Grip – Look for exercise bands that offer a soft, padded, ergonomic grip with handles or soft texture material.
---
Reviews: The Best Exercise Bands for Seniors
These are some safe and very comfortable exercise band options that are ideal for seniors of all fitness levels;
---
1
---
2
The TheraBand is one of the best available exercise resistance bands for seniors.
The exercise band comes in yellow, green, and red level options, light to medium and high resistance.
The resistance bands ate simple and easy to use, and very stretchable.
They are color-coded for progressive resistance training and comprise the highest quality natural rubber latex materials.
The Resistance levels are as follows; Yellow-3-4.3 lbs.; Red-3.7-5.5 lbs.; Green-4.6-6.7 lbs.
---
3
From Starktape, we have single-option exercise resistance bands for seniors with comfortable handles.
The resistance bands are available in many options, from beginner light resistance to very advanced heavyweight resistance.
You can choose a few as you progress with your training.
They consist of high-quality latex tubes that are stackable and non-irritating to the skin.
The resistance band has comfortable and cushioned foam handles for your convenience.
---
4
From the Gaiam store, we have a three-in-one resistance band kit for seniors.
The kit includes three exercise bands for the elderly that are interchangeable with handles.
There is a light, medium, and heavy band in three colors.
The handles are comfortable, sure grip foam that is ideal for seniors.
You also get a full exercise guide with routines and complete steps on using your resistance bands.
---
5
FitLife offers you their exercise resistance band for seniors with comfortable handles.
The resistance bands are tube bands with large comfortable handles and ankle straps.
They are versatile and can be used in so many ways.
The materials used are non-irritating to the skin and premium quality.
The resistance bands are stackable for easy storage.
---
6
We have a full training set from Vitality 4 Life by Curtis Adams.
The set includes a latex-free and safe exercise band and a full instruction guide on some resistance exercise routines.
The program is designed specifically for seniors of all levels of fitness.
It offers some excellent advice and routines in strength training for seniors.
---
7
Another option from Vitality 4 Life is their seated mix for seniors, which can all be performed in the comfort of a chair.
The set includes a DVD with specific seated exercises for seniors and a comfortable resistance band.
Thirty exercise segments are safe, comfortable, and comprehensive for seniors.
The resistance band included is comfortable to use and very durable.
---
8
The PXT360 resistance bands for seniors come in a complete set with handles for your progress.
The set includes five heavyweights exercise bands from 5 to 50 pounds with handles for your convenience.
The long rubber band loops can be used for various exercises and to target different muscle groups.
The handles are padded for a soft, comfortable grip that suits seniors.
---
Index Table: Top Rated Exercise Bands for Seniors
---
---