Bowling is a sport or recreational activity appealing to many people of all ages.
Seniors may also enjoy bowling as a social or singular activity.
Regarding seniors and bowling, certain variants need to be considered, such as their skills, strengths, weaknesses, overall health, nimbleness, and mobility.
For these reasons, we need to consider the best bowling balls for seniors to consider their strengths and limitations.

---
---
is Bowling a Good Sport For Seniors?
Bowling is a safe indoor sport or activity ideal for seniors.
It can help their overall health by providing exercise and improving their cognitive health. Bowling will not place excessive strain on the body and will also not physically exert or tire an elderly person too much, such as running or cycling.
Bowling is a calm and fun activity in which you must mostly use your arms and hands, with a small slow sprint area, to get into motion.
There are very few dangers involved in bowling for seniors, making it extremely safe and comfortable for them as a sport.
Bowling is also mostly a social event. Thus, it can help them interact with others and be a fun pastime to curb boredom.
---
Choosing a Bowling Ball for Seniors
Here are some tips to help you choose the perfect bowling Balls for seniors;
The Best Bowling Balls for Seniors – The best bowling ball for seniors is a bowling Ball that they can easily manage and use; that s lightweight and offers them a secure grip on the ball.
Are Bowling Balls Safe for Seniors – Not all bowling balls are meant for seniors. Bowling balls at 12 pounds or less are your safest option. Bowling balls with an extra finger hole also provide a better grip for seniors.
Type of Bowling Ball – How your bowling ball throws will depend on the condition of the lane and the ball's surface. You need a ball with a rough surface for oily lanes, whereas you need a smoother surface for drier lanes. However, you get bowling balls that straddle in the middle and accommodate all lanes.
Ball Weight – Ideally, the bowling ball should be around 10% of your body weight. However, the heavier the ball is, the more pin movement it can generate. Heavier bowling balls may be difficult for seniors to handle if they have weakness in their hands and arms.
---
Features of a Good Set of Bowling Ball for Seniors
Here are a few features that make a bowling ball much more suited for seniors to help prevent muscle and back sprains and strain;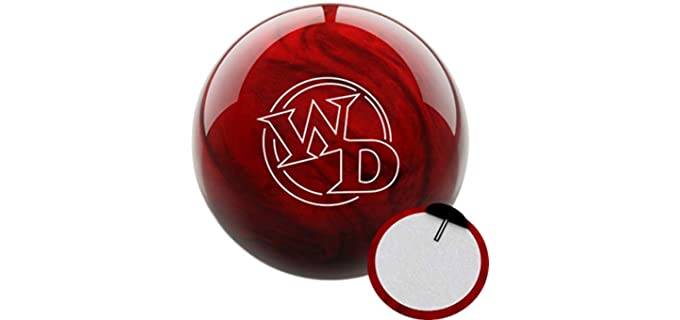 Weight – The standard weight of most bowling balls is between 14 and 16 pounds; however, your strength may decline as you age. Thus a lighter-weight ball such as a 12-pound ball may be more suited, especially for an elderly individual and for beginners.
Grip – Seniors prefer bowling balls that allow a much firmer grip with an extra finger hole.
Hook Potential – Look for a Low hook design bowling ball that easily glides down the lane without the senior having to swing the ball.
---
Reviews: The Best Bowling Balls for Seniors
In our review list are some of the best available bowling ball options that are especially ideal for seniors of all skill levels;
---
1
---
2
The DV 8 Bowling Ball for Seniors has generous weight and color variety options from which you can choose.
It is the ideal bowling ball for precision work and can also be an ideal spare ball.
The bowling ball has a pancake core and polyester cover stock.
There is a black and pink option available and different weights.
---
3
The Brunswick Rhino Bowling Back is a lightweight 10 lb bowling ball for weaker seniors.
It is an r-16 reactive cover stock bowling ball with easy length and back-end hook motion.
The design of the bowling ball is not sensitive to the dry or oily parts of the bowling lane.
It has a light bulb core shape and impressive pin action and motion.
---
4
---
5
The Pyramid Path Bowling ball is ideal for individuals of all ages and skill levels.
It has a perfect scale rating of 5.0 and Pyramid quality.
The bowling ball has a polished, classy appearance with a polyester cover stock.
It is a more affordable and lightweight option for seniors.
---
6
Here w, we have the Columbia 300 White Dot Scarlet Bowling ball available in different weight options.
The bowling ball is available in, a, 6,8,9,10, 11, 12, 13, 14, and 15-pound weight options for all ages and skill levels.
It is ideal for light oil lane conditions and has a straight reaction.
The bowling ball is USBC-approved and extremely durable, with good reliable traction.
---
7
Another addition from Brunswick is their Twist reactive bowling ball for seniors.
It is ideal for beginner bowlers and an excellent upgrade from most plastic balls.
The bowling ball for seniors has availability in several colors, from an 8-pound to a 16-pound weight, from which you can choose.
It has a 25-reaction shape strength and predictable control, ideal for skilled and senior beginner players.
---
8
The Strom Hy Road bowling ball for seniors is a 12 Pound bowling ball with attitude.
It has an R2S Solid Reactive Cover stock and an Inverted Fe2 technology core with a 1500-grit polished finish.
The bowling ball is a Hybrid cover stock design and can handle heavy lane conditions.
It has a benchmark reaction and predictable hook motion.
---
Index Table: Top Rated Bowling Balls for Seniors
---
---