Resistance and strength training helps to improve muscular strength and endurance capabilities.
Resistance training for seniors can improve their balance, coordination, flexibility, and range of motion. It is also ideal for fighting bone loss and for curbing the symptoms of arthritis pain.
Resistance Training bands are fairly easy to find, but you need to understand the different options available.
This article will look at the best resistance bands for seniors and their available types.

---
Resistance Bands and How They Benefit Seniors
Resistance bands are strong elastic bands that can be utilized to exercise all parts of your body. They come in different ranges of resistance depending on your fitness levels.
Resistance Bands are Affordable – Resistance bands are very affordable for seniors on a budget. You can use them with the guidance of an affordable DVD or free YouTube videos. So, no gym fees or expensive equipment is required.
Resistance Bands Cater To All Fitness Levels – Beginners, young and old, and even experienced trainers can use a resistance band. They come in various resistance types, from light to heavy.
They Exercise The Whole Body – Resistance bands can offer you a full-body workout and can be used for every major muscle group.
resistance Bands Are Compact and Easy To Store – The bands take up the absolute least space and can be folded and stored easily in a small drawer or space for next use.
Resistance Bands Add Variety – You can alternate your resistance bands with weights and other forms of training for some variety in your routine.
Use Them Anywhere Anytime – Resistance bands are lightweight to store and portable. You can also perform exercises with them in any space that you have available.
Resistance bands Are Effective – Just because the resistance bands are small and simple, do not underestimate them. The resistance band can provide a very effective exercise that will show results.
---
Are Resistance Bands Safe for Seniors
Resistance bands are the safest and easiest exercise equipment for seniors.
They are lightweight, easy to carry, use, and have minimal risks.
The strong and durable design is ideal for seniors, and some models come with handles at the ends for even more ease of use.
In the Video below are some tips for resistance training techniques for seniors;
---
Features of a Good Resistance Band for Seniors
There are different types of resistance bands with distinct features.
Resistance bands should be high quality and from a trusted brand.
They consist mainly of an elastic band; some may have handles at the ends.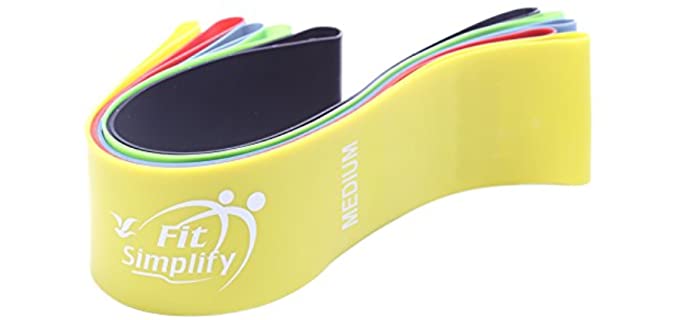 Light Resistance Bands – These usually come in a yellow color and they offer light resistance for beginners, seniors and users post-injury. They offer around 2.5 to 3.5 kilograms of resistance.
Medium Resistance Bands – Medium resistance bands offer about 3.6 to 5.5 kilograms of resistance and are ideal for most users looking for a strength workout. They are usually Green in color.
Heavy Resistance Bands – They are Blue, in color and are ideal for active trainers who work out regularly and have built up some strength. They offer around 6 kilograms of resistance.
Extra heavy Resistance Bands – They are Black, and reserved for the strongest and most advanced of users. Not quite recommended for seniors.
If you are starting, I recommend purchasing a light and a medium resistance band for your progress and gradually improving your strength.
---
Reviews: The Best Resistance Bands for Seniors
In the list of reviews, we look at some of the best options in resistance bands for seniors;
We hope you love the products we recommend!
So that you know, We may collect a share of sales or other compensation from the links on this page.
---
1
---
2
The Letsfit resistance bands come in a set of all resistance levels, with a handy-to-use carry bag.
The Renoj resistance bands come in a set of five resistance bands of different strength levels.
There are different sets that you can choose from according to your needs that are also diverse colors.
The resistance bands consist of very durable rubber.
They are ideal for seniors who are allergic to latex.
A portable carry bag for your resistance bands is included in the package and a full instructions manual.
---
3
From TheraBand, we have resistance bands that are elastic and latex-free for individuals who are allergic to latex.
The TheraBand resistance bands are latex-free and ideal for individuals with a latex allergy.
The resistance bands are straightforward to use anywhere and anytime for your convenience.
They come in different color codes according to strength and resistance.
You get a single elastic band and can choose from which strength options you need.
---
4
The SPRI Xertube offers you options in resistance-leveled bands and handles and a door anchor design option.
These resistance bands also come as singles, so you can choose exactly the strength and level of resistance you need according to color.
They are Nylon, Plastic, and Latex, as well as extremely durable and effective.
The resistance bands have a tuff sleeve protective handle for your convenience and ease of use.
They are of excellent quality and ideal for professionals and beginners.
---
5
The Tribe single sets of resistance band shave handles, and a door anchor comes with an eBook that includes resistance training routines.
The Tribe Resistance bands come in singles, so you can easily choose according to your personal preferences and strength requirements.
They are labeled according to color and the weight of resistance that they offer.
The resistance bands consist of durable and all-natural latex straight from Malaysia.
They are soft and extremely high-quality resistance bands that you can invest in with a rested heart.
---
6
The Fit Simplify resistance loops for seniors are available in different resistance levels, and they come with full instructions and a handy carry bag.
The Simplify Resistance loops come in sets with all the different strengths and weights of resistance in different color options.
You can also choose your color variation sets as there are more available.
They are high-quality rubber resistance bands, ideal for individuals with latex allergies.
A portable carry bag and a full instruction guide are included in the package to make it simpler and easier for a senior.
---
7
This specific resistance band was created with seniors in mind.
It comes with a full-color step-by-step exercise guide for beginners.
The exercise band offers light resistance with a length of around four feet.
It is safe and easy to use by seniors.
---
8
This is another resistance band set for seniors from Kirimon.
The resistance bands are designed specifically for seniors.
They have D-handle handlebars for easy use.
The resistance bands are simple and effective.
---
9
This is a full exercise set from Nonofish.
The set comes with an inflatable exercise ball and two resistance bands.
The resistance bands offer different levels of resistance.
The set comes with full instructions on use and assembly.
---
10
This is a set of thirteen resistance bands for seniors.
The resistance bands are safe, durable, and latex-free.
The set is color-coordinated for different levels of resistance.
They consist of nylon and latex, which are extremely durable.
---
Index Table: Top Rated Resistance Bands for Seniors
---
---