As you age and suffer from a lack of balance and mobility, there may be an area in your home or even around town getting in and out of a car that may become difficult for you to reach.
For a senior person who wants to remain independent, a step stool for the elderly may become a useful and safe device for these issues.

---
Considerations When Choosing a Step Stool for an Elderly Person
A step stool can be handy in various scenarios, such as reaching a high shelf, climbing in and out of a car, getting in and out of a bathtub, and many other uses.
There are, however, some considerations when choosing a good step stool as an older adult.
Factors affecting your choices, such as the height you will be able to handle, your sight, which means that you may need a more bright-colored stepping stool that is more visible, and your weight, affect the design suitability of the stepping stool.
While having benefits, including reaching unreachable areas, getting in and out of a car or bathtub easily, or even just getting in and out of your bed, a stepping stool also comes with some cons.
They can be in the way and cause a tripping hazard, they are tricky to use in the dark or lack visibility, and they can also be unstable if they are not chosen properly to suit your needs.
Thus, if you want to invest in one, ensure it is appropriate for your needs, limitations, weight requirements, and visibility requirements.
---
Types of Step Stools for the Elderly
Single Step – The rectangular single-step stepping stool can come in wood or plastic materials and offers a low single step for reaching areas that are not too high or easily getting in and out of bed or other areas. This design is very safe, sturdy and relatively lightweight, and portable. It may be a tripping hazard because it is small and low, so keep it out of the way when not in use. It also does not have handles, so it is unsuitable if you need stability or lack balance.
Single or Double Metal Frame Stepping Stools – These designs are foldable and come with a single, double, and I would be recommended the maximum being three steps for an e; elderly person. The stepping stool is ideal for reaching a very high area and is less stable than the single solid versions.
Full frame Stepping Stools – This is the ideal design for an elderly person that lacks balance and mobility. It has a full frame with handlebars you can hold on to and rest on. The design is sturdy and usually has a metal frame and a single or double step. The design is also usually adjustable in the height of the steps and the handlebars.
---
Features of a Good Step Stool for the Elderly
There are a few main factors to consider when choosing a stepping stool for an elderly person. I recommend a stepping stool with a handlebar or handles because they are more secure and offer stability for an elderly person.
Keep in mind that stepping stools for seniors also should have a much higher weight capacity.
Other than that, here are a few other features to look out for;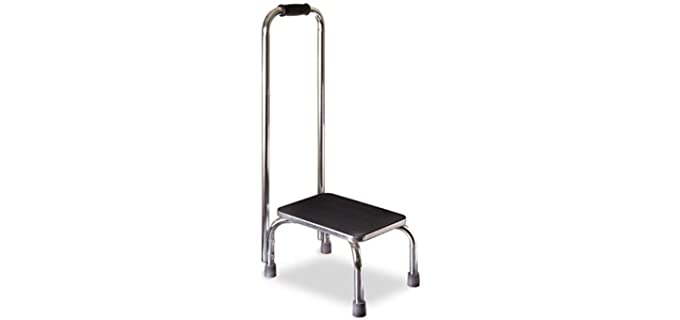 Price – Step Stools for the elderly come in a variety of designs, materials and quality options. If you want good quality and effective step stool for an elderly individual, you need to consider that it will come at a higher price. You do not always need all the additional features and extras, but a good-quality step stool that is sturdy and durable is essential.
Assembly – As mentioned, step stools come in various designs, shapes, and sizes. Some are solid and come already assembled. In contrast, others need some form of assembly, and some may even be difficult to assemble. For a senior person, keep this in mind, as a solid, already assembled design may be better unless the senior has someone to help with assembly.
Designs – Design is what we have been talking about all along. The design needs to be comfortable, sturdy, and effective, but do not forget that it also needs to look good, especially if it is standing somewhere in a senior person's home. Wooden step stools always look good, but they may be slippery for a senior person. Plastic comes in many colors and finishes, and metal step stools can also be painted and finished. On the other hand, you get solid designs with handlebars and designs similar to a step ladder, so you need to consider what functionality you need.
Materials – Materials used need to be sturdy, durable and good quality. You get metal, wood, and plastic range step stools that are all good quality. Remember that metals may rust, and always look for a step stool with a rubberized or grippy surface to prevent slips.
Size and Number of Steps – the Step stool needs to be functional and easy to store if needed. This is where the size and number of steps come into play. It will need the right amount of steps for its function and a comfortable size for standing on, which also does not take up much space. For an elderly person, I would recommend three steps: the more steps there are, the higher their risk of falling becomes in the end.
Portability – For a portable stepping stool that will be used when moving around, going to town, getting on and off a bus, or for any other reason, you need something lightweight and easy to carry. A folding step stool with removable handles and an easy carry design will be ideal for an elderly person.
Adjustability – Make sure that the step stool has some adjustability features. You might need to adjust the height to reach different items or areas or step out of different areas, such as a car or bathtub. Then there is also the handlebar height if you choose such a model.
---
Reviews: The Best Step Stools for the Elderly
In our review section, we have a few types of the best available step stools for elderly persons;
We hope you love the products we recommend!
So that you know, We may collect a share of sales or other compensation from the links on this page.
---
1
---
2
This is a more lightweight, folding, single-step stool for seniors from handy Laundry.
It can be folded and stored and has a textured surface for slip resistance,
It is lightweight but can handle quite a bit of weight and is sturdy.
The step stool offers a standing height of 9 inches.
---
3
The AdjustAStep form platinum health is a safe and secure step stool for seniors.
It has an adjustable height and handles bars for better stability and balance.
There are two handrails with non-slip grip designs.
The surface for stepping in is textured for slip resistance.
It is all-metal construction, durable stepping stool for seniors.
---
4
The Joovy step stool is small, lightweight, and affordable.
It is a single-step stool in a BPA and PVC-free plastic with a textured and rubberized surface for slip resistance,
The solid construction can hold 300 lbs in weight.
The design is sleek and compact enough for easy storage.
---
5
The Cosco two-step stepping stool is for seniors that do not have balance or mobility issues.
It has a full frame and handles bar as well as two steps.
The frame is rust-resistant, durable metal.
The surface of the step ss is designed to offer grip.
It is also fully foldable.
---
6
The Olleiro step stool is portable and lightweight for seniors.
It is a one-step step stool with a 330-pound weight capacity.
The step stool is a large platform that is slip-resistant.
It is ideal for seniors, adults, and even children.
---
7
The Zelen step stool is designed specifically for seniors and adults.
It is a footstool with a heavy-duty handlebar for security.
The Versatile footstool can be used for getting in and out of the bathtub, a car, and many other uses.
It is easy to assemble and comes with clear instructions.
---
8
The Giantex Step Stool for seniors is versatile and safe.
It has a durable and stable metal frame with a powder coating.
The handrail helps you keep your balance and is softly padded.
The platform has a non-slip rubber cover for standing on.
---
9
We have a lightweight and portable step stool from the Support Plus store.
This design is ideal for seniors who struggle to get in and out of a vehicle.
The step stool is lightweight, sturdy, and easily portable.
It consists of heavy-duty reinforced plastic that is also a non-slip material.
---
10
The Jobar step stool for seniors is designed for getting in and out of a bathtub.
It makes bath time a fun and safe experience for the elderly.
The wide step design has a non-slip textured pad.
It is lightweight yet can hold 500lbs of weight.
---
Index Table: Top Rated Step Stools for the Elderly
---
---