Portable Cane Chairs or Portable Cane and Chair sets are a two for the price of one medical and comfort device that every senior should invest in.
The Cane with SSeat gives you the option of a stability walking aid, along with a comfortable chair to sit on when you get tired on your feet.
---
Why Use a Cane with a Seat
There are many reasons to get a cane with a Seat, as it is highly functional and serves as an excellent solution for mobility issues and many other needs.
For seniors, this device is ideal for stability when walking or standing and a comfortable seat should they get tired.
When you need to stand in a long cue or wait for someone somewhere, whatever may be why the Cane with Seat can be a practical device that is light to carry and a quick and easy seat for resting on.
The Cane design is lightweight and functional enough to help seniors with mobility issues and provide better balance and stability for people when they walk or stand.
---
What to Look for in a Walking Cane with a Seat
So you have decided that the Cane with Seat is an investment that you want to make, and believe me, you will benefit greatly from this device.
Here are a few things you should consider, though, when you look at designs and options available, as there are quite a few available on the market;
Seat – Make sure that the seat is comfortable to sit on and wide enough so that you fit on it. Materails such as foam and plastic are ideal for the SSeat.
Cane Design – The Cane will have two, three, or a single point for walking. Check for a sturdy and reliable frame that you can easily walk with. Tripod designs are ideal for additional support.
Foldability – The Chair should fold easily and quickly into the Cane when you need to use the Cane alone and vice versa.
Lightweight – The design should be lightweight and sturdy as you do not want an excess weight that weighs you down.
---
Features of a Good Cane with Seat for Seniors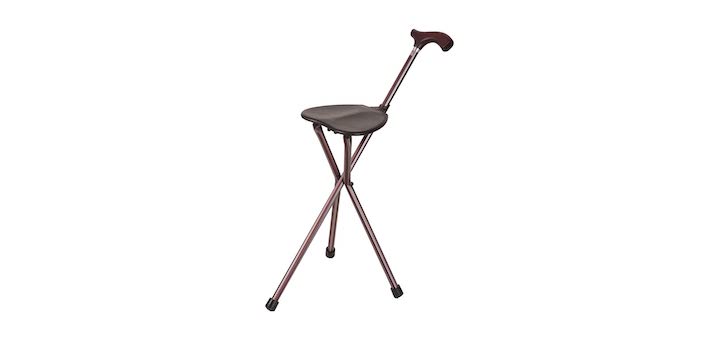 Cane – the Cane usually consists of durable aluminum that may be die-cast or sprayed for design. The Handle should be sturdy and comfortable with an ergonomic non-slip shape and design. Some Canes have Rubber, Plastic, or Foam handles for comfort.
Seat – the Seat needs to be durable and wide enough to be comfortable yet not in the way when folded. Look for plastic, Vinyl, or Denier fabric in the seat options.
Foldability – Ensure the Cane folds easily into a chair and back into a cane. There may be a button or just an easy flip and fold design.
Feet – The Feet or Point of a cane Seat is usually two or three with a Tripod design for better stability.
---
Reviews: The Best Walking Canes with Seat for Seniors
Here we have some different models and varieties of the best Walking Cane and Seat combinations for seniors;
So that you know, We may collect a share of sales or other compensation from the links on this page.
We hope you love the products we recommend!
So that you know, We may collect a share of sales or other compensation from the links on this page.
---
1
---
2
Here we have a cane, and the stool is lightweight and easy to collapse for seniors from Mac Sports.
The Mac Sports Folding Cane and Seat are lightweight and ideal for all ages.
The Seat and Cane fold up easily and are highly portable,
The Cane works well on all surfaces and is very lightweight.
There is a textile Denier Fabric seat that is comfortable and very durable,
The Quad design legs are very sturdy and durable.
---
3
We have a lightweight folding Cane, and SSeat set from Switch Sticks with adjustable height settings for seniors.
A very sturdy support cane with a comfortable and ergonomic handle.
The seat is a wide design made from durable plastic.
An aluminum frame is quite stable, even for heavier weight and a contoured plastic seat.
The Height of the seat and Cane is fully adjustable.
The handle has an ergonomic grip design and contours.
---
4
We have a lightweight Cane and Seat set for seniors from Travelon, a foam comfort handle, and a sleek design.
A comfortable design walking stick and chair combo folds easily and is very lightweight.
The Walking Stick consists of a lightweight, durable aluminum frame with rubber tips for grip and a plastic round design seat.
The seat is comfortable with a wide round design.
Three feet for added stability and a rounded foam handle for a comfortable grip.
---
5
The Nova Cane and Seat Set have a sleek design and simplistic elegance that is versatile and easy to use.
The Sleek and lightweight SSeat and Cane are ideal for seniors of all ages.
The seat is comfortable plastic.
The handle of the Cane is soft foam for easy handling.
The Height of the Cane can be fully adjusted with the touch of a button.
There is a curved design handle for easier holding and better grip.
Furthermore, the frame is stable, durable, and lightweight, consisting of aluminum.
---
6
The Essential Medical Supply Seat and Cane have a sturdy frame and a plastic seat, with an easy-to-grip handle for seniors.
The Essential Medical Supple seat and Cane come in two design options with Three Legs for added stability.
The design is ideal for all ages and all occasions; it is small and compact, easily folding away.
A cane design with a seat at the front or a foldable chair design can also be sued as a cane from which you can select.
The frame is durable but lightweight, and the seat is a comfortable width.
---
7
From the Goplus store, we have an anti-slip cane and SSeat.
The Cane is lightweight with a heavy-duty design.
The Sseatis comfortable and holds a weight of 330lbs.
There is an LED light to light your path.
The Cane has a non-slip rubberized foot.
---
8
Here we have a large folding cane with a seat.
It is available in a few color options.
The Cane has three legs with anti-slip feet.
It is fully adjustable in design.
---
9
From BSROZKI, we have a heavy-duty design cane and SSeat.
It is a folding design that can hold a weight of 440lbs.
The Cane is a thick alloy aluminum.
It also comes with an LED light.
---
Index Table: Top Rated Cane with Seats for Seniors
---
---