Using a walking stick dramatically improves seniors' balance and independence when walking and standing.
This said a few options stand out from the rest regarding the best available Canes for seniors.
Read on to learn about some of the best available Cane brands and models for seniors.

---
Benefits of Walking and a Walking Cane for Seniors
There are many benefits to walking for seniors, and walking with a Cane improves and allows for these benefits;
The Benefits of Walking – Most activities and exercise forms become difficult and somewhat impossible to perform in older people. Walking is a low-impact and easy activity that most seniors can perform. Walking improves health and strengthens your muscles while also improving mobility with less strain on joints.
Walking with a Walking Stick Or Cane – A Walking Stick or Cane improves overall stability and balance, particularly on uneven surfaces and when obstacles are ahead. A cane also helps your back and joint health because it redistributes your body weight when standing or walking, preventing the weight from coming down on your hips, back, and knees.
Improved Mobility – For older persons who are no longer very mobile, the Cane helps better balance and stability to move around easier and faster.
---
Cane Types and Handle Types
When it comes to Canes, there are a few different types as well as handle types, each with its benefits;

The Single Point Cane – The most common design with a single point at the end of the Cane.
The Multiple Point Cane – This Cane is called a Tripod Cane and has several pints touching the ground. This model offers more stable support for individuals who require more support with balance.
The Folding Cane – The Folding Cane is designed to fold up and become more compact for storage in a handbag when not in use.
Seat Canes – A Stea Cane is a sturdy Medical grade Cane for walking with a seat that unfolds when a person wants to rest.
The Rounded Handle Cane – This Cane has a curved and rounded handle that is usually not adjustable but allows more freedom of placement of your hands.
The T-Handle Cane – The T-Handle or Straight handle cane reduces strain on your hands and places less stress on hand joints to prevent hand fatigue.
The Fritz Handle Cane – This handle type is similar to the T-Handle, with a slight curve for even more comfort.
The Offset Handle Cane – Offset Handle Canes are the most popular today, and you will find that most Canes come with this handle type that is also fully adjustable in height. The handle is shaped like a question mark with an area underneath the handle that juts slightly. This Cane type helps distribute the user's weight more easily and is much more comfortable.
---
Features of a Good Walking Cane for Seniors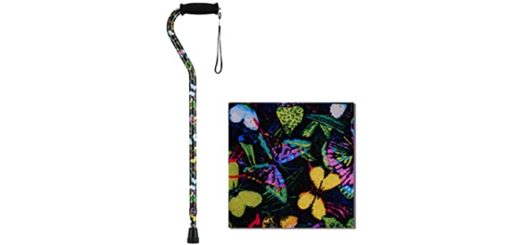 Materails – Materials used in most cases are either more solid or heavy wood or a more lightweight Aluminium. Rubber, plastic, or wood are usually used for the handle, and a rubber or silicone tip for better slip resistance.
Design – Most canes have a straight design with a smooth finish and different color options available. The height of the handle is adjustable so that you can get the perfect fit for your height.
Handle Types – You can choose either an Offset, Curved, or T-Bar Handle design. The Offset seems to be the more popular Handle Type.
Tip – There is usually a single top and, in some models, a Quad Tip for better stability with a rubber bottom for slip resistance.
Extras – Some Canes come with an additional wrist strap for better security.
---
Reviews: The Best Walking Canes for Seniors
Here are our top choices in some advanced and comfortable Canes which are perfect for seniors;
We hope you love the products we recommend!
So that you know, We may collect a share of sales or other compensation from the links on this page.
---
1
---
2
The Duro-Med Briggs is a lightweight Aluminium Cane for seniors.
The smooth and narrow walking stick is extremely lightweight and durable.
The design is quite attractive and unisex.
There is an adjustable height setting for the perfect fit.
The derby top handle is smooth wood and easy to grip.
There is also a slip-resistant rubber top.
---
3
The Higo ability Quadpod Offset Cane offers extra stability for seniors who struggle more with mobility.
You can choose from three available color options.
The QuadPod Cane offers a lighter ad more stable slip-resistant tip.
The tip offers maximum stability with the Quad design.
The handle is ergonomic and cushioned for shock absorbency,
There are different height settings at the push of a button.
---
4
The Nova Designer Walking Cane with Offset Handle is light and easy to use for seniors.
The Cane has a gorgeous design and is very Lightweight with an Offset handle.
You can choose from three style options for men and women.
An Anti-Rattle Locksets adjustment with no rattling.
Furthermore, the Cane is durable and chip-resistant with a slip-resistant tip.
---
5
The Medline Offset Cane is simple and elegant to use for older persons.
The Offset handle design Cane comes in a solid black color and has an ergonomic design.
A push-button to easily adjust the handle's height and a secure locking ring to lock the adjustment.
The Offset handle centers the user's weight, and the ergonomic design provides proper support,
The Cane has a 350lbs weight capacity.
---
6
The HurryCane Freedom Edition Cane is a Folding T handle Cane for senior persons.
There are a few color options available from which you can select.
The cutting-edge patented technology allows better stabilizing and increased traction.
The handle height is fully adjustable.
The HurriCane will stand on its own and is easily folded for storage.
The Tip design is more secure and stable.
---
7
The DMI Deluxe is a luxury walking cane for seniors.
A fully adjustable cane for any height.
The handle is soft and comfortable with an offset design.
There are three color options available.
The Cane has a sturdy and durable frame.
---
8
The Honeyball walking cane has a pivot standing tip and is available in more colors.
The Cane has a pivoting tip that will stay flat.
It is available in a few color varieties.
The handle is soft foam and ergonomical.
The height is fully adjustable.
---
9
From Hugo, we have an adjustable quad-style walking cane for seniors.
The Cane has a quad design tip.
It can easily stand on its own.
The Cane is lightweight aluminum.
There is a comfortable handle design for seniors.
---
10
The BigAlex walking cane is foldable and portable, with an LED light.
The Cane has 360 degrees for free rotation.
It is lightweight and foldable for travel.
The handle is soft and comfortable to grip.
It comes in this single black color option.
---
Index Table: Top Rated Walking Cane for Seniors
---
---