Physical activity becomes increasingly important as we age to keep our independence and improve our health.
Walking outdoors is a fun and very healthy exercise, especially for seniors.
Not only are you in touch with nature, but you also enjoy the fresh air and safe and good exercise.
However, not all seniors may be as stable on their feet as they used to be, so the best Hiking Sticks for seniors may be ideal for outdoor walking trails.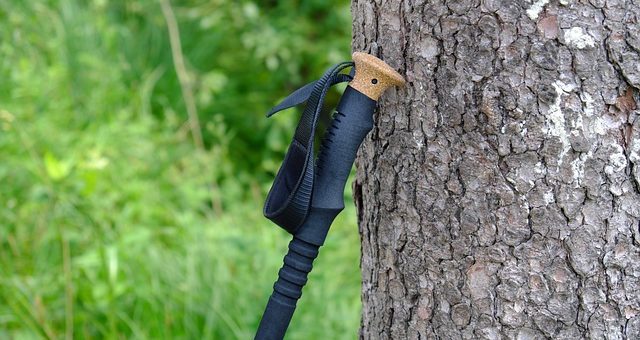 ---
Benefits of a Hiking Stick for Seniors
Walking sticks designed for hiking are particularly beneficial for elderly persons as they provide good stability on uneven trails and terrains.
A walking stick also helps to improve arm muscle functions in turn and provides excellent slip resistance and stability.
Here are a few ways in which a Hiking walking stick can help you as an elderly individual;
Arm movements associated with a walking stick improve your workout's intensity and help burn more calories.
The Walking stick improves your Balance and stability, which is increasingly necessary when walking on outdoor trails that may be slippery in uneven.
A Hiking row walking stick will enable you to keep a proper posture when walking and help strengthen your back muscles.
A good hiking stick will take some of the strain off the muscles in your lower back, hips, and knees, which is ideal if you have arthritis or pain in these areas,
Walking outdoors will improve your mood and health, and thanks to a good hiking stick, you can do so.
---
Choosing the Best Hiking Stick for Seniors
There are a few things you will need to consider when choosing the best walking stick for a senior person;
Who Will the Hiking Stick be For – The Hiking stick chosen needs to be comfortable and suitable for the elderly who enjoys outdoor trekking or hiking. You will need to consider the person's size, stability needs, the areas in which they mostly hike, and other additional needs, such as storage and pole packaging.
The Design of the Hiking Stick – You will also need to consider the activities for which the hiking stick will be used about the design. You will need a proper hiking stick for serious trail trekking and hiking. In contrast, a good quality regular walking stick can be suitable for walking outdoors in parks and outdoor spots. The hiking stick needs to be lightweight yet stable enough to provide good stability and Balance. The design must be versatile enough for all the terrains you hike and provide a good grip. It will also need a proper wrist strap so it cannot fall out of your hands.
A good hiking stick will help boost confidence in elderly people and allow them to enjoy their favorite pass time activity.
---
Features of a Good Hiking Stick for Seniors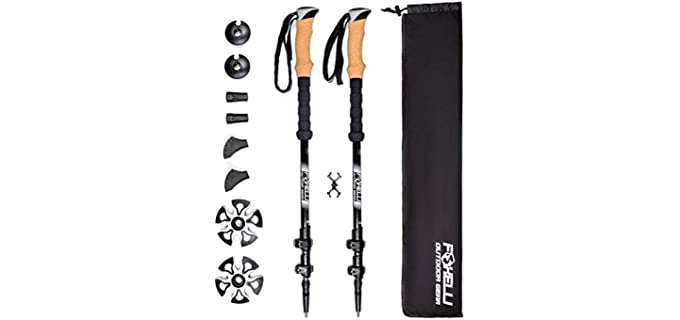 Provides Balance – Regardless of the design or materials of the hiking stick, it will need to provide substantial Balance and support to the user, the design need to be ergonomically and sturdy for improving posture and providing proper stability to the elderly user.
Lightweight – The lighter the pole's weight for hiking, the better. However, it should still be sturdy and durable enough for hiking and to hold your weight.
Adjustability – We all come in different shapes and sizes with different needs. Thus, the hiking stick needs to adjust to a comfortable length and fit for you to use personally. Most hiking poles do adjust in height.
Various Terrains – Depending on where you will be walking, you need a specific hiking stick for the terrain you hike and walk in. For light hiking, a more versatile all-terrain hiking stick is advised.
Wrist Strap – Look for a walking or hiking stick with a secure wrist strap that allows for an adjustable fit. The wrist strap ensures the walking or hiking pole does not slip from your grip, having to be picked up from the ground.
---
Reviews: The Best Hiking Sticks for Seniors
Here are some of our top choices in hiking sticks that are ideal for seniors;
We hope you love the products we recommend!
So that you know, We may collect a share of sales or other compensation from the links on this page.
---
1
The Hiker Hunger hiking sticks come in a set of two for seniors.
The Hiking sticks are built to last with 100% carbon fiber,
They are strong and durable and ideal for all-terrain walking and hiking.
The design is collapsible for easy storage.
---
2
The FitLife Nordic walking and hiking stick is designed for light trails and outdoor walking.
It is an anti-shock design that has a quick-lock system.
You get a set of two hiking sticks with your purchase.
They are durable and have extendable features.
---
3
The Montem Ultra Strong Trekking, Hiking, and Walking stick are ideal for seniors.
It is an easily adjustable design that is ultra-strong and lightweight.
The hiking sticks are compact and can be folded for portability.
They are durable and quite lightweight for seniors.
---
4
From Black Diamond, we also have superb hiking sticks for seniors.
The hiking stick is of premium quality with a lightweight aluminum frame.
It has a SlideLock technology design and is easily collapsible.
The hiking stick has FlickLock Pro adjustability features and a Fusion comfort wrist strap.
---
5
From Real Nordic, we also have the ideal hiking stick for seniors.
The Nordic hiking sticks are stronger and so much more user-friendly.
It is, however, a non-collapsible option designed more for strength and sturdiness on very uneven and dangerous outdoor terrains.
The hiking stick has Carbide Metal tips for trails, beaches, and grasses.
It is very reliable support for seniors.
---
6
The Foxellli is a lightweight and durable carbon fiber hiking stick for seniors.
It has a shock-absorbing handle that is adjustable in height.
There are natural cork grips on the handles, and it comes with a carry bag.
The hiking sticks are suitable for all trails and conditions.
---
Index Table: Top Rated Hiking Sticks for Seniors
---
---