As seniors age, they need to concentrate on maintaining an active lifestyle, however challenging it may be.
Exercise and physical activity are important for everyone, especially as we age. We may be limited in physical activity with age, though there are still some options.
Yoga for seniors is a perfect low-impact form of exercise that can be performed at home for strength and flexibility.
Our article wants to look at some of the best Yoga Mats for seniors. This does not mean that you are limited to yoga mats.
The Yoga Mat for seniors is ideal for a variety of floor exercises.

---
---
Is Yoga a Good Choice for Seniors?
As I have mentioned, there are many routines you can practice on the yoga mat for seniors. However, Yoga is a favorite, and I want to explain why it is so ideal for seniors;
Improves Balance and Stability – One of the most favorable benefits of Yoga is how it improves balance and stability in seniors. This, in turn, reduces falls in seniors.
Better Flexibility and Joint Health – Yoga is a gentle exercise that increases flexibility and strengthens your joints, making them more flexible.
Improved Respiration – With ag you may have some respiratory limitations. In turn, yoga can help to improve your respiratory function.
Reduces Blood Pressure – Yoga has proven to reduce seniors' oxidative stress, one of the underlying causes of high blood pressure.
Reduces Anxiety – Yoga can help to relax your body and restore you to a calmer state where you concentrate on breathing and slower movements.
Metallic – Yoga helps to encourage mindfulness in seniors because you focus on your breathing and body. You become connected with your environment, body, and emotions.
---
Yoga Mats for Seniors
For performing Yoga or any other floor work exercise routine, you will need a comfortable yoga mat to cushion your body and not slip.
Besides cushioning, a good yoga mat provides a textured and slip-resistant surface, so your hands and feet do not slip on the mat when you become sweaty.
For seniors, the thickness of the yoga mat should be comfortable to protect their bodies and bones.
The Yoga mat will need a non-slip surface on both sides to stick to the floor and prevent you from slipping.
---
Features of a Good Yoga Mat for Seniors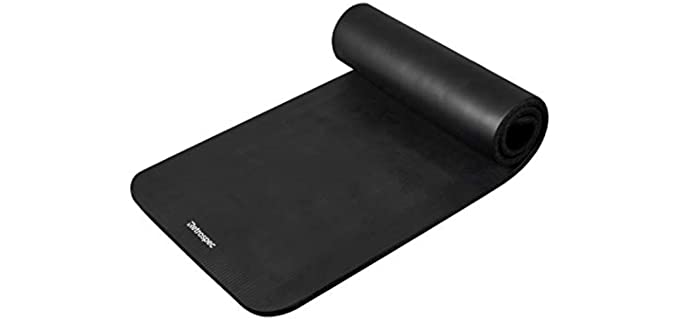 Portability – Most yoga mats can easily be rolled into a compact roll with easy-carry handles or a carry bag.
Size – The regular yoga mat is 64 inches by 24 inches in size, ideal for a single person. However, you do get larger sizes.
Thickness – Most yoga Mats are between 5mm and 6 mm thick. However, you do get much thicker options. So as you know, thicker models will also be much heavier.
Materials – Yoga mats for seniors are available in rubber, PVC, Thermoplastic Elastomer, or eco-friendly natural materials.
---
Reviews: The Best Yoga Mats for Seniors
Here are some superb options for Yoga mats that are ideal for senior individuals;
---
1
---
2
For seniors, the Liforme original Yoga mat has a comfortable design for better alignment with a warrior-like grip.
It comes with a handy carry bag included for easy transportation.
The yoga mat for seniors is an exceptional design with groundbreaking grip technology.
The mat consists of eco-friendly, bio-degradable PVC-free materials.
It is 4.2 inches thick, which is perfect for seniors.
---
3
The Jade Yoga, a Yoga mat for seniors, has a comfortable design and ample grip.
The yoga mat is available in more colors and has an easy rollable design for compact storage.
The yoga mat for seniors offers an excellent non-slip grip on both sides and consists of natural rubber without synthetic substances,
It is of superior quality and has a 3/16-inch thickness for comfort and cushioning.
---
4
The retrospect Solana Yoga mat for seniors comes in on or half-inch thickness options that are lightweight and ideal.
It has a non-slip surface on both sides that offers perfect grip.
The yoga mat is easily rolled into a compact size and comes with a handy carry strap for portability.
It is a BPA-free and latex-free durable foam mat perfect for seniors.
There are also many more color options available.
---
5
The Aurorae Synergy is a two-in-one Yoga mat designed for elderly individuals.
It comes with an Integrated non-slip microfiber towel for your convenience.
The Yoga Mat has a high grip texture that will not slip or bunch.
It consists of durable and safe foam materials and is the ideal thickness and size for seniors.
The yoga mat is available in many more color options.
---
6
The Gaiam Yoga mat is an excellent design for seniors that is thick and large enough.
It is 6 mm thick and 68 inches by 24 inches wide, perfect for a single elderly individual.
The yoga mat is available in a large variety of colors and prints from which you can choose to make things more fun.
The yoga mat for seniors is non-toxic and PVC-free, with a sticky non-slip grip texture.
---
7
From Gorilla Mats, we have the perfect Yoga mat for seniors that will slip.
The Gorilla Yoga mat for seniors has unmatched performance with an extra thick and comfortable feel.
It comes with a soft and absorbent microfiber towel, a storage bag with two Velcro straps, and your thick yoga mat,
The premium quality yoga mat comes in many more colors from which you can choose as needed.
---
8
The NewMe Fitness Yoga mat for seniors is a Non-Slip, thick and comfortable design.
The Yoga Mat for seniors is 68 inches by 24 inches in regular size and 5mm thick.
It has a BPA-free PVC construction and textured sides for slip resistance.
The yoga mat is ideal for home gym and yoga practices and senior individuals.
---
Index Table: Top Rated Yoga Mats for Seniors
---
---