As a person ages, performing even the easiest task, such as drinking from a regular cup or glass or just holding it becomes much more challenging.
Elderly persons face many issues such as Parkinson's, weak hands, and other issues that can make it very difficult to hold a cup or glass for drinking.
This is why you need the best Sippy cup for an elderly person, making drinking much more comfortable and easy.

---
The Adult Sippy Cup
Many elderly persons may struggle to keep their hands steady and mess or spill their drinks. Some may be in bed and struggle to sit up straight to have a drink of water or whatever beverage they prefer.
It may also be easier for a caretaker or loved one to help an elderly individual drink something using a good Sippy cup.
On the other hand, for an elderly person to keep their independence, especially when it comes to eating and drinking, the right Sippy cup can be a good option.
The adult Sippy cup is designed especially for adults and seniors who struggle with certain limitations when holding a cup or glass for drinking.
---
Types of Sippy Cups for the Elderly
Non-Slip – The Non-Slip Sippy cup for the elderly is designed with a grip that will not slip out of their hands. There may be a rubber or texturized area with an ergonomic design that is much easier for an elderly person to hold on to.
Dual Handle – You also get dual-handle Sippy cups for seniors that have a handle on each side of the cup. This is ideal for seniors with a minor hand trembling or arthritis and limited wrist and hand strength.
Straw Cup – You do get Sippy Cup options that have a straw. The straw cup design does not need to be tilted, like a cup or glass for drinking; it is held straight. You do, however, get universal straw cup models that you do not have to hold up straight for them to work.
Spout – The spout design Sippy cup needs to be tilted for drinking, much similar to a sports water bottle, but with a no-leak design.
Sports Bottle – Sports water bottles are also excellent for elderly persons who can easily handle them, they are generally not as spillproof, depending on the model and brand, and they are a more independent option for seniors.
---
Features of a Good Sippy Cup for Seniors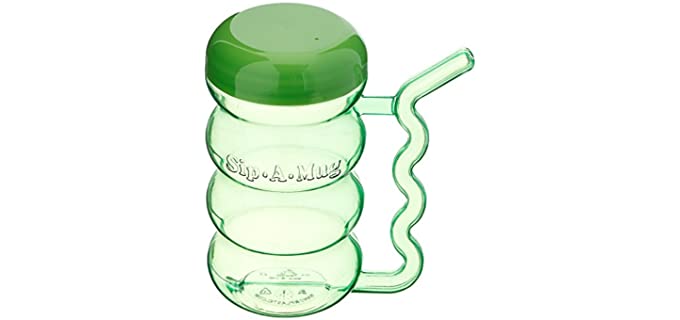 Quality Brands – I would consider choosing a sippy cup from a good quality brand that will last long and perform well.
Additional Features – These may include double handles, additional grip features, a straw or suction option and cover.
Materials – Most sippy cups for seniors will either be plastic or metal, such as stainless steel. I would not recommend glass for an elderly individual. The straw may be a softer plastic, and there may be a rubber grip for slip resistance.
Designs – Sippy cups may have a straw, spout or a sports bottle design spout. They also come with different handle types, without handles, and in different size options, for elderly persons.
Options – Some brands and models may offer options in colors of the Sippy cup as well as sizes according to the amount of liquid it can hold.
---
Reviews: The Best Sippy Cups for the Elderly
These are some of our favorite brands and models of Sippy cups for seniors that are ideal in design and quality.
We hope you love the products we recommend!
So that you know, We may collect a share of sales or other compensation from the links on this page.
---
1
---
2
From Solimo, we have a spillproof Sippy cup for elderly individuals.
The design is ideal for elderly persons and toddlers.
It also comes in assorted color options that are BPAs and Phthalate free.
It comes in two packs.
---
3
The Homecraft Sippy cup for seniors is shatterproof and very easy to use.
The simple cup design is easy to use by elderly persons and even children,
It is a drinking cup and mug for hot and cold beverages.
The design offers a grip for persons who have limited hand strength and grip or motion.
It is a polycarb mug that is dishwasher and microwave safe.
---
4
The Kirimon Flow Control Sippy cup is another superb invention for elderly adults.
The cup is fully spill-resistant and leak-proof.
It is the ideal feeding and drinking cup for elderly adults, disabled persons, and anyone who needs assistance eating or drinking.
There are two specially designed lids for controlling airflow and anti-splash.
The materials are high quality and safe, consisting of plastic and latex.
---
5
The Bonarty Sippy cup is perfect for seniors and disabled patients.
It is a spout-mouth Sippy cup with the perfect design for easy grip by elderly individuals with decreased hand strength or notion.
It can be used for drinking water, porridge, and even soups.
---
6
From Maddak, we have a Sure Grip Sippy Cu with a lid for elderly persons.
It has an ergonomic design that is easy to grip by weaker hands.
Ideal for anyone who needs to drink and cannot lift their head.
The materials used are dishwasher and microwave safe.
You can use the Sippy cup for both hot and cold liquids.
---
7
The Sippy cup is designed for therapeutic use for seniors.
It is translucent and comes with two lids.
The lid prevents splashes and fits the mouth comfortably.
There are also more color options available.
---
8
Here we have a rehabilitation Sippy cup for seniors.
It is dishwasher safe, and the lid offers a secure fit for splash resistance.
It consists of durable plastic that will not break when dropped.
Ideal for easy grip and grasp.
---
9
The Maddak Sippy cup is perfect for seniors.
It is latex and PP-free for safety.
The Sippy cup is the ideal convalescent feeding cup design.
Transparent and universal in design.
---
10
The Contigo Sippy cup is a spillproof design for seniors.
It has a tumbler design with a leak-proof silicone seal around the straw opening.
The design is easy to grasp and hold by elderly hands.
You can also wash it in your dishwasher.
---
Index Table: Top Rated Sippy Cups for the Elderly
---
---