There is nothing better than spending family dinners, breakfast, and even lunches together around a table. Everyone sitting comfortably, even grandparents.
But most eating chairs are not very comfortable for older persons, that is why we want to help you find the best eating chairs with arms for the elderly, to accommodate a loved one in your home.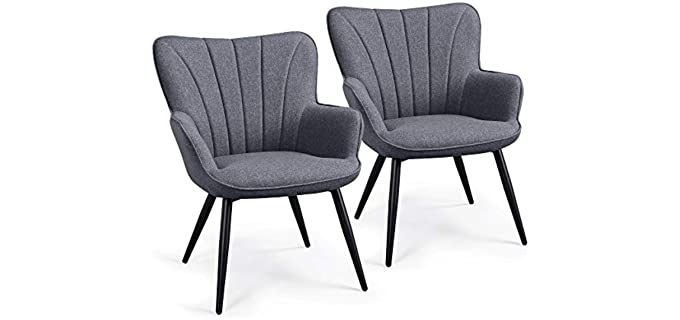 ---
Why You Need the Best Eating Chair with Arms for the Elderly
Eating together creates strong family bonds and is a gratifying experience. Although with elderly persons in your home, it may not be as easy for them.
It may be comfortable and easy for you to sit on and get in and out of a dining chair or kitchen chair, but not so much for a senior individual who struggles with strength, balance, and mobility.
This is especially true for chairs with no armrests, as an armrest forms a vital part of the chair for a senior to hold on to to find their balance and comfortably rest their arms on.
A higher design chair is always easier to get in and out of, with some cushioning as most seniors may find it hard to sit on a hard chair, and the armrests are vital for support and comfort.
---
What to Look for in an Eating Chair for the Elderly
When improving your home or a home for elderly persons, a family member or caretaker also needs to consider a proper eating chair with armrests that are comfortable and easy to get in and out of.
The Chair will need to;

1. Support the individual's weight properly.
2. Have a proper backrest and armrests that can bear weight properly.
3. have a stable design that is sturdy and will not tip over easily.
4. May have adjustable features such as height, leg,s, and seat.
5.Have non-slip feet.
6. It Is an easy-to-clean design.
7. Has a comfortable seat to sit on.
Size – You will need to consider the location and space you have available to get a chair that is the right size and fit for the area you have available.
Color – If the elderly person has poor vision, a more brightly colored chair can help them to find their way around the chair easily.
Sturdy – The Chair needs to be solid and sturdy and not tip over with the weight of the elderly person.
What to Avoid – Bar chairs and saddle types seats are uncomfortable and unsafe, and an elderly person can easily slip off of them and fall.
---
Features of a Good Eating Chair with Arms for the Elderly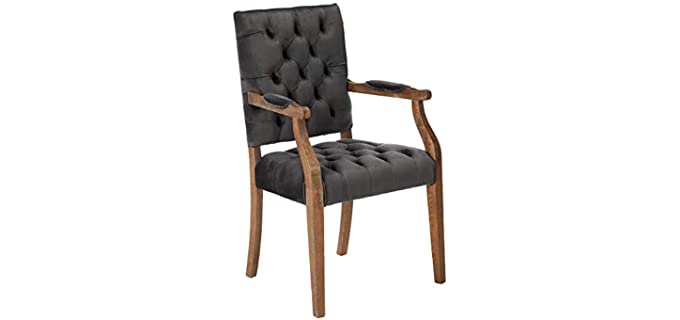 Durability and Sturdiness – The chair needs to have a sturdy frame and durable materials such as metal, wood or plastic that is thick and good quality. The design should also not be too heavy as you still want to be able to move it around and lift it with ease, to pull it closer and further from the dining table.
Comfort – Look for a chair with a comfortable padded seat that maybe has a water-resistant cover or lining for easy cleanup. Most seats will be foam or spring cushioned for comfort with vinyl or faux leather upholstery that is easy to clean, and there are also some fabric upholstery options.
Seat Width – The seat itself needs to be wide enough for extra wiggling space as a tight seat will be very uncomfortable.
Weight Capacity – The chair needs to be able to hold the weight of the elderly person. A heavier chair is generally harder to move, so a more lightweight chair will be ideal. Most dining chairs can have a weight capacity of around 250 to 300lbs.
---
Reviews: The Best Eating Chairs with Arms for the Elderly
Here are some of our top Choices in eating Chairs for elderly individuals;
---
1
This is a lovely and stylish eating chair from Beechwood Mountian that is ideal for an elderly person.
The chair has a Beachwood frame and a cushioned seat.
There are full armrests, and the chair comes fully assembled.
The seat is 18 inches by 20 inches, and the seat from the floor is 18 inches.
The set is cushioned with a classic neutral boucle fabric.
---
2
The Nobpeint mid-century dining side chair is also ideal for elderly persons.
It has a walnut wood frame with armrests.
There is a faux leather cushioned seat for comfort and easy cleaning.
The chair has overall dimensions of 23″*21″*32.7″,Seat Height: 18.2″,Seat Width: 18.5″, and Seat Depth: 16.6″.
The compact design is sturdy but also easy to move around by seniors.
---
3
The Boss Captain's chair is a versatile eating and office chair for seniors.
The chair has a classic and traditional style with a no sag spring cushioned seat.
The frame is a very sturdy hardwood, and there are armrests.
The seat has a black vinyl cover that is very easy to clean.
---
4
From Yaheetech, we have two sets of kitchen and dining chairs that are a great design for an elderly person.
The chair has a sturdy and durable frame that is solid metal.
There is a good quality foam seat and backing with a soft fabric cover.
The chair comes as part of a set of two chairs, and there are more colors available.
---
5
The Christopher Knight Hon=me Carolina dining chair has a perfect design for a senior person.
The chair has dimensions of 22 "D x 23.50 "W x 40 "H – Seat dimensions: 16.75 "D x 20 "W x 20.25 "H, and armrests that are 28.50 "H in height.
You get one chair that has a wood frame and cushioned seat with an upholstered velvet fabric cover.
You will not need to assemble as the chair is already fully assembled.
---
6
Another design from Amazon brand for seniors.
The eating chair is a rivet mid-century design.
It has easy cleaning leather upholstery and comfortable padding.
A durable and quality chair all in all.
---
7
This is a comfortable and elegant styled eating chair for seniors.
It has fine fabric upholstery and a soft sponge filling.
The design is modern and very comfortable for seniors.
The chair comes easy to assemble with clear instructions.
---
8
The Amazon brand eating chair is a modern design for the elderly.
It looks great and has a comfortable design for seniors.
The chair is available in quite a few neutral colors options.
It has comfortable padding and a solid hardwood frame.
---
9
The CangLong is a faux leather eating chair for seniors.
The leather is effortless to clean should there be spills or staining.
It is fully padded for comfort and has a simple design.
The chair will also look elegant and modern.
---
Index Table: Top Rated Eating Chairs with Arms for the Elderly
---
---