Senior persons may not have the strength or maneuverability that they used to when they were younger in their hands.
Therefore a simple task such as opening a Jar may be quite difficult, if not impossible, for an older individual.
---
Why Seniors Need a Good Jar Opener
Most manufacturers tighten Jar Lids to ensure the food stays safe, fresh, and hygienic. Sometimes these jars can be tough to open, particularly for an older person with less mobility and weakness in their hands.
Other than that, Arthritis is a condition that regularly affects older people, which can cause many difficulties in tasks such as opening cans and jars.
An ergonomically designed and easy-to-use manual or electrical Jar opener can be just what you need for a senior person to open all shapes and sizes of jars easily.
---
Benefits of a Good Jar Opener
While there are so many different methods, tips, and tricks that you can try to use to open a jar easily, the Jar opener has benefits that cannot be compared;
Easy to Use – Most manual and electric jar opener designs today are so easy to use and effective that you will wonder how you ever got along without one.
Compact – Jar openers, in general, are small and compact enough to store in a kitchen drawer easily.
Portable – The Jar opener, whether Manual or electric, is easily portable, and most manual Jar Openers use batteries.
Time Sabing – A Jar Opener can save you time struggling to open a Jar and can be used on even the most stubborn jars.
Safe – Many people employ the difficult opening of Jars in Hot water, which is effective but extremely unsafe, particularly for older persons. Therefore, the Jar opener is easy and efficient and a very SAFE option.
---
Features of a Good Jar Opener for Seniors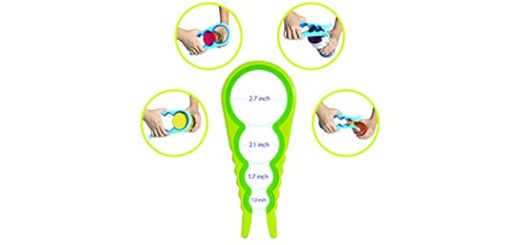 Easy Maintenance – Dishwasher safe and easy to clean and maintain. Made from durable materials that will resist rust and corrosion.
The Handle – A comfortable and slip-resistant handle with an ergonomic design. Rubber is a good choice for a slip-resistant handle.
Weight and Size – Lightweight and compact design stores easily and can be handled easily by older hands.
Quality – A Good Quality design and materials made from durable rubber, plastic, and stainless steel.
Adjustable and Versatile – Adjustable to open different jar lid sizes, as well as other versatile uses such as cutting through sealed tabs and bags, opening pull tabs, and opening bottle tops.
---
Reviews: The Best Jar Openers for Seniors
These are some excellent electric and manual Jar Openers for Seniors of all ages and necessity stages;
We hope you love the products we recommend!
So that you know, We may collect a share of sales or other compensation from the links on this page.
---
1
---
2
The Kuhn Rykon has its latest model, the Gripper, a strain-free superior Jar and Lid opener.
Choose between the three options; the Deluxe gripper, a Jar opener, the White Gripper and Jar Opener, or the Jar Opener with Fork and Tongs.
Enjoy easy strain-free jar opening with this quality design jar opener.
There are excellent leverage effects, and it can open jars from one to three and a half inches in size.
What is more, is that the Jar opener works on smooth and grooved jar caps.
---
3
For Robo Twist, we have their latest Robo2PK model and Automatic Jar Opener for senior individuals.
The Robo Twist can adjust easily to any sized jar and has a firm grip around the lid.
You can stand and watch it rotate very easy-to-use automatic design with an easy-switch button.
The design is small and compact for easy storage,
The design allows for the least energy usage, making it easy on your pocket.
---
4
The One Touch Jar Opener is another superb innovation in Automatic Jar openers for the elderly.
The One Touch Jar opener is a simple, one-touch, and go action jar opener that works automatically and stops automatically.
You can adjust the Jar opener to fit any sized jar lid easily.
The perfect design is easy to use, lightweight, and ideal for seniors.
---
5
The Evriholder Easy-Twist comes in a set of two easy-to-use manual Jar Openers.
You can choose between the option of a single or double pack Jar Openers from Evriholder Easy-Twist.
You can use the jar opener on wet or dry jar lids; it will hold equally well.
The Opener has a durable and ergonomic design, which is ideal for senior persons.
Created from BPA-free plastic and rubber, it is safe to wash and use.
---
6
Another top favorite is the Hamilton Beach Open Ease Automatic Jar Opener.
The effortless push-button jar opener has the perfect fit and design for elderly people struggling with hand mobility and strength.
You place the Opener on top of the Jar and press the engage button to open a jar.
It can open a variety of jar lid sizes and has a durable and long-lasting build.
---
7
The Vastland Jar Opener for seniors is designed specifically to help persons who are weak in their hands.
The Jar opener consists of rust-free solid stainless steel.
It has adjustable size options to open a variety of bottles and jars.
The compact and simple design is easy to use and store.
It is also very durable and reliable for seniors.
---
8
Here we have a multipurpose Jar and bottle opener kit that is very easy to use by elderly persons and even children.
This is a five-in-one Jar Opener and bottle opener set with multifunctional uses.
The designs are ergonomic and skid-proof, which is ideal for seniors.
Extremely durable under most circumstances in your kitchen.
These are must-have tools for every kitchen.
---
9
No list is complete without the old-fashioned rubber mat jar opener that also works like a dream for those who still have a little strength in their hands.
A Non-Slip design Jar opener with a rubber handle that is easy to use by seniors.
It is a neutral white color with a stainless steel side and rubber handle grip.
You can also use it as a rubber mat to hold wet and slippery objects.
Ideal for small and large lids on jars.
---
10
For seniors with fragile hands and issues opening jars, this is an automatic model that does everything for you.
This is an automatic jat opener for older adults with weak hands.
It s effortless to use and will effortlessly open cans and jars of all sizes with the push of a button.
Battery-operated and versatile kitchen device for all seniors.
You can select from the electric or upgraded electric option.
---
Index Table: Top Rated Jar Openers for the Elderly
---
---