Having full use of your hands is something that we may take for granted in our younger years.
However, as you age, you may lose strength and mobility in your fingers and hands. Conditions such as arthritis and Parkinson's, among other health issues, can make simple tasks such as using eating utensils, writing and grasping things very difficult.
Especially when it comes to using eating utensils, there are many limitations for many elderly persons. That is why you need the best eating utensils for the elderly that accommodate all associated issues and limitations.

---
Factors Affecting Seniors Ability to Eat
There are just so many factors that can affect an elderly loved one's ability to enjoy a hearty and healthy meal. Injuries and certain conditions may make it hard for them to hold a cup, knife, or fork.
Weakness in their hands, issues such as Parkinson's disease, arthritis, and even Alzheimer's may affect the way they hold any form of eating utensils.
This can cause strain and much discomfort, and loss of hope when they try to eat and enjoy a meal with family.
All in all, not being able to eat properly or use eating utensils may lead to a poorer appetite and depression in many elderly persons.
These are all things that can be avoided if you upgrade your eating utensils and get the best available eating utensils designed specifically for elderly persons.
---
What features do Eating Utensils for Seniors Offer
Many designs of utensils are upgraded in design and weight to make them easier and more comfortable to hold.
Manufacturers typically make use of proper ergonomics to design eating utensils that are easy to use for elderly individuals ad that also accommodates issues and conditions such as weakness in their hands, Parkinson's, and arthritis.
The purpose of specially designed eating utensils is to make using them and to eat much easier and more efficient for an elderly person, and here is how;
Quality Construction – Their construction is quality and more reliable, so they will actually do what they promise and last very long.
Increased Physical Comfort – The general idea behind the design is to allow for maximum comfort when in use.
Support Independent Living – They give elderly persons a feel of independence even when they struggle to use eating utensils.
Readily Available – Most eating utensils for seniors are mor readily available than you think.
---
Features of Good Eating Utensils for the Elderly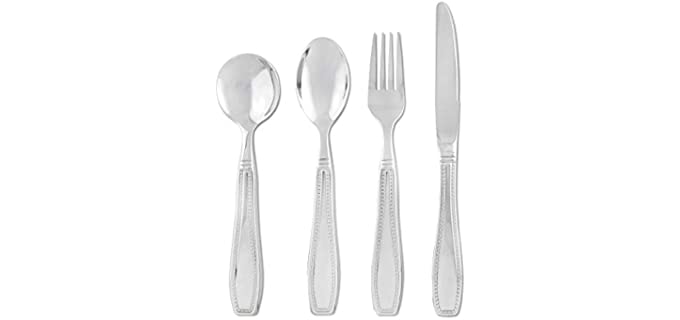 Foam Tubing – Foam tubing is used in many eating utensils for seniors that have Osteo or Rheumatoid Arthritis. The handles are enlarged to improve the grasp of and elderly persons on the utensils, and the tubing is softer, causing less pain.
Weighted Utensils – Heavier materials are used in eating utensils for individuals who suffer from Parkinson's disease. This helps them to hold don to the utensils much easier when their hands are shaking. Weighted utensils are usually thicker and more durable stainless steel that s also very hygienic to use, dishwasher safe, and much easier to clean.
Easy Grip Ergonomic Design – Easy grip materials such as silicone and rubber can be used in the handles, along with an ergonomic shape for a more comfortable and easier grip that will not slip out of an elderly person's hands. Some handle designs are also textured and wider for a more comfortable grip where a senior may need to use their full hand because of sensitivity or lack of nerve functioning in the fingers and fingertips.
Easy Eating Compartment Dishes – These are plates with different compartments containing different foods separately, almost similar to those for children. They make it easier to eat and enjoy each food group separately.
Offset design Utensils – This is a specific design of fork or spoon that has an offset bend or twisted design where the spoon or fork will face your mouth even when the grip is and hold is straight. Thus an elderly person will not need to bend or twist their hand or wrist to get food to their mouth.
---
Reviews: The Best Eating Utensils for the Elderly
These are some of my favorite eating utensil designs for an elderly person;
---
1
From Vive, we have adaptive eating set for seniors.
The set includes a heavy stainless-steel spoon, fork, and serrated knife.
The items come in a non-weighted holder for your convenience.
The utensils have an ergonomic and adaptive design for easier grip.
This design is ideal for seniors with arthritis, Parkinson's, and tremors in their hands.
The handles are a steel material and are contoured.
---
2
The Weighted 7 is an eating utensil set by Celley for elderly persons.
The set has four pieces, a knife, spoon, fork, and soup spoon.
The utensils are weighted and help to stabilize your hands when eating.
They have a decorative design and comfortable grip.
The set is ideal for seniors with tremors and Parkinson's disease.
---
3
This is not a utensil set but rather a utensils aid from impresa.
The foam tubing is wrapped around eating utensils for an easier and more comfortable grip.
They are soft and cushioning and also will not slip out of an elderly person's hands.
The foam tubes are a bit more affordable than having to replace eating utensils for a senior.
---
4
From Bunmo, we have adaptive utensils for elderly individuals.
The utensils come in a set with everything that you need.
The utensils are weighted and have large and easy-grip handles.
They are very durable and consist of stainless steel.
---
5
From Kinsman, we have a weighted utensil for seniors with tremors, Parkinson's, or arthritis in their hands.
The weighted design helps to stabilize their hands so that eating is much easier.
The utensils ate stainless steel and dishwasher safe,
This is a fork only and not a full utensil set.
---
6
From the Rehabilitation Advantage store, we have a Built-Up Handle Offset spoon for seniors.
The spoon has a built-up, soft, and textured handle for elderly hands and easy grip.
It is stainless steel and very durable, designed for right-hand use only.
The offset design is much easier for seniors to use.
---
7
Here we have some innovative utensils designed specifically for elderly persons.
The eating utensils are adaptive and weighted for hand tremors.
They have a bendable metal shaft for a more comfortable angle.
The handle is easy to grip and non-slip.
---
8
From Celley, we also have the ideal eating utensils for seniors.
They are adaptable to Parkinson's and Arthritis.
They consist of stainless steel with an easy-grip handle.
This is a four-piece full set.
---
9
The Sammons eating utensils come in different options for seniors.
The utensils have an ergonomic angled design.
They are lightweight and easy to use by seniors and patients.
The handle is a non-slip plastic design.
---
10
The Special Supplies eating utensils are fully adaptable for seniors.
They are wide and have a non-slip handle.
The utensils are non-weighted and stainless steel for durability.
The set is matching with five pieces.
---
Index Table: Top Rated Eating Utensils for the Elderly
---
---