The best toaster oven for seniors is a small appliance that can help make cooking easier for those who have difficulty using their hands. The right toaster oven will be easy to use, clean, reliable, and efficient.
There are many options available when choosing the perfect one! Check out this guide on how to choose the best one for your needs while you have a look at our list.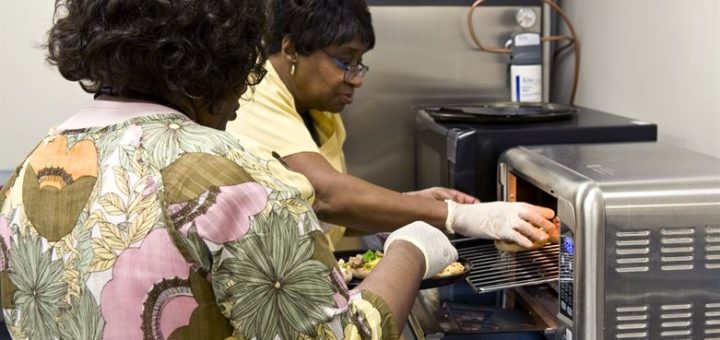 ---
The Toaster Oven for Seniors
So what is the Best Toaster Oven for Seniors?
When we think of safety for elderly persons, the kitchen is most likely one of the most significant risks holding many safety hazards, particularly for seniors.
An act as simple as making a slice of toast can be difficult and dangerous for elderly people.
Fortunately, there are so many advanced and excellent kitchen tools and gadgets available today that are safe and easy to use for seniors, in this case, mainly the Toaster Oven.
Being able to cook and bake gives a senior person a sense of independence and joy, and with a safe Toaster Oven, this could not be easier.
---
Toaster Oven Fast Facts
If you have a kitchen cabinet filled with many devices and tools that you do not use or a large stove and oven that has become a white elephant, why not consider one appliance that can perform all the functions of these many appliances and tools.
Conveneinet Size – Space may be vital for older persons in Old Age Homes or small apartments and homes. The toaster Oven is small and compact, very lightweight, and easily fits on a small countertop.
Convection Baking and Cooking – Most modern toaster Ovens models allow for convection baking and cooking. These ovens make use of a fan that circulates hot air around the sides of the oven for more even cooking. In turn, this beats a microwave because the food does not come out hard and chewy.
Energy Efficient – Since a Toaster oven uses roughly 1200 and 1800W of electricity, which is half of what a conventional oven uses, you save much on electricity bills.
Save Time and Money – The Toaster Oven costs much less than a conventional oven and is a small appliance that will not overheat your kitchen. Likewise, the toaster Oven can replace the functions of many other expensive Appliances.
Versatility – The Toaster Oven can be used for a large variety of purposes, and most of them have a wide temperature range. Some toaster ovens also have more robust cooking capabilities to handle a selection of cooking abilities.
Browning Capabilities – Toaster Ovens are exceptional when it comes to browning food. Most models have a Broiler component, which ensures evenly browned food. Microwave ovens do not have these features; therefore, it makes the Toaster Oven a Much better Purchase.
---
Features of a Good Toaster Oven for Seniors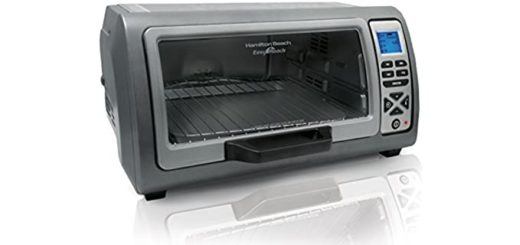 Controls – Large display buttons and an LED or digital display screen, details are also great for elderly hands, and an easy on and off button or dial.
Crumb Tray – A removable and easy-to-clean crumb tray reduces the chances of a fire or unhygienic dirt and food build-up.
Wire Rack – An auto-eject wire rack makes it easier to remove food without getting burned while the toaster is still hot.
Build – A strong and sturdy build with long lasting quality materails.
Settings – More variety in settings from browning, to baking and defrosting. Some models come with a built-in fryer or, even better, an air frying design.
---
Reviews: The Best Toaster Oven for Seniors
Below are some of the top favorite Toaster Ovens, which are also ideal for senior individuals;
We hope you love the toaster ovens we recommend!
So that you know, We may collect a share of sales or other compensation from the links on this page.
---
1
A top favorite from a brilliant brand is the Convection toaster oven from Cuisine Art in the TOA-60 model for seniors.
The toaster oven is available in three metallic color options and finishes you can choose from.
The oven is powerful with an 18—watt output and seven functions: baking, broiling, warming, toasting, air frying, and convention.
The interior is treated with a non-stick coating for easy cleaning and large capacity design.
An Adjustable thermostat with a 60-minute timer allows for easy operation.
An oven rack, baking Pan, and an Air Fryer rack are included.
---
2
The Breville Smart Oven is a Professional Toaster oven for senior persons.
Available in a black or metallic silver color option with an interior oven light so that you can keep an eye on your cooking.
There are ten pre-set cooking functions: toasting, making bagels, baking, roasting, broiling, pizza cooking, baking cookies, warming, and slow cooking.
The large capacity is convection-powered with an inbuilt fan to circulate the heat.
The inside is coated with a non-stick coating for easy cleaning and maintenance.
---
3
Panasonic is a top brand that makes some of the best electronic equipment, and its FlashXpress is the perfect Toaster Oven for older people.
The Oven is available in black, white, or silver color selections.
There are a double Infrared heating system and Ceramic Infrared heating elements.
A precise temperature control system allows you to bake and cook easily, and the manual touch button makes it very easy to operate.
It features a clean and compact design that will accent any kitchen beautifully.
---
4
The KitchenAid KCO211BM is a Digital Countertop Toaster Oven for the elderly.
A large capacity countertop toaster Oven with nine pre-set cooking functions, including baking, broiling, warming, toasting, reheating, cooking bagels and Pizzas, baking cookies, and roasting and defrosting.
The display is digital and easy to read with easy buttons and dials.
There are a removable crumb tray and a removable metal rack.
It also offers a streamlined profile and Chrome knobs for an elegant appearance.
---
5
The Hamilton Beach Digital Countertop Toaster Oven is another uppermost favorite on our list.
With this Toaster Oven, you have much easier access to your food and countertop.
It is effortless to clean, and the food cannot spill on the door.
There is a digital control display that allows for different cooking settings.
A large-capacity design can take up to six slices of toast and two different rack positions.
---
6
From Galanz, we have their superior Digital Air Frying Toaster Oven with Versatile uses.
You can choose between a 25L or 30L capacity toaster Oven.
There is a premium air-frying capability with TotalFry 360 technology to ensure fast and thorough cooking.
The Led display allows you to easily switch between pre-set functions and manual time and temperature adjustability.
There is also a 60-minute countdown timer setting and interior light for easy viewing.
The Crumb tray allows for fast and easy clean-up.
A baking and roasting tray, an Air Frying basket, a full-size oven rack, and a rotisserie kit are included.
The brushed stainless steel housing is strong and has a sleek and elegant appeal.
---
7
From Comfee, we have an easy-to-use compact-sized toaster oven ideal for seniors with little space in their homes.
A space-saving and compact design toaster oven for seniors.
It has three functions, toasting, baking, and broiling.
There is a built-in timer of 30 minutes for the perfect toast shades.
The rack likewise has flexible positions that you can adjust as you wish.
---
8
The Toshiba Digital Toaster Oven has double infrared heating and speedy convention capabilities in a larger-sized oven.
This is a powerful 1700W toaster oven with two infrared heating elements,
There are ten cooking settings and adjustable temperature settings.
The larger interior can accommodate up to six slices of bread.
There is also a bright digital display and easy turning knobs for controls.
---
9
The Luby Large is a more spacious countertop design toaster oven for seniors.
A large and spacious countertop design toaster oven for seniors.
It has a Frech door design that does not occupy extra space when open.
Easy controls and a 60-minute timer, with turning knobs and auto shut on and off function.
You will also enjoy fats and even heating of food and toasting in the shade of your choice.
---
10
Black and Decker is a top electronics brand, and we love their convection toaster oven for elderly persons.
This oven uses natural convection technology and circulates hot air throughout the oven.
It is compact and space-saving with a spacious interior,
There is a 30-minute timer for more precise cooking.
You will also enjoy the included rack and pan.
There are two color options available in this model.
---
Index Table: Top Rated Toaster Ovens for Seniors
---
---