Elastic waist pants or jeans for the elderly make dressing so much easier and offer a much more comfortable and accommodating fit.
It can be challenging for a senior person to pull up a zip or close a button, and these wristbands can also be quite uncomfortable.
The elastic waist pants or jeans options are so much easier and more convenient for seniors.

---
Why are Elastic Waist Pants Better for the Elderly?
Elastic waist pants and jeans are the best options for elderly persons, and here are a few reasons why;
They can Maintain the Ability to Dress Themselves. To dress yourself is very important, especially for an elderly person, it builds their confidence and independence to perform this basic task. For many seniors, difficult buttons and zip design pants may not be an easy option. Elastic waist pants will help them to get dressed without any fuss or issues easily.
Safer Dressing – Elastic Waist pants are a much safer option for seniors to dress, as well as for caretakers to aid a person in dressing. Especially when it comes to elderly persons that are immobile, it is much easier to dress them in elastic waist pants.
Less Pressure – Buttons and zips on jeans and pants can cause pressure friction and be very uncomfortable, especially to seniors who are in bed or in a seated position most of the day. An elastic waist pants that fit well will not cause any excess pressure or chafing.
Easier for Caregivers – In the case where an elderly individual needs to be dressed by a caregiver, spouse, or family member, it is much easier to use elastic waist pants.
---
Types of Elastic Waist Pants for Seniors
Then we get to the types of elastic waist pants for seniors.
Well, here, it will depend on their personal preference and color choices.
Elastic waist pants come in a variety of designs, shapes, and choices.
Firstly, you will need to establish the length. Most seniors want a long or three-quarter design length pants. Then there are the occasions, you can opt for casual joggers and pants for leisurewear and around the house, and then something a bit smarter or even jeans for going out.
Many jeans designs also come with elastic waist options that are comfortable for seniors.
---
Features of a Good Elastic Waist Pants for Seniors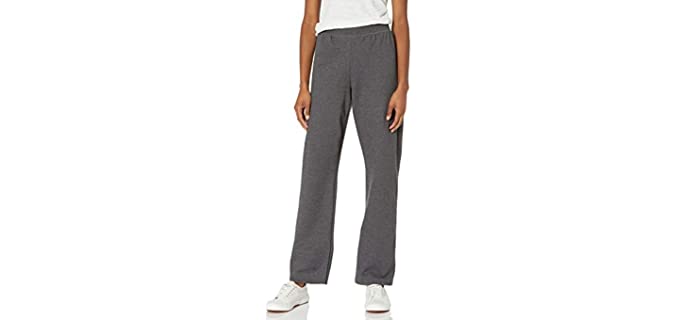 Design – The design of elastic waist pants for an elderly person is very important. It would help if you considered that the design is for men or women, and they do not always fit both ways. The design should be easy to put on and take off for a senior or caretaker. Also, consider something that is comfortable to wear and that looks fashionable and appropriate for the purpose. Most elastic waist pants for seniors will be pull-on designs, and there are almost none with drawcord closures, as they are not the best design for an elderly person.
Size – Even though it has an elastic waistband, size is still important. You need to get the right size for the elderly person. Most elasticated waist pants for seniors are available in plus or standard size options.
Quality – Choose elasticated waist pants that are a good quality brand that will last and be comfortable, also that are easy to wash and care for. Cotton and polyester are usually the best quality materials that you can opt for. Always look for 100% pure cotton or an at least 50% Polycotton blend if you want to perfect pilling.
Material – The material used should be comfortable and non-irritating against the skin. Opt for soft and durable materials such as cotton, viscose, polyester, and denim. You also do get Polyester and Cotton blends called polycotton, which is durable and comfortable and has low pilling, such as with full polyester fabrics.
---
Reviews: The Best Elastic Waist Pants for the Elderly
These are some of our top choices in elastic waist design pants that are ideal for elderly persons;
---
1
From Cherokee, we have elastic waist Cargo pants for men.
They are mostly polyester with some cotton and have a soft and comfortable feel.
The Cargo design is casual and comfortable, and there are many colors available in this range.
The pants are a pull-on closure with an elastic waistband.
They are fully machine washable and have plenty of pockets for storing small items.
---
2
The Hanes Elastic waist pants are, especially for ladies.
They come in many colors from which you can choose and plenty of size options.
The pants are a long length with a low pile polyester and cotton blend fabric.
The pants have an elastic waist and a 31-inch inseam.
They are warm and heavy, ideal for cold weather conditions.
---
3
The Pembrook elastic waist pants for men are a twill design casual pants.
They are available in neutral colors as well as plus and standard size options for men.
The Twill design pants are casual in nature with an elastic waistband and pull-on closure, ideal for seniors.
They are also fully machine washable and quick drying.
---
4
For the ladies, we have the Chic Classic collection of Pull-on Pants with an elastic waist.
The pants are available in denim colors as well as a black or white option.
They are the perfect alternative to jeans with a pull-on closure and elastic waistband.
The pants are fully machine washable for your convenience and quite durable.
---
5
The CK Sportswear Senior shop offers you elastic waist jeans for men.
They come in the light wash denim color only, unfortunately.
The jeans are durable with a full elastic waist and pull-on design.
There are two front slash pockets and two back pockets similar to regular jeans.
They are a poly-cotton blend that will be durable and soft.
---
6
From Alfred Dunner, we have Pull-on Style Cropped Pants for ladies.
They have a cooler-cropped design for senior ladies.
The pants consist of 100% durable and soft polyester.
They have a full elastic waistband that is easy to pull on and off.
They are available in a few neutral color options.
---
7
Here we have a very comfortable fitting pants design for seniors.
It has a pull-on closure and elastic waistband.
The pants are available in more color options.
It consists of heavy weighted denim fabric.
---
8
The Soojun elastic waist pants are perfect for seniors.
It is available in many colors and size options.
The pants have an elastic waistband and pull-on closure.
The fabric is soft and stretchy.
---
9
From Chic Classic Collection, we have elastic waist pants for elderly ladies.
They come in different denim washes.
The pants are cotton and spandex types of denim.
They have a pull-on closure and elastic waistband with straight legs.
---
10
Comfortable elastic waistband pants for women.
The pants are soft and breathable linen available in many colors.
The cropped design is ideal for summer.
They are fully machine washable and consist of linen and cotton.
---
Index Table: Top Rated Elastic Waist Pants for the Elderly
---
---